Welcome aboard: students take on career placements during Reading Week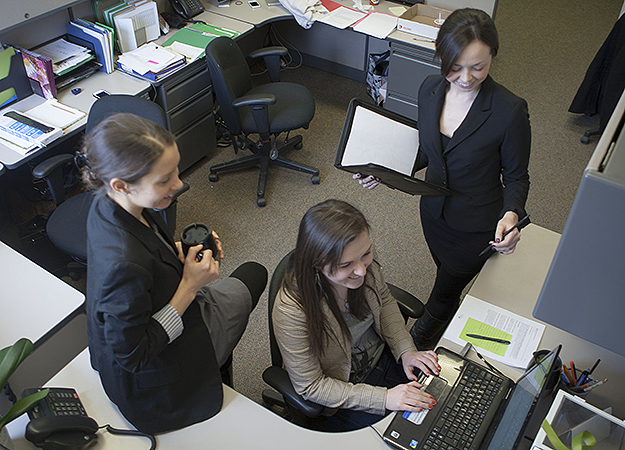 Kate Whalen (left), senior manager, and Katie Ferguson (right), manager, University Sustainability, guide fourth-year student Madeline Lawler through some of the basics of their operation. Lawler is working hard on campus this week as part of the Career Field Experience program.
---
While many students are vacationing, relaxing at home or simply enjoying some extra sleep and social media time, more than 30 McMaster students opted for real-world career experience this Reading Week.
The Career Field Experience program is a Student Success Centre initiative that began six years ago. "Its vision," says Angela Fortino, experiential learning co-ordinator, "is to support students' career development by connecting them with professionals in the Hamilton community and enabling them to gain practical work experience."
This year's Reading Week placements were expanded to include opportunities at McMaster. Madeline Lawler, a fourth-year honours Commerce student, joined Kate Whalen, senior manager, University Sustainability, for a week of hands-on project work.
"I got the opportunity to work with a different member of the team each day, and experience their unique roles," says Lawler. "The experience has allowed me to explore the field of sustainability further and opened my eyes to a potential career path that I didn't know existed."
Alexandria Palazzo, a fourth-year honours Political Science student, participated in a career placement with the Hamilton Law Association during last year's Reading Week, shadowing the association's director, Rebecca Bentham.
"Rebecca was a joy to shadow," says Palazzo. "She was very accommodating, answering any questions I had about law school and the practice of law in general … The career placement was an enriching experience that I would recommend to undergraduate students interested in law or library professions."
The program is built on community and alumni support, adds Fortino. "Professionals give their time to mentor and coach students as they consider and explore career options."
If you are interested in becoming a future mentor, visit MentorLinks. Don't forget to check out the Student Success Centre for information on upcoming events such as the Connect to Careers McMaster/Mohawk Job Fair and the Hamilton Employment Crawl.