"We are so privileged as Canadians – we want to do everything in our power to help"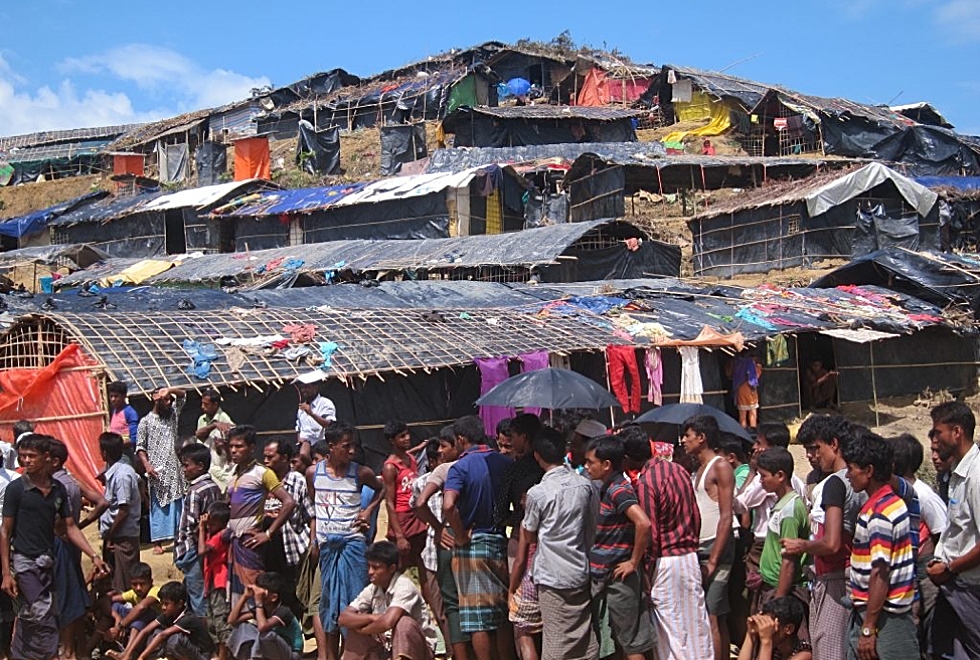 A group of McMaster kinesiology students have developed a pilot project they say could help address the desperate sanitation conditions in the largest Rohingya refugee camp in Bangladesh, and are now raising funds to implement their solution. PHOTO: Courtesy of Harry and Annie Bergshoeff
---
It's the largest and most densely populated refugee camp in the world. Located in the district of Cox's Bazaar in southeastern Bangladesh, the Kutupalong–Balukhali camp is now home to more than 700,000 Rohingya Muslims who were forced to flee the ethnic violence in their home country of Myanmar.
With tens of thousands of families living in makeshift huts crammed onto muddy hillsides, infrastructure and services in the camp are overstretched and concerns over water quality and sanitation are rising.
"The conditions there are desperate which is why it's so critical to find a sanitation solution," says Zachary Moll, who explains that 35% of refugees are without access to functional latrines and that existing latrines are filling up, creating an often unbearable odor, as well as leading to insect infestations. This is causing many to avoid using latrines altogether, and instead resort to open defecation which, in turn, is fouling the water supply and spreading disease.
Moll is part of a group of McMaster kinesiology students who have developed a pilot project they say could help drastically improve the condition of the camp's latrines, and are now raising funds to implement their solution.
"Ultimately, we're trying to make the latrines more tolerable for people to discourage open defecation," says Moll who, along with fellow kinesiology students Jessica Morris and Monica Sanchez, hope to travel to the camp to pilot the use of a product called SciCorp BIOLOGIC S2 – a compound that dramatically accelerates the breakdown of fecal matter.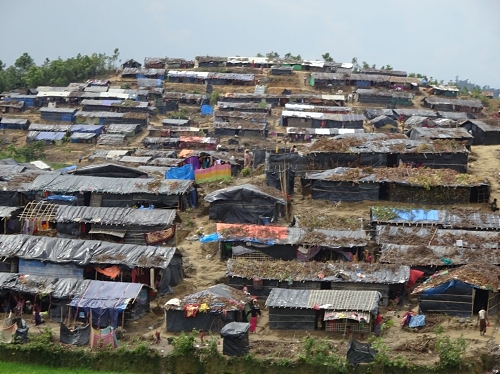 "We're hopeful that this project will improve latrine conditions by reducing bio waste, which will lessen bugs and odor," says Morris, who spearheaded the project. She explains their solution is also aimed at extending the lifespan of latrines, reducing the need to build new ones, and preserving valuable living space in the already overcrowded camp.
To implement their pilot, Morris, Moll and Sanchez are hoping to purchase and ship the compound – developed by Mississauga company SciCorp Biologic– to the Kutupalong–Balukhali refugee camp.
In December, they hope to travel to Bangledesh where, working with the United Nations' refugee agency (UNHCR ) and with local Rohingya community leaders, they plan to hold information sessions about the dangers of open defecation. They also plan to recruit and employ two coordinators as well as 14 Rohingya women, and train them on how to add the compound into latrines.
The women will then monitor bio waste levels using an instrument called a "sludge judge," and track odor and insect levels over a three month period to determine whether the compound has been effective.
"Ideally we would like the study to be completely run and operated by the camp residents themselves," says Morris. "We feel it's important to involve the people that the project is focused around, and that they have an active role in its implementation."
Help fund Morris, Moll and Sanchez's pilot project in the Kutupalong–Balukhali camp in Bangladesh
The group was first moved to develop their solution after Morris introduced Moll and Sanchez to two aid workers from WorldRenew– an NGO providing on-the-ground assistance to those living in the camps. "They showed us pictures of the latrines and of the living conditions – we knew right away that something had to be done," says Moll.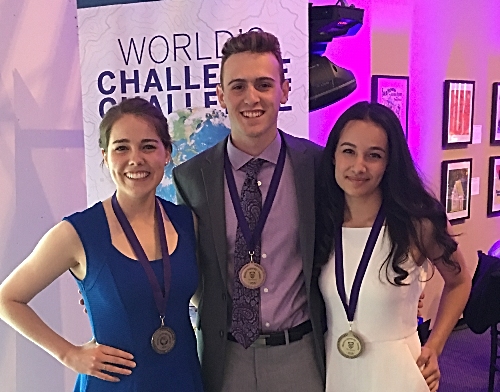 Soon after, while taking a global health course, Morris learned about the World's Challenge Challenge– an international student competition aimed at addressing global issues identified in the United Nations' Sustainable Development Goals. The group saw it as an opportunity to take action.
"When we first heard about the competition, our immediate thought was to help improve the conditions of the refugee camps," says Sanchez. "Thousands of innocent people are suffering every day. We are so privileged as Canadian citizens, and we want to do everything in our power to help."
Morris had learned about SciCorp BIOLOGIC S2 through a personal connection with SciCorp's CEO, and found out that the compound had been effective in significantly reducing bio waste in pit latrines in rural Kenya as part of a UNICEF-led pilot project. Based on the success of the Kenyan pilot, the group decided to explore the use of the product in a refugee camp setting.
They partnered with SciCorp and began developing their project, presenting their solution at the McMaster round of the World's Challenge Challenge – organized by McMaster's Office of International Affairs– in March. They placed first in the competition, and moved on to the international round held recently at Western University, where they placed third and were awarded $7500 in funding to be used toward their project
Read more: McMaster students offer their solutions to some of the world's most pressing problems
Morris, Moll and Sanchez are hoping to raise a further $15,000 to fully fund the implementation of their pilot study in Bangladesh. They say if their project is successful, their goal is to work with the UNHCR to include SciCorp BIOLOGIC S2 in the UN sanitation kits distributed to those living in refugee camps globally.
"We want to not only make an immediate difference in the lives of the Rohingya people, but also a lasting difference in the quality of life for all refugees," says Sanchez. "We hope that the success of our pilot study will be a sustainable solution to improve sanitation conditions in overcrowded refugee camps around the world."