Ways to celebrate Earth Day on campus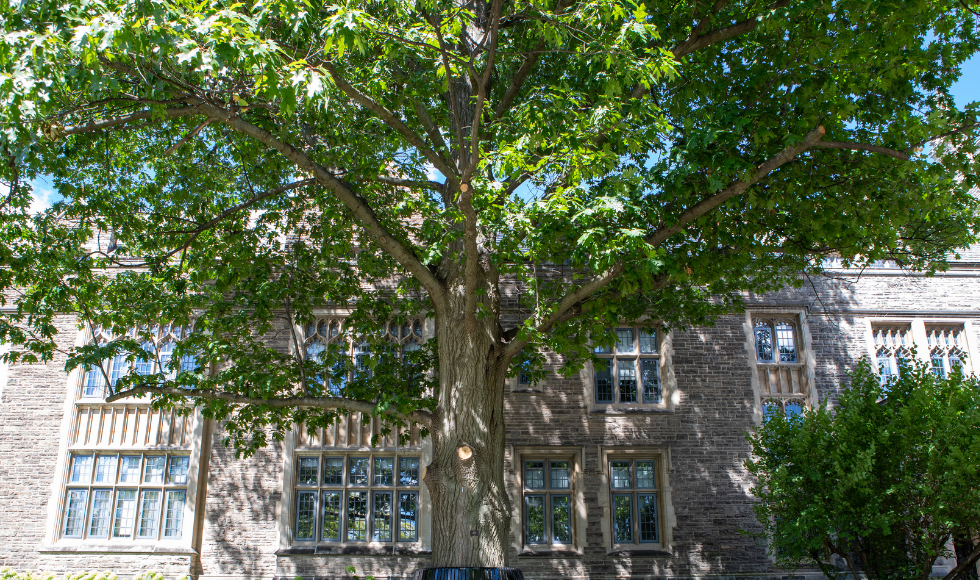 Friday, April 22 is Earth Day, and McMaster's community is invited to get involved and do something positive for the planet — in person or online.
---
Friday, April 22 is Earth Day, and McMaster's community is invited to get outside and do something positive for the planet.
Here are some great ways students, faculty and staff can get involved, in person or online: 
Donate your used tech to help local families — and the environment 
Bring your used laptops and computers to the BSB lawn on Friday between 10 a.m. to 4 p.m. and donate them at the ACCESS Tech IT drive.
McMaster will sanitize the technology and partner with Empowerment Squared and network agencies (Refuge: Hamilton Centre for Newcomer Health, Munar Learning Centre, Hamilton Centre for Civic Inclusion, Immigrants Working Centre, Afro Canadian Caribbean Association) to deliver the technology to Hamiltonians in need.  
"Given social challenges highlighted by the impacts of COVID-19, access to adequate technology as a key determinant to overall community well-being is more important than ever," says Leo Johnson, executive director of Empowerment Squared. 
At the last event, SUSTAIN students, University Technology Services and Facility Services collected 780 kilograms of used technology. With more people on campus, the goal is set higher! There's a great need for laptops, computers and monitors.
If you can't make it, email accesstech@mcmaster.ca for information about free pick up and dropoff outside event hours. Learn more about ACCESS Tech.  
Meet the McMaster Community Fridge  
McMaster's Community Fridge, a student-led project championed by the Student Wellness Centre and MSU Food Collective Centre, is launching on Earth Day. Come out to the event for free hot chocolate and learn about the fridge from 12 p.m. to 3 p.m. behind Mills Library, near Parking Lot B.
You can help by bringing a donation of fresh, frozen, or non-perishable food.    
"Starting Earth Day, the fridge, freezer and pantry at McMaster's Community Fridge will offer accessible, nutritious and free produce, packaged meals and other food staples, and be open 24/7 for anyone to access," says Zenaib Khawaja, project champion and health promoter at the Student Wellness Centre. "McMaster volunteers will help ensure the fridge is stocked and food donations can be dropped off any time."
Another way community members can help is by making a financial donation on the project's iFundMac page. Learn more about which food donations can be accepted (hint: unopened) and follow the McMaster Community Fridge on Instagram.  
Click a link; plant a tree | McMaster's first campus-wide Sustainability Strategy  
McMaster's first university-wide Sustainability Strategy is launching this week to celebrate Earth Day with a collective commitment to engage students, faculty and staff in transforming our campus into a living laboratory for sustainability.  
"The Sustainability Strategy addresses pressing challenges facing our planet and makes campus a living laboratory. Reading and sharing it also helps the planet, because the Office of Sustainability is providing one tree for every 20 views of the strategy online, up to 250 trees," says Debbie Martin, acting vice-president of University Advancement and chief facilities officer.  
Tree planting
The McMaster Centre for Climate Change in collaboration with Nature at McMaster, the Academic Sustainability Programs Office, and Trees for Hamilton, have worked together to create the McMaster Carbon Sink Forest, which sequesters carbon through trees, helping to mitigate climate change. This Friday's tree planting event at the McMaster Carbon Sink Forest is booked solid, but you can follow Academic Sustainability's Eventbrite to be informed about their next tree planting event. 
Sustainability is one McMaster's institutional priorities, and participating in sustainability related activities on campus works towards the United Nations Sustainable Development goals. Participate in doing something good for the planet, share these participation ideas with friends, colleagues or team members, and get involved.