Watch: Archives Alive talk highlights beautiful books of the Kelmscott Press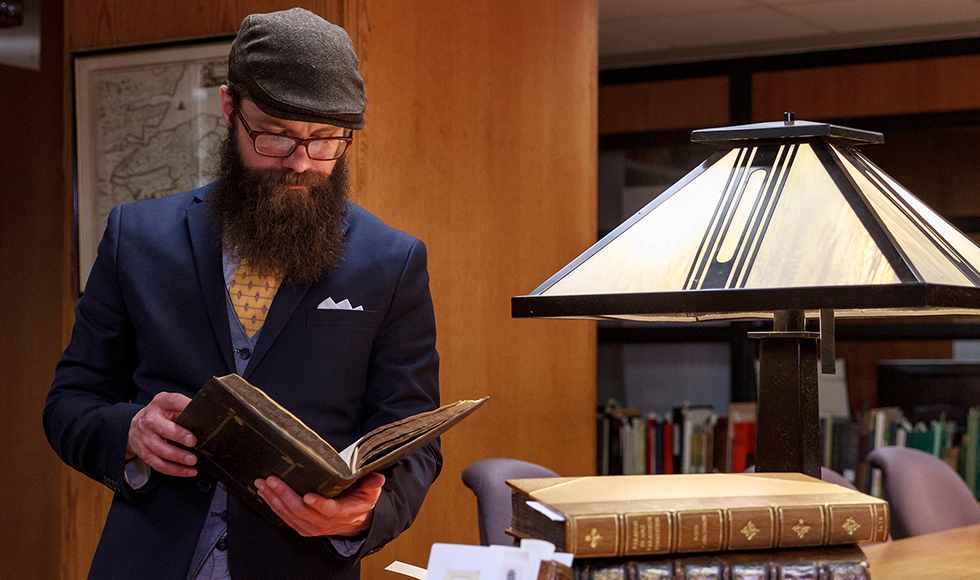 Myron Groover is the archives and rare books librarian at McMaster University Library's William Ready Division of Archives and Research Collections. Photo by Sarah Janes
---
McMaster University Library joined the celebration of International Kelmscott Press Day by giving the community a peek into its collection of rare books.
The William Ready Division of Archives and Research Collections is home to several editions printed by the Kelmscott Press, including the famous Kelmscott Chaucer which is marking its 125th anniversary this year.
The virtual talk, entitled "The Whole Scheme of the Book": Williams Morris and the Kelmscott Press, was presented by Myron Groover, archives and rare books librarian at the William Ready Division of Archives and Research Collections. The event was held June 23, just a few days shy of the official June 26 celebration.
"The Kelmscott Press brought together a lot of artistic talent and skill to produce very beautiful, rare and expensive books," said Groover. "I think this topic appeals to a number of people with a broad range of interests, such as the Arts and Crafts movement, the Art Nouveau style, traditional handicrafts and the history of printing."
Established in 1891, the Kelmscott Press was the last great project of Morris, the visionary artist and political activist who was behind some of the most recognizable textile patterns of the 19th century.
Conceived as a deliberate return to the technologies and processes of an earlier era of printing, the press brought together a gifted community of artists and artisans in a self-conscious attempt to produce "the ideal book".
Its output — 53 books in total, each in a limited print run — represents a high point of aesthetic and philosophical attainment for the Arts and Crafts movement. The work of the Kelmscott Press went on to have a profound influence on both printing and the decorative arts, and its founding is traditionally considered the starting point for the small and fine press movement.
Archives Alive showcases the unique holdings of McMaster University Library's William Ready Division of Archives and Research Collections. A wealth of resources exist which will delight and inform, from rare books created before 1800 to contemporary writers' archives. Recognizing that archives can feel intimidating, these talks allow staff and researchers to share their knowledge with the community and introduce collection items housed within the library. Archives Alive is presented by McMaster University Library and McMaster Alumni.