Want to teach around the world? Throw the MOOC at them, expert tells McMaster audience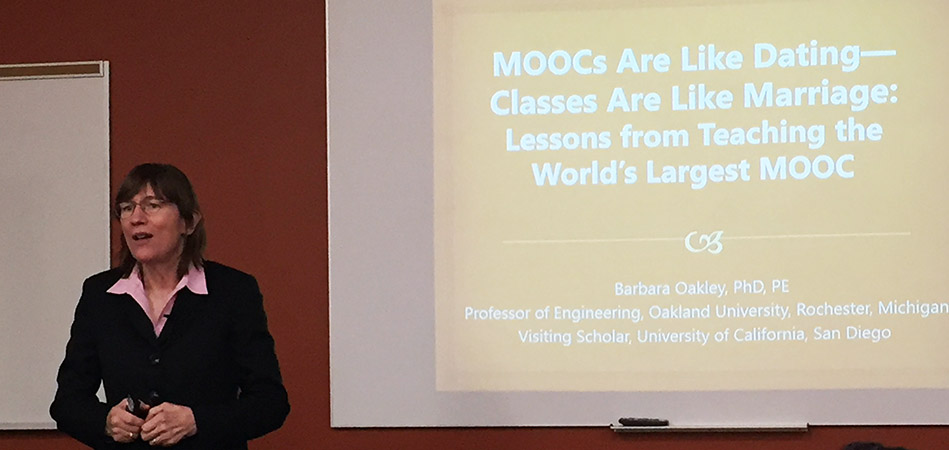 ---
The creator of a highly successful Massive Online Open Course is working to help McMaster create new MOOCS and related teaching tools.
Barbara Oakley, who has reached 1.7 million participants around the world with her Learning How to Learn MOOC, shared her best advice for success with an eager audience of McMaster faculty members and staff in a Dec. 15 session at the Paul R. MacPherson Institute for Leadership, Innovation and Excellence in Teaching.
MOOCs offer learners online access to instruction, which is typically presented in a multimedia format and features interaction among students and instructors.
Before the session, MacPherson director and AVP Teaching and Learning Arshad Ahmad named Oakley the institute's Santiago Ramón y Cajal Distinguished Scholar of Global Digital Learning.
It's the sixth Distinguished Scholar title presented by the MacPherson Institute to recognize eminent pedagogical researchers from McMaster and beyond. As a Distinguished Scholar, Oakley will work on MOOC-related research with MacPherson's student partners.
"I think the MOOC is a mirror that showcases how learning is evolving," Ahmad said afterward. "Learners want offerings to be personalized, engaging, flexible, continuous and useful. As teaching becomes more public and more accessible, McMaster can strengthen its pedagogical leadership by designing and offering top quality, world-class MOOCs."
Oakley, an Engineering Professor at Oakland University, is also the best-selling author of books such as A Mind For Numbers: How to Excel at Math and Science (Even If You Flunked Algebra).
She is collaborating with McMaster faculty members to create a Skills for Success specialization that will bundle her Learning How To Learn MOOC with four McMaster MOOCS. She will also advise on other MOOCs and hybrid and online courses.
Before her academic career, Oakley had served in the US military, where she earned an undergraduate degree in Slavic Languages and Literature.
Later, after deciding to see if she could retrain her brain for work in the STEM fields, she returned to university to work on her first degree in Engineering, a period during which she also served as a translator aboard on Russian fishing boats in the Bering Sea.
Oakley told the McMaster group that MOOCs thrust post-secondary teaching into a competitive arena, where high production values and creative storytelling spell the difference between success and failure.
"MOOC-making is a melding of academia, Silicon Valley and Hollywood," she said.
Those who succeed can become academic "stars", Oakley told the audience, noting that people who have taken her on-line courses often recognize her and approach her on the street, all over the world.
Leavening her presentation with self-deprecating humour, Oakley used her session to demystify MOOCs, serving up nut-and-bolts tips on how to make them as successful as possible. They included:
recognizing that your role as a MOOC instructor is not to show off how much you know, but to make complex ideas simple, clear and memorable.

making your course so compelling that students stay engaged.

using a prepared script. While some are comfortable speaking extemporaneously, and some like to use point-form notes, she strongly favours a finished script, to avoid wandering and repetition.

finding good visuals and using them creatively. Oakley shoots in front of a simple green screen in her basement, and adds in full-scale backgrounds in the same a TV weather forecaster uses maps.

editing vigorously to be sure that everything in your course is polished and direct.