Visiting Japanese faculty and students share best practices in health sciences education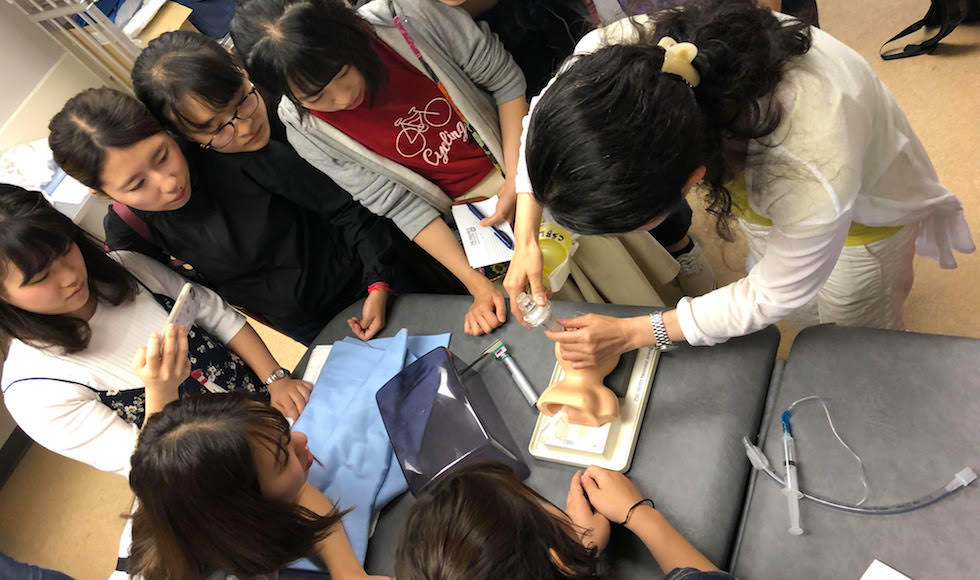 Dr. Noriko Nagao, associate professor from Kitasato University's School of Nursing, leads a hands-on learning exercise with delegation students at McMaster's Centre for Simulation Based Learning.
---
Delegations from two Japanese universities visited McMaster recently for an experiential learning exchange, designed to share knowledge, ideas, cultural approaches and best practices in health sciences education.
"The success of the UN's 17 Sustainable Development Goals depends on collaboration and partnerships with other universities and networks," explains Andrea Baumann, McMaster's associate vice-president, global health.
With Sustainable Development Goal 17 (Partnerships for the Goals) and 3 (Good Health and Well-Being) in mind, the Global Health Office has organized a series of activities and collaboration sessions with the visiting faculty and students from Japan's Kitasato and Niigata universities.
"The participants offer expertise in critical areas of global health, from palliative care to infectious diseases, and the experience provides an opportunity to explore pressing issues from different cultural contexts," says Baumann.
Topics explored have included access to mental health care in Indigenous communities across Canada, palliative care in a global health context and the Canadian health care system's policy response to migration.
A highlight from the week's activities included a lecture by Dr. Takeshi Kanno, a medical doctor from Japan who worked as a physician on the front lines of the tsunami and earthquake in the town of Minami Sanriku in March 2011. Dr. Kanno spoke on the topic of resilience in the context of humanitarian crises, addressing students and faculty from McMaster, Niigata and Kitasato.
As support for experiential learning is core to the Global Health Office's strategy, the learning exchange invited participants to experience problem-based learning and offered a tour of the Centre for Simulation Based Learning (CSBL).