Two professors named to Medical Hall of Fame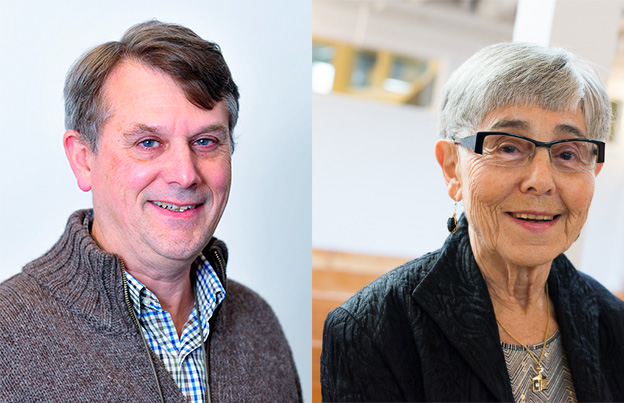 ---
Two McMaster professors, one a pioneer for women's health and the other a world leader in evidence-based medicine, have been named to the Canadian Medical Hall of Fame.
Dr. May Cohen, professor emeritus of family medicine, worked to promote the equality and well-being of women both as providers and beneficiaries of health care.
Dr. Gordon Guyatt, a Distinguished University Professor of clinical epidemiology and biostatistics, has made ground breaking contributions in the measurement of health-related quality of life and led the initial development of the concept of evidence-based medicine.
They are two of six new inductees who will be celebrated at the 2016 induction ceremony being held in Hamilton on April 14. The others are medical historian Michael Bliss; physician-scientist David Naylor; AIDS researcher and activist Mark Wainberg, and founding president of the Canadian Medical Association Sir Charles Tupper.
In making the announcement, Dr. Jean Gray, chair of the Canadian Medical Hall of Fame, said the inductees' "outstanding contributions to health have made Canada, and the world, a better place. Their impact is well documented."
Cohen joined the Michael G. DeGroote School of Medicine in 1977, and was associate dean, health services from 1991 to 1996. Her leadership led to the creation of women's health curriculum in Ontario's medical schools.
Gray said: "This institutionalization of women's health transformed the educational experience of all health students, the experience of female students and the status of female professors in ways taken for granted today.
"Her success in drawing the medical community's attention to the multiple issues of gender, sexuality and women's health, along with the ensuing research in women's health and the careers of women physicians, has substantively impacted patient care and experience."
Guyatt, a faculty member since 1983, led the formation of an international group to develop the concepts of evidence-based medicine.
"Dr. Guyatt's insights in how best to summarize a body of evidence succinctly and informatively allowed him to play a key role in the development of the Grading of Recommendations Assessment, Development and Evaluation (GRADE) approach, now adopted by more than 80 organizations worldwide," said Gray.
Guyatt and Cohen join McMaster faculty members Jack Hirsh, John Bienenstock and Salim Yusuf, as well as the late John Evans, David Sackett and Fraser Mustard, who are among the 113 laureates in the hall of fame.