Two McMaster students awarded prestigious McCall MacBain Scholarships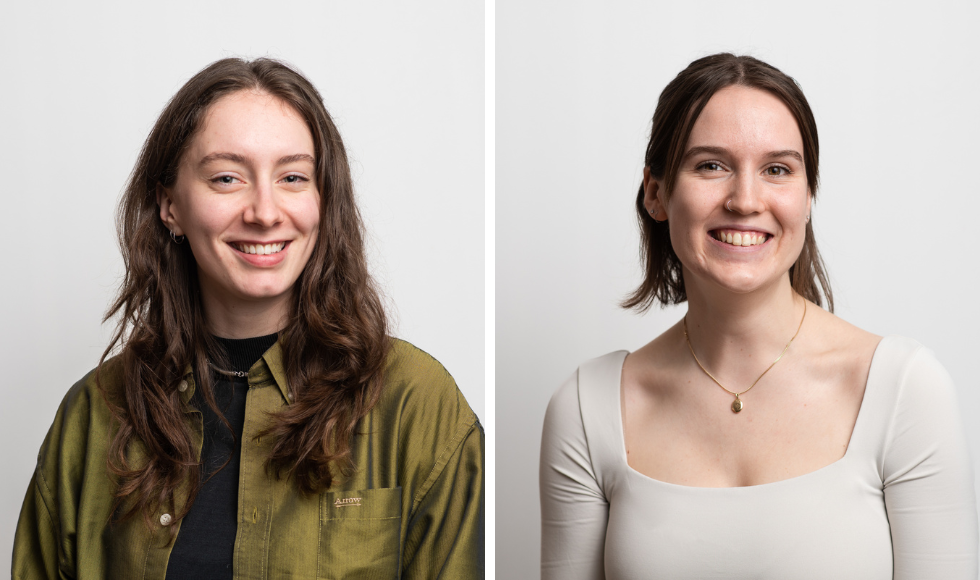 Jessie Meanwell, left, and Abby Buller have received McCall MacBain Scholarships, Canada's first comprehensive leadership-based scholarship program for master's and professional studies.
---
McMaster students Abby Buller, BEng '23, and Jessie Meanwell, BSc '23, are among the recipients of this year's McCall MacBain Scholarships.
Designed to encourage purposeful leadership, the McCall MacBain Scholarships enable 20 students from across Canada to pursue a fully funded master's or professional degree at McGill University, while participating in mentorship, coaching and a leadership development program.
The scholarships were established in 2019 with a $200 million gift to McGill from McMaster graduate Marcy McCall MacBain BSc '00 and her husband, John McCall MacBain.
"My exact words were, 'I think I'm going to pass out!'" said Buller, who is studying engineering physics.
"I feel incredibly grateful to have been awarded a McCall MacBain Scholarship. This will provide me with an opportunity to move to a new city and further my education while continuing to contribute to my community alongside other inspiring and motivated individuals."
Meanwell, who will soon finish her mathematics degree, said: "I was in the middle of a math class when I got the call, and after hearing the news I called my family while jumping up and down."
"I was incredibly happy and stunned. Overwhelmed in the best way. I'm immensely grateful to be given this opportunity."
Scholar were chosen based on their character, community engagement, leadership potential, entrepreneurial spirit, academic strength and intellectual curiosity.
Buller and Meanwell are both heavily involved in university life: Buller has volunteered for the Faculty of Science Welcome Week for three years, competed on the junior varsity rowing team and led a technical project for a health-care research company during a co-op term. She now leads the software sub-team of the medical engineering design team, teaches tap dance classes and works part-time as a teaching assistant. Eager to work on health-care technology challenges, she plans to start a master's degree in electrical engineering at McGill.
Meanwell makes free, educational math videos and serves as vice-president, academic, of the mathematics and statistics student society. She has led high school outreach workshops, volunteered as a homework helper at a community health centre and contributed to several other campus groups. She  also worked to build an inclusive program for incoming first-year math students and worked as a camp counsellor. She plans to pursue a master's degree in mathematics at McGill.
"A significant aspect of my university experience has been confirming my passion for math education through teaching, research and outreach," said Meanwell.
"Being supported by mentors while I take on new challenges like working as a teaching assistant for a difficult course or speaking at a conference has been invaluable to my growth as an undergrad. I want to explore how we can reinvent math teaching to encourage creativity and critical thinking, to equip people with the confidence to approach any difficult problem they face."
Both students underwent a rigorous seven-month selection process involving two rounds of interviews.
"Abby and Jessie's selection is a tribute to the time and energy they have put into improving the lives of others," said Natasha Sawh, MA '07, dean of the McCall MacBain Scholarships.
"Our volunteers looked not only for academic strength, but for leadership qualities like integrity, kindness, grit, and an ability to motivate a team to address tough challenges."
This is the third year in a row McMaster students have been awarded McCall MacBain Scholar awards or scholarships.