Two faculty members named Distinguished University Professors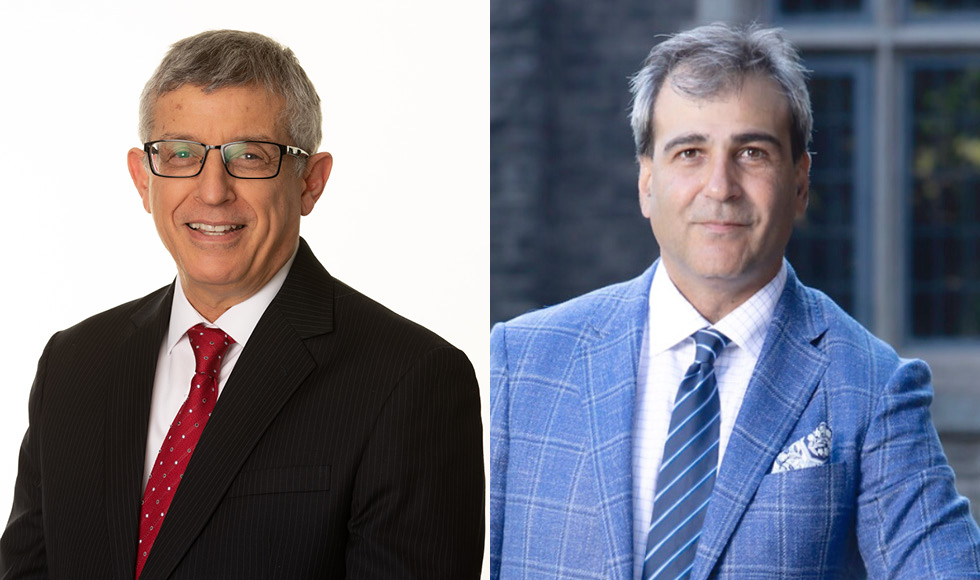 Mahmut Parlar, left, and Mohit Bhandari, right, are McMaster's two newest Distinguished University Professors.
---
As the most research-intensive university in Canada, we know that knowledge is most impactful when shared. This is a lesson well-taught by Mahmut Parlar and Mohit Bhandari, McMaster's two newest Distinguished University Professors.
The Distinguished University Professor title was created to recognize exceptional McMaster faculty who lead in all the areas that make up a well-rounded scholar. Not only do nominees need outstanding research with a global impact, but they also must demonstrate excellence in teaching, mentorship, and community service throughout their careers.
The title, which is restricted to no more than 2 per cent of all full-time faculty members, is the highest honour the University can bestow.
"The DeGroote School of Business research is leading-edge, and it's an honour to be recognized by the University for the community impact of my research" says Parlar, who is a business research professor and a professor of management science in the operations management area.
Parlar's research straddles both business and engineering, focusing on stochastic modelling, dynamic optimization and game theory applications. "I am proud that my work has set the path for applying game theory modelling in retail operations management and opened the door for later developments in supply chain coordination."
His research has appeared in 120 articles published in top business and engineering journals around the world—but his impact doesn't stop there. Since joining McMaster in 1986, he's taught 19 different courses, supervised 17 Ph.D. candidates and 3 post-doctoral fellows, and served in senior academic administrator roles for the past 14 years. His work has been recognized through both internal and external awards, such as the Canadian Operational Research Society (CORS) Award of Merit, the DeGroote School of Business Faculty Research Excellence Award and McMaster's President's Award for Excellence in Graduate Supervision.
Bhandari is also known for putting his research into practice. As professor and associate chair of research in the Faculty of Health Sciences' department of surgery, he has mentored over 200 students and over 100 faculty across many surgical disciplines. This commitment to his students and colleagues earned him the Mentor of the Year award from the Royal College of Surgeons of Canada.
"McMaster is well-recognized as the home of interdisciplinary innovation and evidence-based medicine, so I am deeply honoured to receive this appointment" says Bhandari. "At the same time, I am astutely aware of—and want to thank—those exceptional mentors, peers and students who have contributed immensely to my personal growth and scholarship."
Bhandari's research is focused on the design and conduct of large, practice-changing multicentre randomized trials evaluating interventions in patients with musculoskeletal trauma. He holds a senior tier Canada Research Chair in evidence-based orthopaedics, acts as the current President of the Canadian Orthopaedic Association and was awarded membership to the Order of Canada in 2019.
He's also occupied the role of chair of the violence against women working group of the Canadian Orthopaedic Association and is dedicated to educating medical colleagues about the unique position of orthopedic surgeons in identifying the physical signs of domestic violence.
"Professors Bhandari and Parlar are truly exceptional scholars who have significantly advanced their respective fields through innovation in research and dedication to knowledge translation" says Susan Tighe, McMaster's provost and vice-president, Academic.
"Beyond this influence on their global scholarly communities, they have also brought their considerable expertise to McMaster through teaching, mentorship, and service. I would like to echo the gratitude of their students and colleagues for their work and congratulate professor Bhandari and professor Parlar on this extraordinary achievement."