Twin 'Girls in Science' events will encourage the next generation of young minds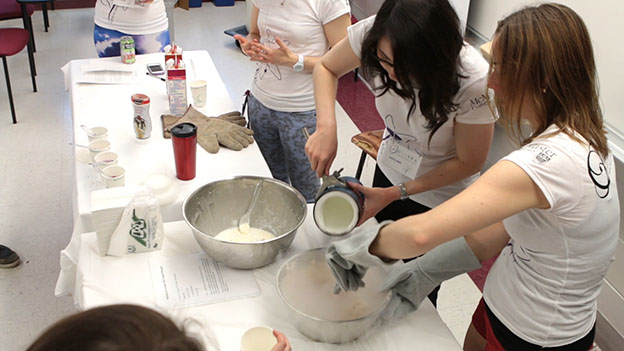 Approximately 60 high school students visited McMaster for the 2014 Girls in Science event. This year, the initiative has expanded to a two-day affair, and will offer free educational programming to 100 Grade 10 students this coming Friday, as well as 50 Grade 8 students later this month.
---
The experiments may only last for one day, but their impact could resonate for years to come.
This month, McMaster will host more than 150 female students from across Southern Ontario as part of the University's annual Girls in Science campaign.
Roughly 100 Grade 10 students from Hamilton, Burlington, Toronto, Guelph and other nearby communities will be on campus Friday, April 10 for a fun-filled day of experiential learning and tours of McMaster facilities.
The organizers' long-term goal is to inspire more young women to pursue postsecondary study in STEM fields — those related to Science, Technology, Engineering and Mathematics. They key to success involves starting early.
"Grade 10 is an important year, in terms of reaching young women," says Sara Cormier, outreach coordinator with the Department of Physics and Astronomy.
"That's the final year science is mandatory for all high school students in Ontario, and that's when we need to get their attention."
View the full list of participating secondary schools
The Grade 10 session will be followed by a second day of programming on Friday, April 24. The latter will attract more than 50 Grade 8 students from Dr. Edgar Davey Elementary School, Hess Street Junior Public School and the Hamilton Hebrew Academy.
All of the participating students were hand-picked by their teachers. Many have shown early interest in studying a specific scientific discipline, says Cormier, although others are simply bright students eager to learn more about any subject.
On-campus activities will include a variety of hands-on workshops and group activities. For example, students will learn how to create their own batches of silly putty, practice blowing "square" bubbles and experiment with cornstarch and water as a substitute for quicksand.
Participants will also take in a show at the W.J. McCallion Planetarium and tour the University's cutting-edge LIVELab — a unique research space and interactive concert hall that functions as a global hub for some of the world's leading neuroscientific scholars.
Both days will be co-hosted by Let's Talk Science (LTS), the McMaster Women in Science and Engineering Initiative (WISE) and the Graduate Women in Physics & Astronomy (GWIPA), with sponsorship from Student Proposals for Intellectual Community & Engaged Scholarship (SPICES).
"Despite huge advancements in promoting women in the STEM fields, there is still work to be done," offers Cormier. "We want McMaster to be at the forefront of this broad movement, with participation from other universities around the globe."
Friday's event will run from 8:30 a.m. to 4:30 p.m. at various sites throughout campus, with four groups of 25 students rotating through each activity.