Trudeau hosts packed town hall at McMaster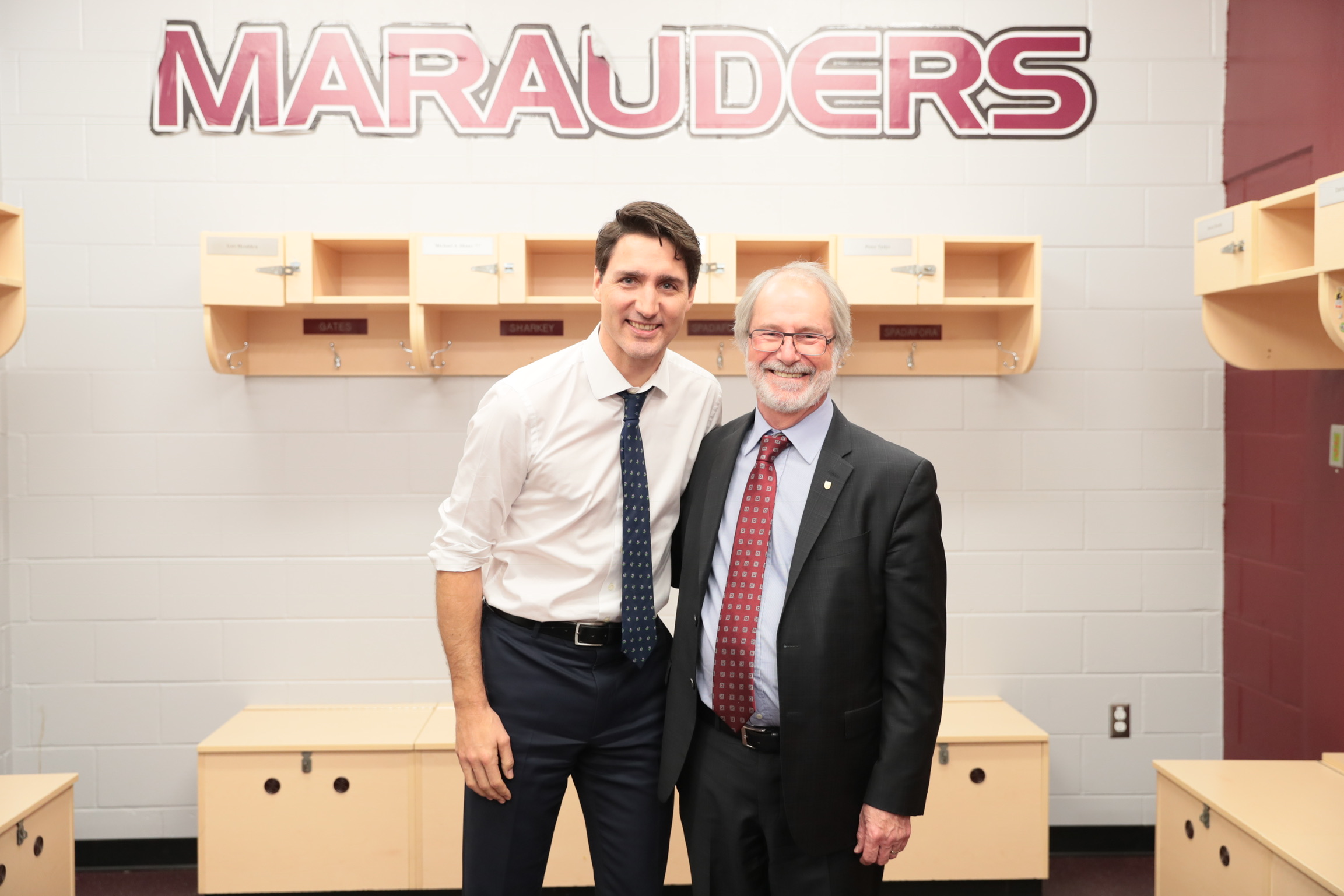 Prime Minister Justin Trudeau and McMaster president Patrick Deane before Trudeau's capacity town hall meeting
---
Prime Minister Justin Trudeau hosted a town hall meeting at McMaster on January 10, the second in a series of cross-country Q and A sessions that will extend from Halifax to Edmonton.
Participants started lining up at 10 a.m., with the trail of hopeful attendees eventually stretching out the west door of the David Braley Athletic Centre and past the stadium.
Out the door, around the block…the line's getting loooooong for @JustinTrudeau! pic.twitter.com/Bng3YG46h3

— McMaster University (@McMasterU) January 10, 2018
Seated in the centre of the Burridge Gym and surrounded by a crowd of almost 2,000 people, the prime minister responded to questions for almost 90 minutes.
Attendees included McMaster students, staff and faculty, members of the general public and a grade five class from Cootes Paradise Elementary School in Westdale, who had spent the morning tweeting with Trudeau and  Hamilton West-Ancaster-Dundas MP Filomena Tassi.
Shout out to @CParadise_HWDSB, here for the @JustinTrudeau town hall. They're interested in the environment and global warming. Welcome to Mac! @FilomenaTassiMP pic.twitter.com/cSRdF0UWTj

— McMaster University (@McMasterU) January 10, 2018
While most of the questions concerned specific issues – racism, accountability, and legalization of marijuana – one person asked Trudeau what he anticipated his legacy would be.
"[I would like to see] empowered Canadians being more active and engaged in shaping their communities, their country and the world," he said. "If we give everyone the tools and opportunities to shape the world around them, that will be a pretty good legacy."
Trudeau was last on campus in August, helping students move into residence to the accompaniment of a spontaneous – and enthusiastic – chorus of "O Canada."
The prime minister began his six-stop town hall tour in Halifax on Tuesday, and will be appearing in London on Thursday.
Thanks for the visit today, @JustinTrudeau! pic.twitter.com/Mx1EDRv0eD

— McMaster University (@McMasterU) January 10, 2018