Tributes flow in for John Bienenstock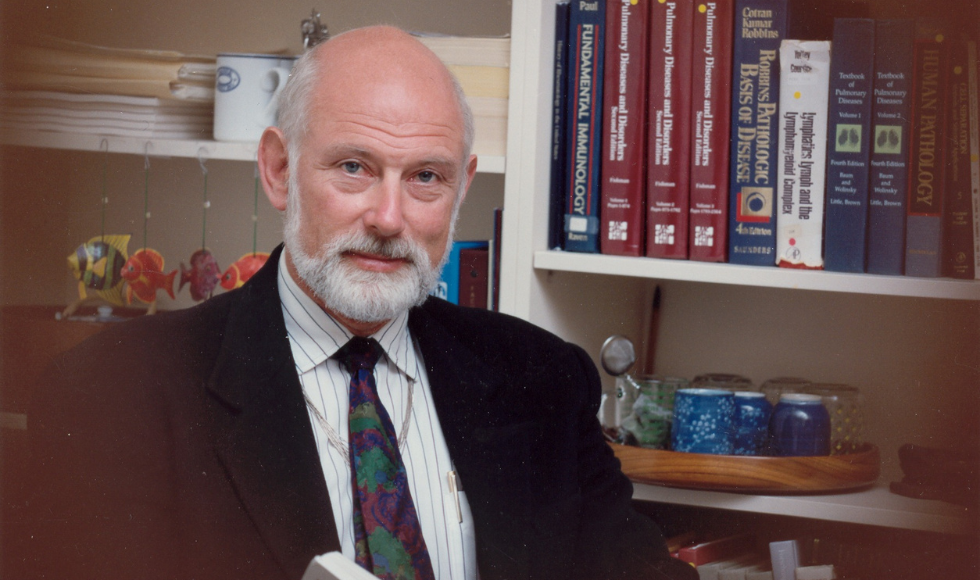 John Bienenstock was chair of the Department of Pathology from 1978 to 1989, and dean and vice-president of the Faculty of Health Sciences at McMaster from 1989 to 1997.
---
John Bienenstock, known internationally as a visionary physician, scientist, academic and a leader at McMaster University, is receiving tributes from his university colleagues. He died July 25 at age 85.
He was born in Budapest, Hungary in 1936, obtained his medical degree at King's College London and Westminster Hospital Medical School, U.K. in 1960, and did a postdoctoral term at Harvard University before joining McMaster University's medical school start-up in 1968. The first class began in 1969.
The professor of pathology officially retired in 1998, but he remained active in his research and as director of the McMaster Brain Body Institute at St. Joseph's Healthcare Hamilton until his death.
During his tenure at McMaster, he became renowned worldwide as a pioneer in mucosal immunology — introducing the concept of a common mucosal immune system. He also advanced the knowledge of neuroimmunology and in understanding how the brain and nervous system collaborate. He published more than 500 peer-reviewed articles and authored, edited or co-edited 10 books including a standard textbook on mucosal immunology and allergy.
Bienenstock was also a mentor and friend to many graduate students and fellow researchers, supervising more than 60 post doctoral fellows and 10 doctoral students.
He was chair of the Department of Pathology from 1978 to 1989, and dean and vice-president of the Faculty of Health Sciences at McMaster from 1989 to 1997. He was known for establishing a substantial research infrastructure at the Faculty.
His accomplishments were recognized. He became a Fellow of the Royal Society of Canada in 1992; a McMaster Distinguished University Professor in 1999; a member of the Order of Canada in 2002 and was inducted into the Canadian Medical Hall of Fame in 2011. He became a member of the Faculty of Health Sciences Community of Distinction in 2014. He also received an honorary MD from Goteborg, Sweden.
He leaves his family: his wife Dody; their children, the late Jimson (Johanna), Adam (Jill), and Robin; their grandchildren, Bella, Elsa, Sam, Leo, Sebastiano and Oliva and his sister Tsultrim Zangmo (Veronica).
---
"Dr. John Bienenstock has had an immense impact on the Faculty since he started here 54 years ago. He was a visionary as a scientist, as an administrator and as an academic, inspiring generations of scientists and clinicians to think outside of the box. He was a friend and mentor to so many of us, and his legacy of innovation will continue," Paul O'Byrne, Distinguished University Professor, Medicine, and Dean and Vice-President, Faculty of Health Sciences, McMaster University
---
"The great scholars of McMaster Health Sciences typically are educators or researchers. John Bienenstock was in the "great researcher" category. He was different from other great researchers because his strength was identifying a vision and pulling together collaborators and other scientists who could address this vision. Very good researchers can work at the '50,000-foot level'. John Bienenstock was one of those very few people in my career who would move from 50,000 feet down to one foot and then up to 500,000 feet. His ability to see the future of science and then help make it happen was remarkable," John Kelton, Distinguished University Professor, Medicine, McMaster University and Executive Director, Michael G. DeGroote Initiative for Innovation in Healthcare
---
"John was the single most important mentor in my career and unquestionably the most creative person —a true renaissance man — I have ever had the privilege of working with. He took great joy in the success of others and made hard work fun. He became a dear and beloved friend who I will forever treasure and miss," Kevin Smith, President & CEO, University Health Network
---
"In 1982, John initiated an application to establish academic gastrointestinal research at McMaster and formed a team of Dean Befus, the late Ed Daniel and me. His vision drove the successful application and laid the foundation for where GI research is today at Mac. He was as unconventional in his research as he was in his dress code and that vision is as relevant today as it was in 1981. He was a true giant on whose shoulders I have been proud to stand," Stephen Collins, Distinguished University Professor, Medicine, McMaster University and Director, Farncombe Family Digestive Health Research Institute 
---
"He was one of the most influential thinkers in the field of mucosal immunology in the world and brought strong international recognition to McMaster and Canada with his works. His development of the Host Resistance Program in the early 70's, with research studies in the immune response at the mucosa and molecular virology, formed one of the most successful groupings in Canada and North America, with multiple basic and clinical trainees now populating world class institutions around the world. He always rose to the challenge, whether it was research, clinical or administrative problems and always looked for good young people to engage in the pursuit of solutions with him," Jack Gauldie, Distinguished University Professor, Pathology and Molecular Medicine, McMaster University
---
"John Bienenstock was a remarkably creative individual, a revolutionary thinker and a pioneer in the study of mucosal Immunology.  John's impact on our community has been deep and far-reaching.  As holder of the John Bienenstock Chair in Molecular Medicine, I am continually inspired by John's legacy of scientific excellence and impact," Jonathan Bramson, Professor, Medicine and Vice-Dean, Research, Faculty of Health Sciences, McMaster University
---
"I recall when my partner and I were canvassing the neighbourhood as undergraduate students raising money to support an outreach trip to Brazil to work with street kids.  We ended up knocking on John's door in Dundas, not knowing who he was at the time.  Whereas most people closed the door on us, John listened intently to our story and the reasons why we were wishing to volunteer abroad.  He asked questions and was curious, as was his nature of course.  Before we left, he gave us $100 to support our trip.  This was our largest donation by far and it meant the world to us at the time," Brian Coombes, Professor and Chair, Department of Biochemistry and Biomedical Sciences, McMaster University and Canada Research Chair in Infectious Disease Pathogenesis
---
"For decades, throughout all his administrative positions, John was an irreplaceable support and sounding board for me in my professional career. He was approachable, caring and wise, and I am grateful for his discussions, advice and friendship," Sandra Witelson, Professor, Psychiatry and Behavioural Neurosciences and inaugural Albert Einstein/Irving Zucker Chair in Neuroscience
---
"As a post-doc, I was supervised by John from 1990 to 1995 and then I was a McMaster faculty member from 1995 to 2006. John was a visionary scientist whose research was groundbreaking, illustrating connections between systems in the regulation of host defence and immunity. He was an inspiration to dozens of trainees and colleagues and will be sadly missed," Derek McKay, Professor, Physiology and Pharmacology, University of Calgary and Director, Snyder Institute for Chronic Diseases
---
"St. Joseph's research community is grieving an immense loss of a wonderful colleague and friend. While the global scientific community will remember him for his laudable contributions to our understanding of mucosal immunology and the interactions between the nervous and immune systems, we at St. Joe's will miss him for his generosity, scientific curiosity, mentorship and his kindness," Lehana Thabane, Professor, Health Research Methods, Evidence, and Impact, McMaster University and Vice President, Research, St. Joseph's Healthcare Hamilton
---
"John's legacy is profound and well beyond mucosal immunology, such as connecting mucosal immunity with the mind. His vision and personality kept everyone who knew him in awe. I treasure fond stories about John and I will miss him dearly," Elena Verdu, Professor, Medicine, McMaster University and Canada Research Chair in Inflammation, Microbiota and Nutrition
---
The Canadian Medical Hall of Fame's 2011 tribute to John Bienenstock is here.