Touching history: Collaboration between library and history department gives students a hands-on look at the past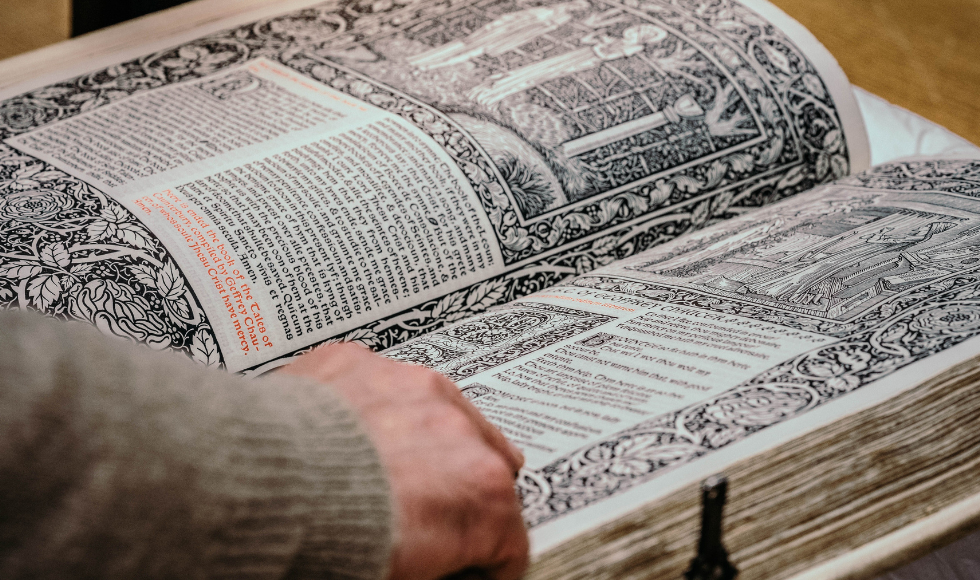 As part of the 'Making History' course, students handled rare books and materials including this Kelmscott Chaucer, printed in 1896. [Photo credit: Chris Rey Basalo]
---
'You're really going to let me touch this?!'
This was a common question from students in 'Making History' — a pilot course developed by Karen Balcom, associate professor of history, and Myron Groover, archives and rare books librarian. "In this course, we wanted to make sure that every single student got to handle rare and significant textual materials," says Groover.
For several years, Groover, Balcom and other faculty from the Department of History, have been developing new opportunities for students to explore history while engaging directly with historical source materials in a hands-on way.
"We have an enormous wealth of special collections material at McMaster — tens of thousands of rare books and over four linear kilometres of archival material," says Groover.
"Thinking about how these artifacts come to be, the stories they tell, and how students can make use of them in their own learning is very inspiring to me."
Due to the sometimes fragile nature of these artefacts, Groover noted that it was common for students to feel uncomfortable exploring, or even being in the same space as, these materials on campus — and he wanted to change that.
"We want to make sure that students across all faculties are not only aware of these resources, but that they feel actively invited and empowered to use them." he says.
The first step in making these materials more accessible for student work was integrating them into the classroom. Working initially with funds provided by an Experiential Learning in Academic Programming grant, Balcom and Groover first developed an assignment model for working with special collections material that could be incorporated into any history course offered at McMaster. When they saw the success of introducing archival and rare book materials into the classroom, staff at the William Ready Archives and the Department of History knew they wanted to expand on this initial concept.
With Groover's knowledge of archives and book history and Balcom's track record of building and teaching innovative curriculum, the 'Making History' course was born as a partnership between the history department and the William Ready Division of Archives and Special Collections.
Delivering experiential learning during the pandemic 
Just as the details of the course were being confirmed, the university announced that the first half of the Winter 2022 term would be online due to COVID-19.
"We had to ask ourselves — how do we create a great experiential learning experience during COVID?" says Balcom.
Without being able to count on having students in the archives in the way they originally imagined, Balcom and Groover re-worked the course into a hybrid model and shifted focus to cover a wider history of the written word ranging all the way from cuneiform tablets to digital archives.
Fortunately, through the generous contribution of a flexible learning space by the Sherman Centre, students were still able to interact with materials in person while following COVID-19 protocols and adhering to sound archival handling practices. "One week, students were working with 19th century newspapers, which are both incredibly fragile and quite large when they are laid out," says Balcom. The Sherman Centre was able to provide large, flat surfaces where these delicate materials could be set up for students to explore safely.
"The opportunity to handle the material was incredible," says Leah Guffroy, a recent humanities and social sciences graduate who took this class in her final year of studies.
"The materials were placed around the room and we were given free rein to interact with them, ask questions, and explore the concepts we'd been learning," says Guffroy.
The course was delivered through a series of modules exploring a different theme each week, where students were able to study texts ranging from local Indigenous treaties to medieval Persian manuscripts — some of which they could handle in person, while others were accessible online.
For their final project, students used McMaster's tailored instance of the open-source digital curation platform Omeka S — a tool the library has been working to make available for campus-wide use. "This class was one of our first chances to really deploy this incredible curation tool in a classroom environment," says Groover.
Guffroy — whose final project focused on the poetry of WWI soldier and McMaster graduate Bernard Freeman-Trotter — enjoyed using Omeka S as a way of bridging the gap between archival materials and the digital world.
"As much as archives are about preserving the past, they are also about integrating digitization and finding new ways to remain accessible and present information," she says.
Collaboration is key in delivering unique hands-on opportunities 
An extension of the course's unique approach is the fact that it was taught by Balcom, a faculty member, and Groover, a librarian. This allowed for flexibility in how the course was funded and structured, as well as providing an opportunity for students to learn from two specialists who approached the material from different areas of expertise.
Along with instructors from different academic backgrounds, students also benefited from having a diverse cross-section of classmates. Open to students across all faculties, the pilot class was made up of undergraduates from programs ranging from health sciences to studio arts. "The class became a very cool interdisciplinary conversation," says Balcom.
Not only is this innovative approach to interdisciplinary and experiential teaching in line with the priorities of the university's Partnered in Teaching and Learning Strategy, it is an example of what can be achieved when departments and faculties across campus develop creative ways to collaborate.
In the coming years, the teaching duo hopes to continue scaling the course and increase the number of students who can participate. Future offerings will involve additional members of the history department with expertise related to different collections in the William Ready Archives.
"We are giving students an experience that they have not had elsewhere," says Balcom.
'Making History' HIS 2PP3 will be offered again in January 2023 and will be open to students in all faculties.