Top of the profs: Mac students pick Teaching Excellence winners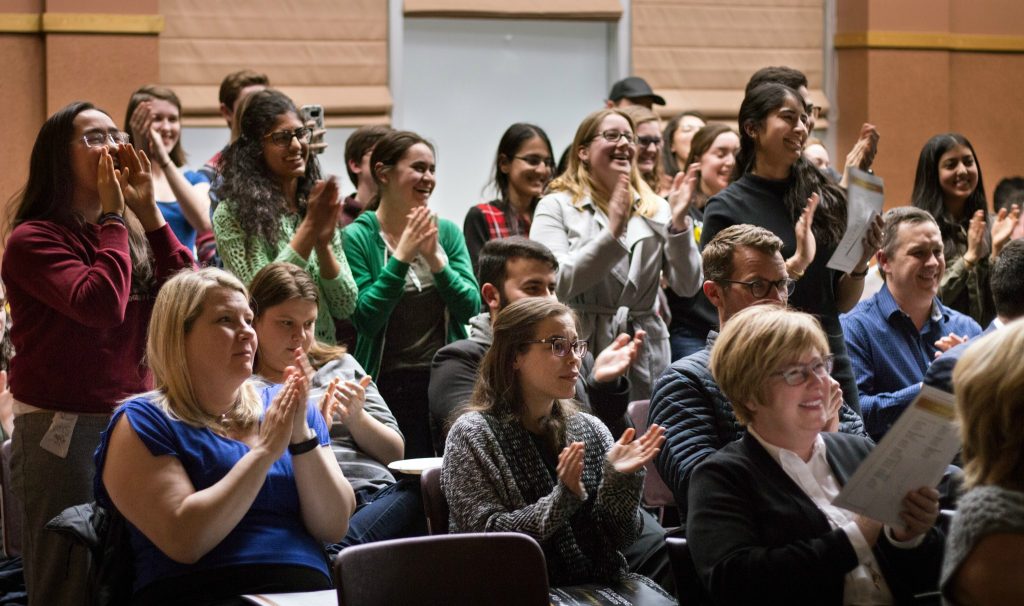 The McMaster Students Union Teaching Awards honour the best, most inspiring educators on campus.
---
The McMaster Students Union handed out its annual teaching awards this week, honouring the best and most engaging educators on campus, all chosen by students. In addition, five outstanding teachers received application-based awards in recognition of their rich contributions.
Political Science professor Henry Jacek received the Lifetime Achievement Award. Jacek regularly brings guest speakers from all levels of government into the classroom. It's not unusual to meet MPs, MPPs or longtime public servants in his classroom. Last year, Jacek was awarded the Canada Sesquicentennial award, created by Heritage Canada to acknowledge those who promote inclusivity and celebrate diversity, work to improve the environment, who champion justice, equality and democratic stewardship and/or engage and inspire youth.
Arts and Science assistant professor John Maclachlan won the Community Engagement Award. Previously, Maclachlan won the 2014 President's Award for Outstanding Contribution to Teaching and Learning.
The Merit Award went to Civil Engineering assistant professor Moataz Mohamed, whose work focuses on sustainable public transit.
Linguistics and languages professor Catherine Anderson took home the OUSA award, which recognizes educators who excel at unlocking the potential of Ontario's young people.
And the MSU Distinction Award — which celebrates teaching and learning that goes well beyond the confines of the classroom — went to Anushay Irfan Khan. She was leadership development program co-ordinator at McMaster for two years until moving to the University of Toronto Mississauga, where she is the international and intercultural student development co-ordinator.
The winners of the student-nominated teaching excellence awards in each faculty are:
Arts & Science: Nadine Ijaz
Engineering: Eu-gene Ng
Nursing: Lynda Poole
Commerce: Anwar Husain
Health Sciences: Hartley Jafine
Humanities: Craig Jennex
Social Sciences: Jennie Vengris
Kinesiology: Philip White
Science: George Dragomir
As well, students votes for their favourite teaching assistants. The four winners are:
Supriya Singh
Jack Legere
Ali Abu Helal
Muzammil Syed