Top McMaster startups vie for $100,000 in Forge pitch competition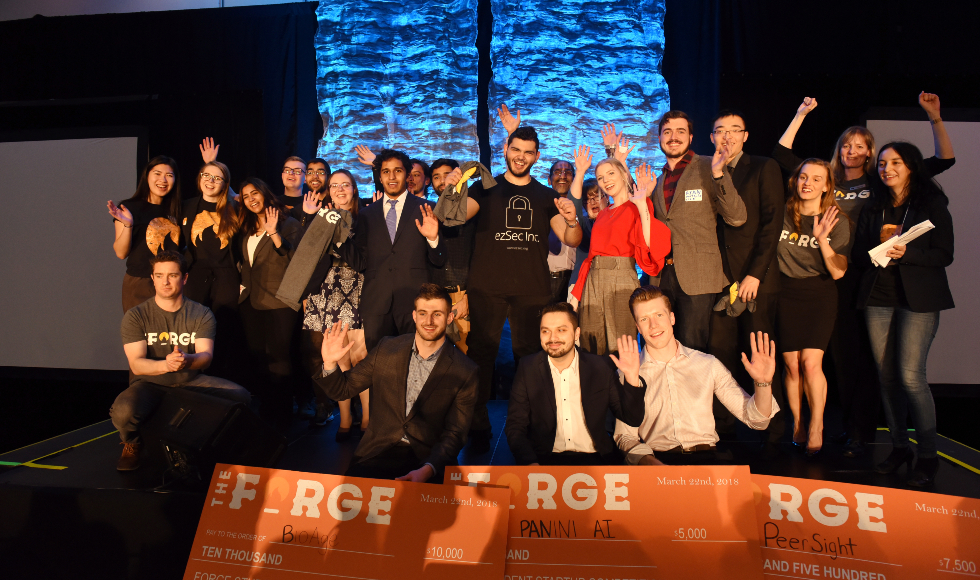 The Forge Student Startup Competition in 2018.
---
At McMaster, the entrepreneurship event of the year is the Forge Student Startup Competition, where students and recent graduates can pitch their big ideas to judges for up to $100,000 in grants and cash prizes.
Finalists and their co-founders enter the Forge Summer Startup Academy and spend the summer with advisors and mentors working on their startups.
The event is hosted by the Forge Business Incubator, which is headquartered at McMaster Innovation Park and has now worked with 110 startups that have raised a total of $21 million.
"The Summer Startup Academy is a great opportunity for students to develop their business ideas together with experienced entrepreneurs and business professionals," says Monika Yazdanian, the director of The Forge. "Last year's competition was fantastic – we had a record crowd of over 400 people come out to hear the student finalists pitch. People love hearing about new ideas and new technologies and this year's event is going to be even bigger."
Judges this year will be Jim Orlando from OMERS Ventures, Sion Balass from The Group Investments and Gay Yuyitung from the McMaster Industry Liaison Office.
Local biotech company AgeRate, which developed a non-invasive test for determining biological age, won the competition last year.
"The Forge Student Startup Competition was the launch pad for AgeRate," says AgeRate co-founder Cole Kirschner. "Winning the first-place prize of $13,000 in funding gave us the boost of confidence we needed to start the company. Since then, AgeRate became a part of the Forge ecosystem which provides invaluable mentorship, resources and support."
The Student Startup Competition will be held on March 20, 2019 in CIBC Hall at McMaster University from 5:30-7:30pm. The event is open to the public and is free.
Seats are limited; register now through Eventbrite.
For more information, contact Carmen Wong, PhD, Manager of Student Entrepreneurship at carmen@theforge.mcmaster.ca or at
(289) 919-1177 x203.