Top 3 Trends in sports management: smart arenas, eSports, predictive analytics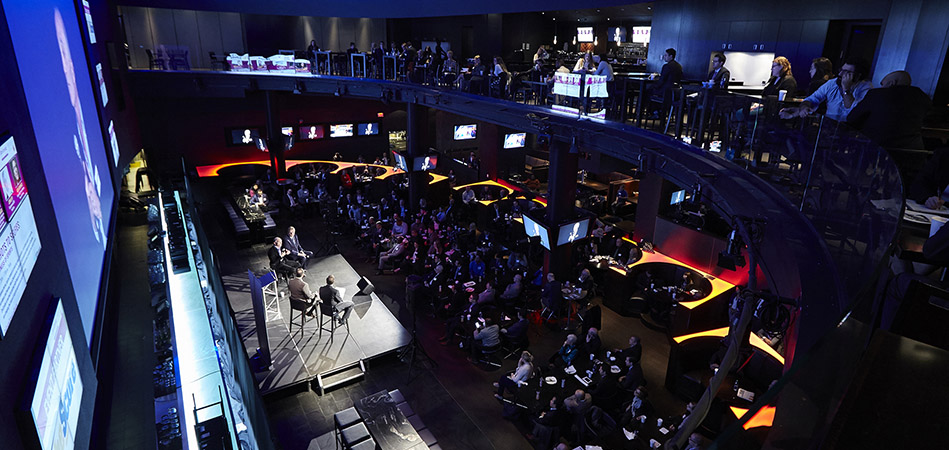 ---
Last week, DeGroote Associate Professor Nick Bontis moderated a lively panel at Toronto's Real Sports Bar & Grill with three of Canada's leading sports luminaries: Jonathan Carrigan, Senior Director, Business Intelligence & Platforms at Maple Leaf Sports & Entertainment; John Levy, Chairman and CEO, theScore; and Glen Grunwald, Director of Athletics & Recreation at McMaster and a former MBA executive. The event, titled Slapshots to Selfies: The Business of Sports, attracted nearly 200 attendees and panelists discussed several critical issues related to sports management. Below, Bontis reflects on the Top 3 Trends in sports management highlighted during the discussion:
1. Predictive analytics in sports has become commonplace
The 2011 movie Moneyball, starring Brad Pitt as former Oakland A's General Manager Billy Beane (now Executive Vice President of Baseball Operations), may have raised the overall consciousness of the importance of analytics in sports. However, today's professional sports teams are taking it to a whole new level. The following are just three examples of the significant impact that predictive analytics currently has in sports: maximizing ticket revenue by analyzing preferences and behaviours as it relates to pricing and fan engagement through social media traffic; reduction of recovery time and injuries for professional athletes based on physical exertion, load and GPS tracking of on-field performances; and detailed video analysis of technique and movement during training and in-game sessions for incremental refinement and improvement.
2. Smart arenas and the new way of watching sports live
While nothing compares to watching your favourite sports team live in action with thousands of like-minded fans, today's sports fans are streaming into stadiums with smartphones in hand. With several arenas boasting free WiFi connections, sporting venues are transforming the live in-game experience with several new services such as: access to instant video replays from customized views; ordering food and beverages for personal delivery to your seat; location-based advice for the nearest available parking, washroom, concession stand or souvenir stall plus the quickest route home when the game is over; live statistics on player performance and biometric data; and finally, crowd-sourced tactical advice from thousands of fans dynamically aggregated in real-time for the team's technical staff.
3. eSports has arrived in a big way
Multiplayer online battle game League of Legends has become one of the most popular video games in the world, and McMaster boasts an active club. Massive tournaments have recently been hosted (and sold-out) in the Staples Center in Los Angeles, Madison Square Garden in New York City, Manadalay Bay in Las Vegas, and this past summer at the Air Canada Centre in Toronto. The atmosphere at these events is electric and comparable to any Blue Jays or Raptors playoff game. The mobile app theScore has pushed out claims to be the first to deliver dedicated content, multi-game news and data coverage for the new world of fantasy leagues and eSports. In fact, I predict a day in the not-too-distant future when McMaster may offer an eSports scholarship to high school graduates. This trend is legit!
Nick Bontis a 3M National Teaching Fellow at the DeGroote School of Business. He is recognized internationally as a leading strategy and management guru, and has lectured at hundreds of conferences, corporate presentations, seminars, and workshops worldwide.