Top 10 things Mac students need to know as we start the weirdest term ever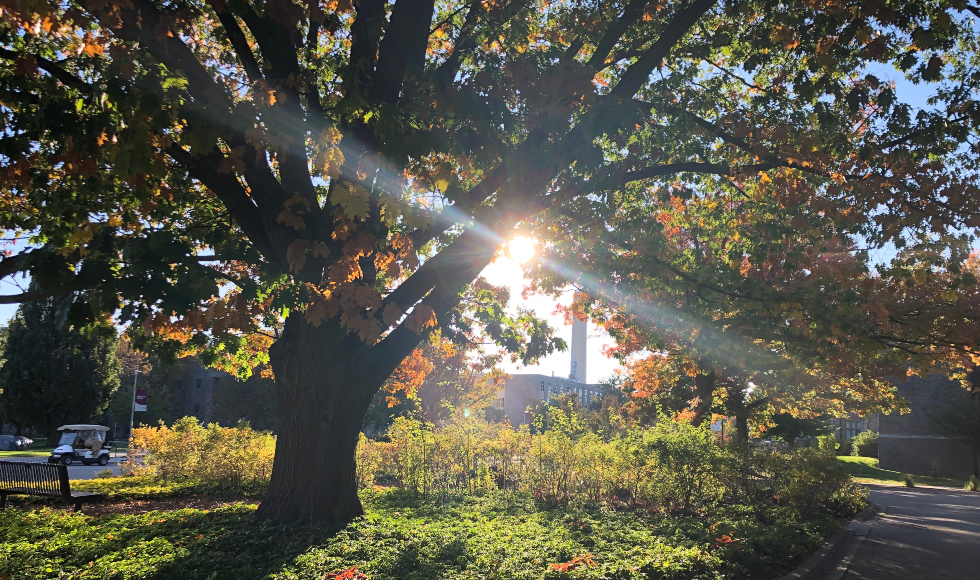 ---
It may be your first year at Mac or your fifth – but it's going to be a fall term like no other.
There's always lots to know at the beginning of a new school year – and while your profs have your course work covered, we've got some additional information that will help you navigate your way around our new normal – whether you're back at home, living in the neighbourhood or on campus.
1. Mac has a website that's just about COVID-19
If you're curious about whether there are active cases on campus, want to know how we're keeping campus clean or just need the latest updates, check Mac's COVID-19 website. It's also got a list of FAQs and links to the resources you'll need if you have further questions.
Websites not your thing? Follow @mcmasteru on Twitter and Instagram, and @McMasterUniversity on Facebook.
2. Be a good neighbour and keep our community safe
Mac students are a key part of the neighbourhoods around campus – and you have a big role to play in keeping the community safe. That means being super conscientious about not partying, wearing a mask when you're out and about, and practicing good physical distancing. And if the "good neighbour" argument isn't making you rethink that house party, keep in mind that there are hefty fines for not staying two metres away from others, even outside – up to $500.
3. Coming to campus? Don't. But if you must …
With most classes online the majority of students won't be on campus this term. Some students do need to be on campus, whether it's for one of the few in-person classes or to access the library's bookable study space or do research.
There are specific steps you need to follow if you're coming to campus:
• Complete McMaster's mandatory online training at least one day before you need to be on campus
• Complete the Ontario COVID-19 self-assessment tool no more than one hour before arriving on campus
• Check to see whether there are additional protocols for the building you're going to. For example, if you're going to MDCL or the hospital, you'll need to complete this screening.
4. What to do if you've been exposed
If you're feeling ill, or you get a notification that you've been exposed, you're probably worried. To keep yourself and the community safe, there are steps you should take, both personally and if you've been on campus.
If you've been home and haven't been on campus, follow these steps from the provincial government.
If you've been to campus, there is a step-by-step guide to follow.
5. The Student Wellness Centre can support your physical and mental health
With counselling, medical services and wellness programs – many running virtually – the Student Wellness Centre is a good place to start if you're feeling stressed or need support with your physical health.
6. This is the minimum tech you'll need for your classes
According to University Technology Services (UTS), at a minimum, you'll need:
• Windows 10 or Catalina as an operating system
• Firefox or Google Chrome for a browser
• An Intel Core i5 (or higher) processor
• 8 GB of RAM
• A webcam and a good wifi connection
Some programs may require a higher performing device, so check with your program for more specific info.
7. Not feeling confident about online learning? Here are some key tips
There's no doubt that remote learning is different from sitting in a class or lecture – and it comes with its own challenges. The Student Success Centre has a number of resources to help you make the most of online learning. Their top tips include:
• Set up a clutter-free workspace that's as free of distractions (including electronic ones) as possible.
• Take notes as you listen to an online lecture to help you focus. Handwriting is best, but you can type if needed.
• Try to watch lectures in real time, and avoid binge-watching.
• Stay in touch with your instructors, even if that's remotely.
• If you can, set up an online study group to discuss concepts and solidify what you've learned.
8. Missing the gym? Work out at home, or head outside
Our gym is closed, but there are free online classes running courtesy of The Pulse – check out weekly schedules on Instagram at @macrecreation. Nature @ McMaster has some great resources for getting outside, including links to cycling routes, hiking trails and paddling spots. Just remember to stay at least two metres away from other people, even if you're outside.
9. Being online can make it hard to connect with people. MSU clubs can help
Many MSU clubs are running online this term, so connect with @MSUClubs on Instagram and Facebook or @MSU_Clubs on Twitter to find out the latest updates and events.
10. You're nice offline. Be nice online too
Just because you're online doesn't mean you get to be a jerk. Mac's Code of Student Rights and Responsibilities has guidelines for online behaviour – and consequences if you don't follow them – so follow these netiquette tips to make sure your online communications stay professional and appropriate. You can report disruptive behaviour in an online learning environment by emailing sscmo@mcmaster.ca.)