Study details positive impacts of tobacco and smoke-free campus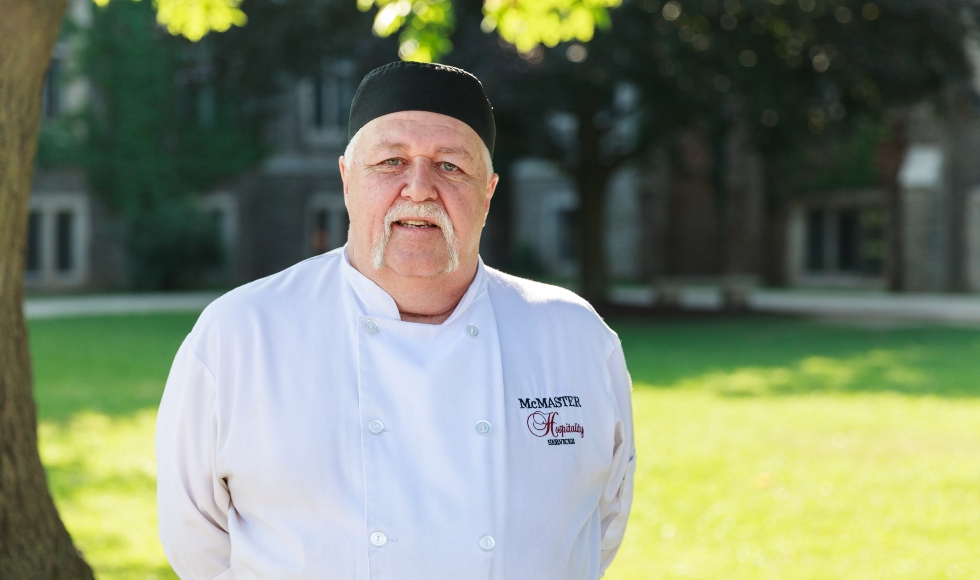 Chef de partie Ray Osborne quit smoking when McMaster launched the tobacco and smoke-free campus policy. Photo by: Sarah Janes.
---
Ray Osborne has had a long, successful career in the restaurant and catering business, including the last 18 years with McMaster Hospitality. And just like many people in the industry, he was a pack-a-day smoker for most of that time.
That is, until last year, when McMaster became the first tobacco and smoke-free campus in Ontario. Then he quit. For the last time. And now he's gone more than a year-and-a-half without a cigarette.
"I'm glad I quit, I really am," Osborne says. "I can't smoke in my apartment, I made it a policy not to smoke in my new car, and now I can't smoke at work, so I had to ask myself – why am I smoking?"
McMaster's tobacco and smoke-free campus policy came into effect on January 1, 2018 and has had a lasting, positive impact on cutting exposure to smoke and tobacco on campus and promoting health and safety, according to a newly-released report looking at the first year of the policy's implementation.
The student-led study was conducted by McMaster nursing and master of public health students, supported by City of Hamilton Public Health Services and campus labs. It evaluated key indicators before the policy's implementation, at three months after implementation and at one year later. The results are a dramatic success.
"It's clear that the smoke-free policy has had a big effect on campus," says David Farrar, Acting President. "Along with providing support for staff and students who want to quit, having a 100% smoke-free policy really does make a difference to the health of our community."
The study used a community survey, a litter audit, and data about smoking cessation services and compliance rates to report back on changes seen because of the policy.
Survey respondents reported that their exposure to second-hand smoke was cut in half from 63% to 32% at three months and 30% at one year. An impressive 93% of the 1250 staff and students surveyed were aware of the policy. 12% of those surveyed self-identified as smokers.
A litter audit tracking cigarette butts at six key campus locations showed a reduction of 14% at 3 months after the policy's implementation and 65% reduction at one year with the largest changes outside the hospital, the Phoenix and Mary Keyes residence.
The report includes five recommendations to strengthen the policy and outcomes, including ongoing promotion, enforcement, monitoring, population-based interventions and knowledge transfer.
"McMaster is a real leader in this area," says Heather McCully, a health promotion specialist with City of Hamilton Public Health and report co-author. "Since McMaster has gone smoke-free, 20 other colleges and universities in Ontario have implemented similar policies. We're all learning together from the positive outcomes at Mac."
McCully and Deb Garland, Program Manager, Engagement and Wellness in McMaster human resources, will co-present the results to provincial public health professionals on October 8.
The full report and resources to quit are available online.
Now, Osborne is providing support to his colleagues in Hospitality who are also considering quitting. He's got a new routine for taking his breaks and he's hitting the gym after work.
"I can even taste food a little better, I think," he says. "I feel better physically and mentally just knowing I'm not smoking."