This Month with the President: Preparing for the future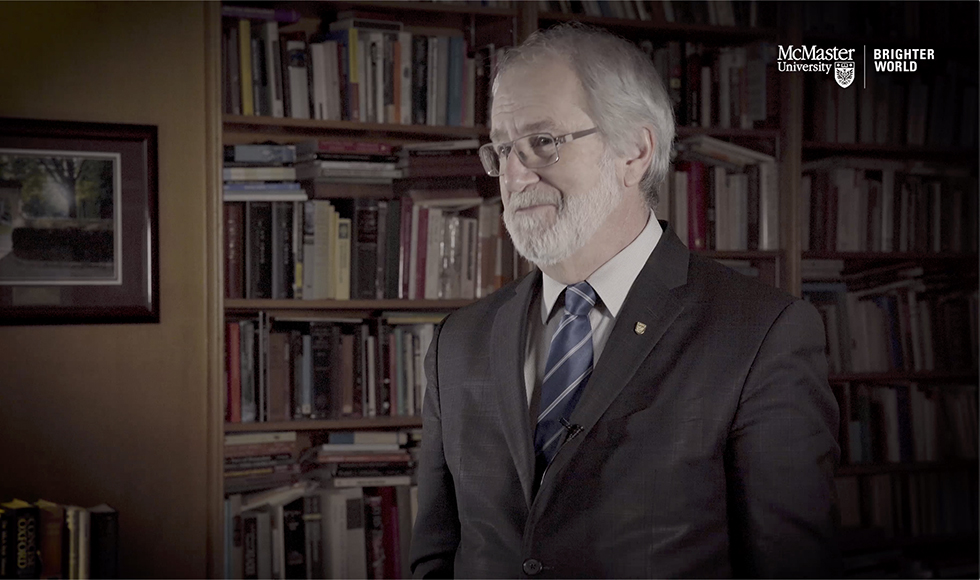 ---
It's a new year and new semester for everyone. For those completing their degrees, it will be the final semester of their studies at McMaster. 
President Patrick Deane shares his insight on what you should be thinking about and considering for the time ahead.
"There are lots of opportunities for students to find help in order to prepare for the challenges of the future," says Deane. "My advice would be to maintain a balanced way of thinking about what will happen after the conclusion of your studies and what needs to be done in order to ensure you come to a successful conclusion of them."
Keep an eye out for upcoming events to help ease into the next chapter of your journey.
LIFE AFTER MAC: Jan. 8-11
January 8: Networking for success
This powerful workshop will help students strengthen their presence, human relations, understanding body language, and leave a strong impact on others.
January 9: The Game of Life: IRL
Chance and luck will play a part in this journey as you learn more about getting prepared, settings goals, building a budget, and then successfully transitioning from university to life after McMaster.
January 10: Alumni Launch
Students will learn what is involved in a successful transition out of university. There will be numerous speakers and various drop-in sessions, including money management, resume review and LinkedIn photo taking, networking lessons, and an alumni panel.
January 11: Ken Jeong with opener Salma Hindy
Salma Hindy is a graduate from McMaster's electrical and biomedical engineering program. She experienced a fast rise to popularity as a comedian after beginning stand up comedy during the pursuit of her Masters in engineering.
Actor, producer, and writer Ken Jeong is known for his scene stealing abilities in movies such as Step Brothers and the Hangover trilogy. He earned his undergraduate degree from Duke University and went on to get his medical degree from the University of North Carolina, going on to complete his Internal Medicine residency in New Orleans while developing his comedy.
Life After McMaster is a collaboration between the McMaster Students Union, the Student Success Centre, and the Alumni Association.
More information on this series of events is available here.
Own Your Career conference: Jan. 28
New half-day conference about how your diverse experiences have value and how they can help shape future workplace inclusion. This conference is a unique professional opportunity to engage in meaningful conversation with employers and community partners and is committed to being a safe and accessible space for the diverse voices of women, First Nations, Metis and Inuit peoples, racialized persons, persons with (dis)Abilities and LGBTQ2SIA individuals and their allies.
This conference takes place on Monday, January 28, 2019. Registration opens this January on OSCARplus.
CONNECT TO CAREERS: Feb. 5
The job fair will provide you with an opportunity to increase your job prospects meet with some of Canada's top employers, learn important job search techniques and prepare you for upcoming professional networking.
Learn more: https://www.connecttocareersjobfair.com/job-seekers/be-prepared