This Friday: clash of OUA rugby powerhouses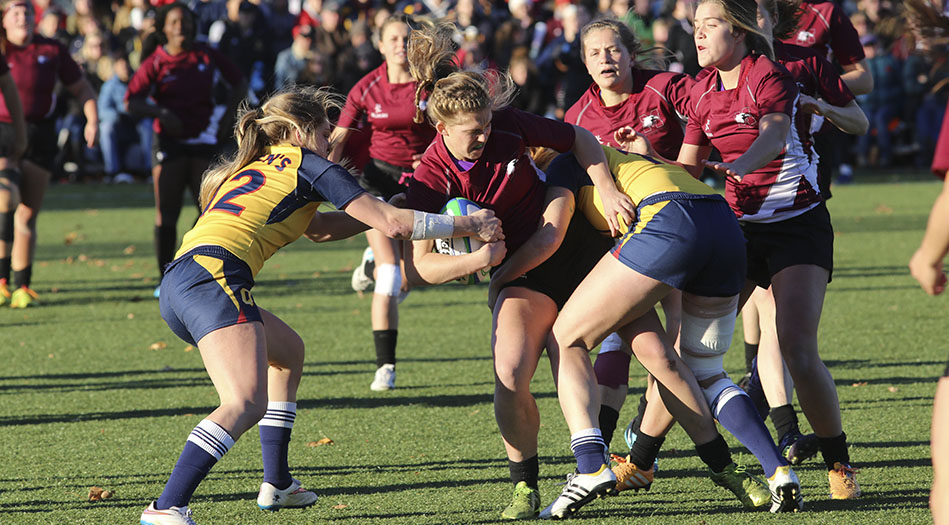 Photo from 2015 CIS final against Queen's.
---
Friday marks the first stern test of the season, and the return of a familiar foe for the Marauders. After cruising to two lopsided wins to open the OUA season, the CIS No. 1-ranked McMaster plays host to the No. 4 Queen's Gaels on Friday in a rematch of 2015's CIS final.
The Marauders won that game, and their first Monilex Trophy as CIS champions, 27-3 on Queen's home turf at Nixon Field in November. With the win, McMaster avenged their only loss of 2015, having dropped their season opening game at that same venue two months earlier.
A new season has arrived, and the Marauders occupy the new role of defending champions, but very little has changed at the top of the OUA's Russell Division. Through two games, the McMaster and Queen's boast identical 2-0 records and have scored well over 100 points in a pair of routs. The Gaels currently sit atop the divisional standings on the basis of point differential, having conceded just five points and scored 160 (+155) while Mac's differential sits at 110.
Gone is 2015 team captain, CIS Player of the Year and OUA Female Athlete of the Year Cindy Nelles, who graduated at the top of the game. Other familiar names like Christine van Beest, Emily Ricketts and Rina Charalampis have also graduated, but the youth movement behind them shows no sign of slowing.
Sara Svoboda has re-entered the Marauders lineup after being sidelined with injury throughout the 2015 season, and has assumed Nelles' eight jersey without missing a beat. She stands as the co-leader in OUA with five tries, and sits second in the conference with 29 total points.
Her sister Katie brings a similar blend of speed and power to a stacked back row that includes all-star Abi Moody, while all-star prop Colleen Irowa continues to anchor the front row alongside veteran hooker Megan Filgiano. Experience and quality reigns among the backs as well, where the centre tandem of Selena Sequin and Safara Whiteley-Hoffelner joins senior fly half Steph Black.
They will need to contend with another imposing Queen's lineup, including the OUA's leading scorer Nadia Popov, who has racked up 32 points from the centre spot through two games.
All of the action goes down under the lights of Ron Joyce Stadium, where McMaster opened their season in dominant fashion on September 9, blowing out the Toronto Varsity Blues 81-0.
Fans are welcome to join free of charge for this clash of OUA rugby powerhouses.