The rent is free, but your neighbours will be noisy: Bee hotels coming to campus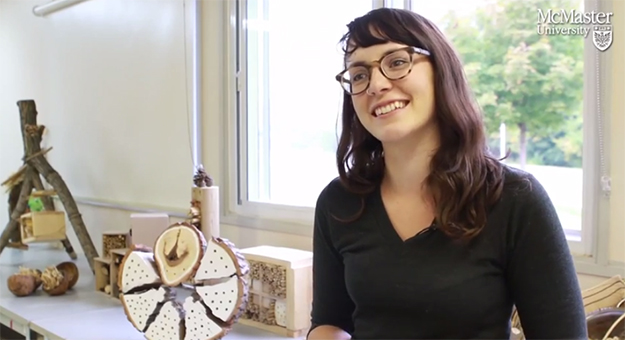 Second-year student Maria Simmons shows off her unique bee hotel during class on Wednesday. The functional sculptures will be used to attract and house different varieties of bees, in an effort to fight declining populations.
---
Students in Judy Major-Girardin's Environmentally Responsible Studio Art class recently completed a series of "bee hotels" for placement on campus.
Once installed, the tiny domiciles will be used to attract and house different kinds of bees in an effort to combat declining populations. Each piece was created by a student in Major-Girardin's class, with a focus on balancing functionality with pleasing aesthetic qualities.
McMaster is currently home to a thriving bee apiary, located on the western edge of campus near Dundas. Beekeeper and McMaster researcher Brandi Lee MacDonald was instrumental in helping Major-Girardin and her students facilitate the bee hotel construction.
Now in its second year of operation, the Environmentally Responsible Studio Art class focuses on sustainable studio production.
It ultimately promotes a better understanding of materials and processes, including: the impact of their manufacturing, health and safety implications, disposal considerations and the capacity for materials and practice to create meaning.
Watch the video below to learn more about McMaster's bee hotels: