"The entire McMaster alumni is cheering" for Continuing Education graduates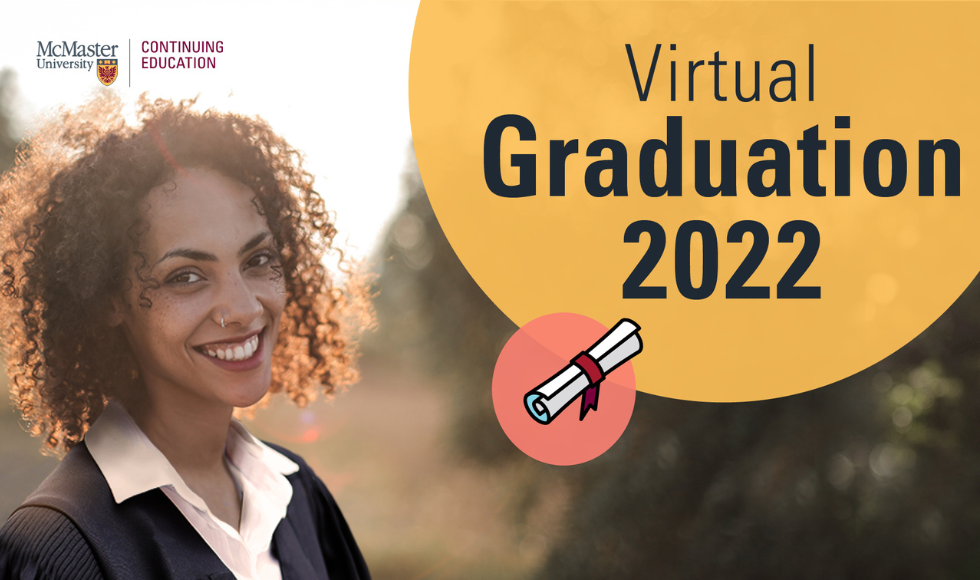 ---
On Nov. 10, McMaster University Continuing Education celebrated over 800 graduates from 20 countries through a virtual celebration.
University administration, instructors, family and friends welcomed and celebrated the graduating class of 2022 through heartfelt video and written messages.
"As a McMaster graduate, you have arrived at a time of reflection on the past and looking ahead to the future." Provost and Vice-President (Academic) Susan Tighe said via video.
"Find strength in your accomplishments, learn from your mistakes and think positively about new opportunities."
Tighe also noted the strength of the McMaster alumni community and their role in celebrating an important milestone: "Not only do you have the skills and knowledge to help you advance professionally and personally, you also have the entire McMaster alumni cheering you on.
"Go forward with confidence, knowing that you will be successful in all the challenges and experiences that lie ahead. McMaster University knows this and stands with you."
Chancellor Santee Smith shared a message and words of inspiration: "McMaster is grateful for you, for your commitment to learning and unlearning, as we are all charged with moving forward with transformative, forward-thinking and actions that will benefit generations to come. I wish you health and inspiration on your journey forward and new pathways that come your way."
Karim Elemam, President of the McMaster Alumni Association, welcomed 2022 graduates to the McMaster alumni family, with more than 225,000 alumni worldwide.
"We encourage you to engage with the university through the Alumni Association to continue to learn, connect, volunteer, network, mentor and engage with fellow alumni," he said. "Take pride in joining this remarkable group and sharing the connection of a McMaster education."
McMaster Continuing Education Director Lorraine Carter emphasized the important role family and friends play in the lives of adult learners: "I am delighted to share this significant event with you and those who have supported you along the way. Achieving goals as an adult learner is a major accomplishment and those who have journeyed with you are extraordinary people."
At a time when the workplace is changing, being a lifelong learner is more important than ever, Carter noted.
Adult learners at McMaster Continuing Education come from diverse backgrounds and have often faced challenges on their path to higher education.
"As a newcomer in Canada, I have faced some challenges that many newcomers face – language barriers, career development challenges, lifestyle adjustments, etc," said Yanni Zhang, an Accounting Diploma graduate who relocated to Canada from China in 2018.
With a new baby on the way, Zhang was determined to find retraining opportunities in Canada and obtain in-demand skills for the workplace, and Continuing Education's flexibility and course design was exactly what she needed.
"In addition to getting my diploma in accounting, I also improved my English, made friends, and developed self-discipline strategies through McMaster's online self-study learning format," Zhang said.
This year, Continuing Education launched its first graduation contest, giving participants a chance to win one of five prizes including Essentials courses, The Learning Continuum and 55+ course bundle and McMaster Campus Store gear. The contest runs until November 17 at 11:59 p.m. ET and offers unlimited entries.
Well-deserved honours
Several students, instructors and staff members received special recognition for their accomplishments and significant contributions to McMaster Continuing Education.
Jon Kruithof, Learning Technologies Analyst with the MacPherson Institute, received the McMaster Continuing Education Appreciation Award. Kruithof and his team have helped McMaster Continuing Education provide superior and accessible learning experiences.
Nerissa Knapp, McMaster Continuing Education Business Communications instructor, earned the MAPS Instructor Award. Described by her students as an exceptional instructor, Knapp encourages her students to apply theory and concepts to real life professional experiences.
Arceli Guadalupe Olivares won the MAPS Centennial Award, presented to a part-time student who has overcome particularly adverse circumstances to attend university and/or who has demonstrated an outstanding achievement or commitment in activities distinct from university studies. Guadalupe Olivares' was recognized for hard work, determination and selflessness.
For a full list of award recipients, please visit the McMaster Continuing Education Graduation website.