The death of the essay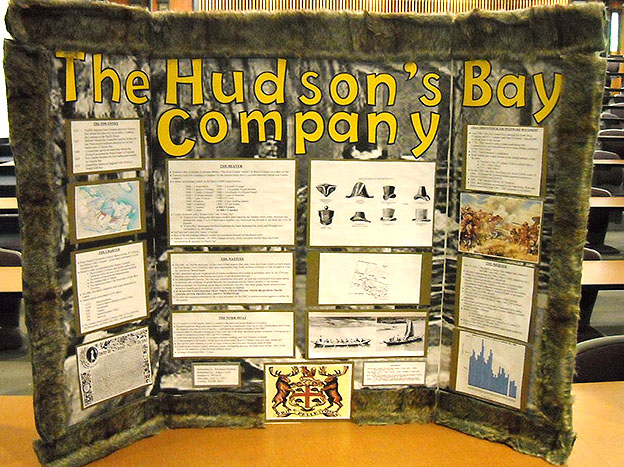 Economics assistant professor Hannah Holmes talked about moving away from the use of essays in her classroom at Monday's Learning Technologies Symposium. She showed off a gallery of student-produced posters, like this one on the Hudson's Bay Company, which she says are a much better way for her students to demonstrate their grasp of course content.
---
With some innovative thinking and some helpful student feedback, Hannah Holmes is doing away with the traditional essay in her classroom.
The assistant professor of economics spoke about ditching the dreaded "paper" at the Learning Technologies Symposium Monday.
The essay is one of the most common evaluation tools in education, but it could also be one of the most flawed.
"We expect students to use essays to demonstrate their mastery of a topic, but of course you can't master a topic in just a few months of study," Holmes told the audience. "Students' writing styles can also put them at a disadvantage – and for some, English isn't even their first language."
Essays are also typically due at the end of the year, making it difficult for instructors to catch learning issues until it's too late.
That's why Holmes has taken to other forms of student evaluation, including oral presentations and poster sessions, in some of her courses.
The decision came as the result of feedback from students themselves, who indicated their preference for alternative forms of evaluation. The move also meshed with her own views on increased classroom engagement and better information retention.
Holmes showed off an impressive gallery of student posters at her talk, which included a faux fur-lined poster on the Hudson's Bay Company and a three-dimensional Lambeau Field, home of the NFL's Green Bay Packers (for her sports economics course).
Putting together a research poster, however, is much more than just an exercise in cutting and pasting. Holmes holds the projects to the same academic standards she would any paper, but recognizes that presenting a poster is a more valuable experience for her students than writing a 10-page essay.
"The posters force them to be more concise, and helps them learn to edit and to develop their oral skills," she said. "It also allows them to be far more creative than they could be in a traditional essay."
She says instructors can also immediately see if students truly understand the subject matter just by looking at their posters.
Having students present their findings also gives Holmes an opportunity to interact one-on-one with them – something that didn't necessarily happen when she assigned essays.
"And it prepares them for the working world, where they're more likely to give a presentation than to write an essay."
The Learning Technologies Symposium began with a keynote lecture on blended learning by Joe Kim, associate professor of psychology, neuroscience and behaviour.
The talk was followed by a "lightning round" of back-to-back, ten-minute presentations on topics such as online learning, the use of barcode scanning technology in taking attendance and the issues involved in writing e-books.
The symposium wraps up Tuesday with lectures on using the iPad in the classroom.
Front page photo: flickr.com/market208