The buckthorn stops here: Biologists restore, open sensitive property with new grant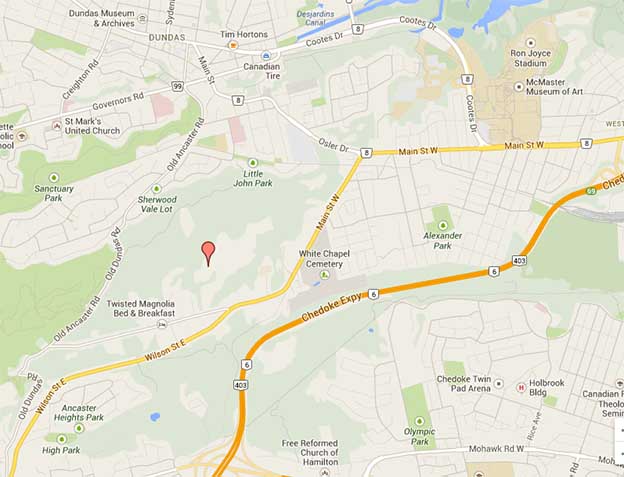 The McMaster Conservation Corridor, off of Lower Lion's Club Road, is marked on this map by a red pin. McMaster's campus is in the top right corner.
---
Researchers, students and nature lovers in general will soon be able to learn much more from an ecologically significant McMaster property near campus, where more than a dozen habitats converge over the space of 48 hectares.
With financial support from The W. Garfield Weston Foundation, McMaster's Forward With Integrity initiative and the Faculty of Science, biologists Susan Dudley and Chad Harvey are working with Outdoor Recreation Co-ordinator Wayne Terryberry, graduate and undergraduate students and alumni who are volunteering or gaining experiential course credit, to turn the land into a living laboratory.
They plan to restore vital habitat on the McMaster Conservation Corridor — university-owned property extending west along Lower Lions Club Road from Wilson Street — while making it easier to study and opening wider access to the public.
Experts from Engineering and Geography & Earth Sciences are assisting with advice and surveying and mapping equipment.
The project is supported by a $140,000 grant from The W. Garfield Weston Foundation, a $5,000 grant from McMaster President Patrick Deane's Forward With Integrity initiative, and $5,000 funding from the Faculty of Science.
"We are pleased to be able to support this project which will serve both the public and the University as a place to learn and appreciate nature. Once it is restored, we will all be able to enjoy this outstanding landscape," says Camilla Dalglish, Director of The W. Garfield Weston Foundation.
Work at the former potato farm is now under way, and will include removing non-native buckthorn and pasture grasses to permit the return of species endemic to the land. Major buckthorn removal is expected to commence this week.
"It is the property's special features, including the northernmost reach of Carolinian forest, two cold-water creeks, stands of mature trees and prairie meadows – all set against the base of the Niagara Escarpment — which drew my attention to this project," says Nancy Baron, Director of The W. Garfield Weston Foundation.
"This is a unique and important piece of land that has a lot to teach us," says Dudley, a professor of Biology. "There are many subtle transitions going on here."
The project includes mapping out the entire property into a grid of plots 20 by 20 metres each, cataloguing the trees in each plot, with the goal of having the lands registered with the Smithsonian Dynamic Forest Program. The McMaster Conservation Corridor would become only the second Canadian property to be part of the international program.
"Once we know more about what is there, we can monitor the progress of every individual tree on this property, and compare these plots with others in the project and others around the world," says Chad Harvey. "This is exciting and important, and we'd never be able to do it without these financial and human resources."
Plans are being developed to make the living laboratory accessible to members of the public.
The team is working with the City of Hamilton, Hamilton Conservation Authority and the Royal Botanical Gardens to co-ordinate the project with similar efforts at nearby properties.