The art of science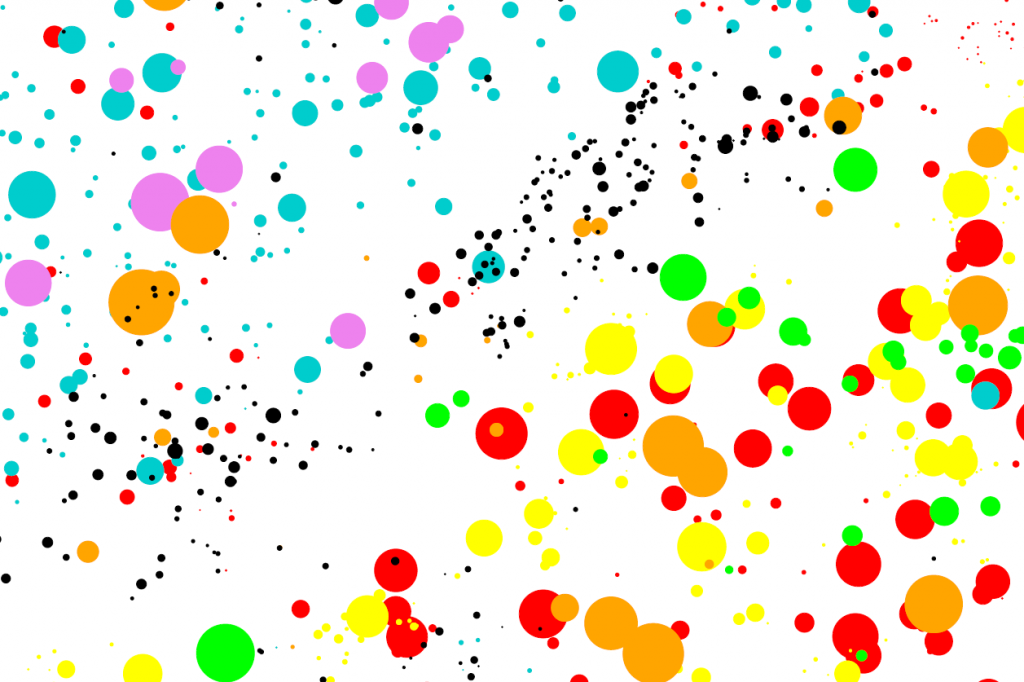 ---
Maps of invasive species may not seem like the ideal subject for an art exhibit, but don't say that to fourth-year Bachelor of Fine Arts student Clara Laratta.
Don't say it to her collaborator, either – Jordan Barker,  a master's student in biology who studies how deer and invasive plants and insect affect urban forests.
Inspired by a chance meeting with biology professor Susan Dudley, Laratta and Barker have teamed up to present Interconnections, an art exhibit currently on display in the Dr. Robert and Andrée Rheaume Fitzhenry Atrium, familiarly known as the Exhibition Cube.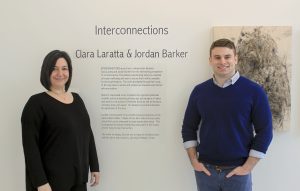 Photo credit: Steven Gerrard
The show juxtaposes Laratta's digital images, paintings and drawings with dot and topographical maps created by Barker. Barker's colourful dot maps depict the density, size and variation of native and invasive tree species in McMaster Forest, a large plot of land on Lower Lion's Club Road in Ancaster. His work also includes topographical maps showing elevation, convexity, slope and aspect of the same area.
Laratta's work also explores the relationship between nature, humans and animals, but from a different visual perspective. Through layered digital images, close-up shots of tree bark, drawings and paintings, Laratta highlights the subtle beauty of the natural world, as well as the effects of human development.
"My work is based on how humans and animals interact with nature, and Jordan's research sounded very similar," explains Laratta. "When Jordan told me how he puts his maps together – that they're a kind of art – we realized that we should do a show together, because we're really working on the same thing."
That's apparent throughout the exhibit, which was curated by Laratta. On one wall, two of Laratta's rubbings of tree bark sit side-by-side with dot maps depicting the distribution of invasive tree species in a plot of forest – providing both a close-up and birds-eye view of the same subject.
"It was important to me for people to come in and see my pieces as art, and see how art can emerge from rigid scientific protocols," says Barker. "Both of us want people to see the art, then go outside and actually explore the forest. We'd like them to go out and look for the same beauty that we see."
Interconnections is on display until March 20.