Ten graduates. Ten friends. Nine remember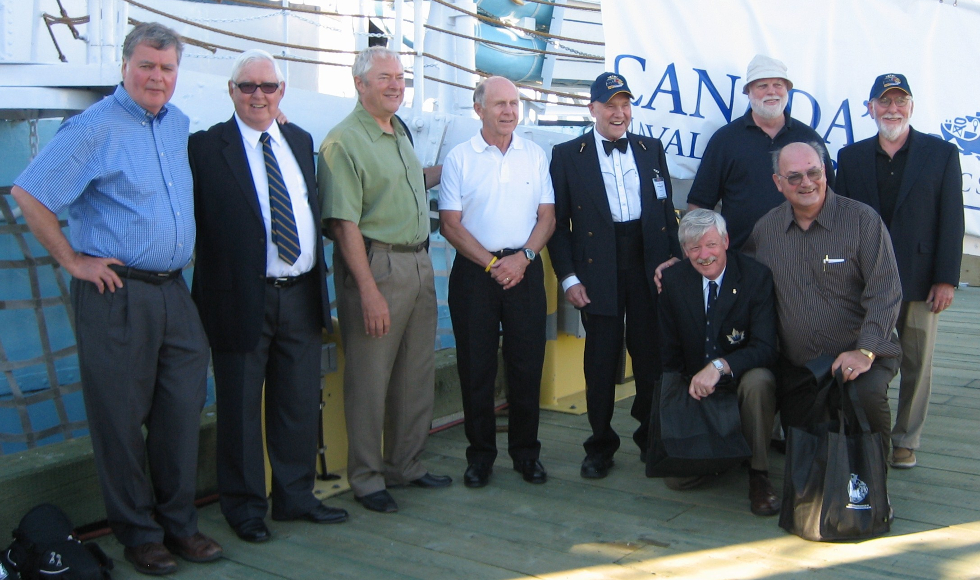 Nine of 10 McMaster University Naval Training Division alumni alongside the HMCS Sackville at the 100th anniversary of the Canadian navy. From left: Iain Munro, Bob Temple, Darrell Beninger, Tom Brown, Phil Westbrook, Doug Hain, Roger Elmes. Kneeling: Ross Connell, Ernie Nyitrai.
---
Ross Connell '64 met Douglas Hain '64 in 1960. It was September – orientation week for that year's first-year class – but both were looking ahead to the summer. With tuition set at $435 for the year, both knew they'd need summer jobs to pay for their second year.
That's how they both ended up at the booth for the University Naval Training Division – a naval reserve officer training program that had been established at McMaster in the midst of World War II to train university graduates as naval officers.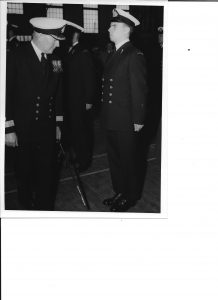 "It was a marvellous experience," says Connell. "You met people from across the country, then went to sea in the summer. While we were at school, we spent most of our free time playing euchre and bridge in the Tri-Service lounge, which was a spot for aspiring officers in the army, navy and air force reserves in the basement of University Hall."
Connell and Hain became part of a group of 10 friends from the class of 1964 who served together in the UNTD – a "close bunch of guys" who graduated together, received their naval commissions, and stayed in touch throughout the years following graduation, including, for all but one, a trip to Halifax in 2010 to celebrate the 100th anniversary of the Canadian navy.
Sadly, Douglas Hain passed away on March 21, 2019.
And while he had been active in his community – involved with the West Toronto Junction Historical Society, and the last Clerk of Session for Victoria Royce Presbyterian Church on Annette St. – his connections to the UNTD and the friends he made there also stood the long test of time.
Both he and Connell served on the executive of the UNTD Association, a group that brought together those that served in the UNTD and similar programs that followed after.
Hain balanced his serious side and community service with a love of cars, travel and baseball. He and Connell made many trips to ballparks throughout the US, including one memorable trip a couple of years ago when they followed a game in Kansas City with the total eclipse of the sun.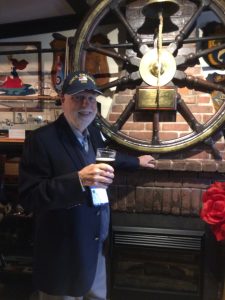 To honour his memory, the remaining nine friends (Connell, Ernest Nyitrai, Phillip Westbrook, Roger Elmes, Darrell Beninger, Thomas Brown, Robert Temple, Iain Munro and Robert Godden) made a contribution to the Class of '64 Fund for the Founder's Garden, a garden that surrounds the statue of Senator McMaster outside University Hall.
"Doug Hain was not a big man, but he was a star," Connell wrote in an email to McMaster. "He walked the backstage of life with grace and kindness…Doug was the rock at the centre of his family, starring only when providing love and support.
"He was the invisible glue for his church, historical society, naval association, school and neighbourhood. We will miss him."