Teaching is a partnership, not a power position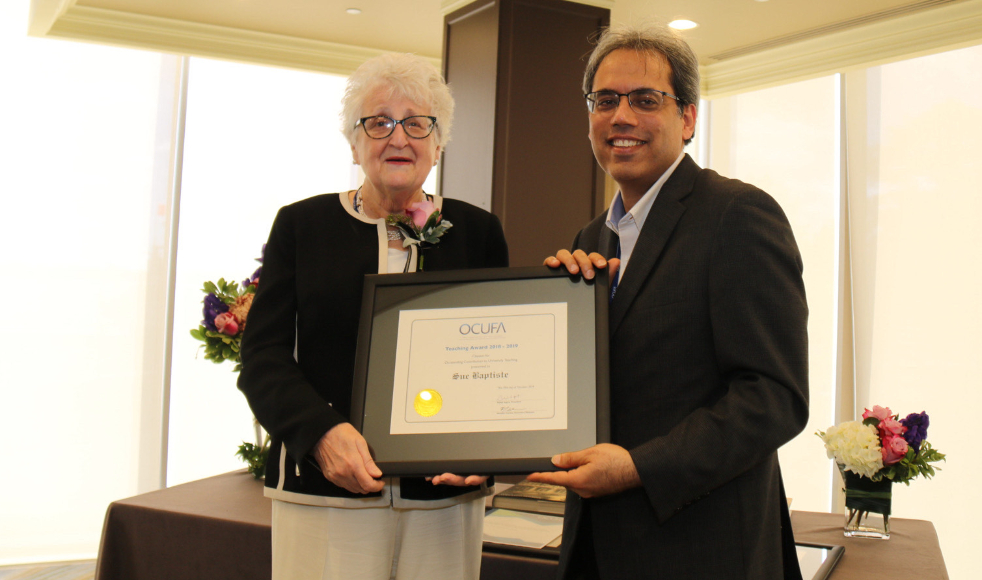 Sue Baptiste, a professor emerita in the School of Rehabilitation Science, receives an OCUFA Teaching and Academic Librarianship Award on October 19 from professor Rahul Sapara, president of OCUFA.
---
By any measure, Sue Baptiste has come a long way.
"I was a catastrophe of the British education system," says Baptiste, a professor emerita in McMaster's School of Rehabilitation Science and vice- president of the World Federation of Occupational Therapists (WFOT). "In high school, I was told I was a very nice girl, but I wasn't very bright."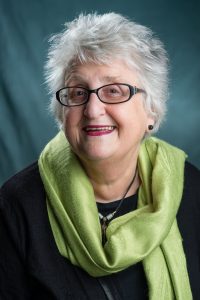 Since then, Baptiste has earned international recognition as an educator and a pioneer in her field by developing new and innovative approaches to occupational therapy teaching and learning.
On October 19, Baptiste added to that recognition by becoming a recipient of the Ontario Confederation of University Faculty Associations (OCUFA) Teaching and Academic Librarianship Awards, an honour that recognizes exceptional contributions to advancing the quality of higher education, both inside and outside the classroom.
"You don't get to the point of being nominated for an OCUFA unless you're an excellent teacher," says professor Judy Bornais, chair of OCUFA's Awards Committee. "Sue has developed national and international curricula that is adopted by academic and professional institutions in countries beyond Canada. So, her impact goes far beyond the classroom, and far beyond her institution."
Over the past five decades, Baptiste has become a recognized leader in educational innovation, faculty development and problem-based learning whose work as an educational consultant has taken her to China, Malta, Singapore, Korea, Israel, Australia and beyond.
As assistant dean of the occupational therapy program at McMaster, she led the transition of the existing two-year bachelor's degree program and was central to the development of the master's in occupational therapy program.
She was a co-editor of Innovations in Rehabilitation Sciences Education and has authored two books, several chapters and peer reviewed articles on the topic.
Baptiste joined McMaster in 1977 and says she quickly discovered an alignment between occupational therapists and teachers because they both facilitate change while working with individuals, families, organizations and governments.
As she learned more, she began accepting invitations to enhance her skills as a tutor in small groups in the medical program—and loved it.
Her passion for teaching also created a natural alignment with the MacPherson Institute (and its various iterations), which assists with the exploration, enhancement, support and recognition of teaching and learning at McMaster.
Baptiste attributes some of her development and success to the mentors she has worked with and the supports she has received from the broader institution and her faculty over the years.
"McMaster allows eccentricity to flourish," says Baptiste. "Health Sciences was a wonderful cradle for me to grow out of and I think it's because they take oddballs and they say 'ok, so what makes you different?' or 'why is it important?' and you learn very quickly to defend and to illustrate your ideas … and I'm really grateful for that."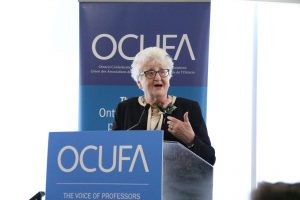 Since her retirement, Baptiste continues to be heavily involved in various aspects of teaching and learning. She still teaches at McMaster and continues to tutor a small group of students twice a week.
Just recently, she returned from Moldova, where she is launching an occupational therapy program that will encourage health professionals to understand the skills for rehabilitation in a post-Soviet culture that, according to Baptiste, has left behind a "mix of blessings and curses" from a teaching and learning perspective.
Baptiste has made a career out of building a learning environment of equality between student and teacher. She believes an effective learning relationship must be built on shared purpose, trust and respect to allow authenticity and honesty to thrive between both parties. This creates a safe, low-risk environment that allows students to ask questions and to make each other better.
For Baptiste, teaching and learning is a partnership, not a power position. This is evident in the inspiring stories from her former students as well.
Susan Mahipaul, PhD, MScOT and disability studies lecturer at King's University College at Western University, submitted her thoughts about the relationship she developed with Baptiste in a recommendation letter for her OCUFA nomination.
"Sue was there for me during some of my most difficult moments throughout my doctoral journey," says Mahipaul. "She interwove my PhD student life with my life as a disabled scholar, to help me draw out my voice and my perspectives. All of Sue's students know her office as comfortable, inviting, but most of all safe … Moments that really shook my confidence gained meaning as Sue helped me understand myself and my research and teaching within the larger picture."
Baptiste's human approach to education has clearly had a tremendous impact on many people. For those who have been touched by her work or her mentorship over the years, perhaps the early sentiments from her high school teacher weren't completely wrong.
She's definitely a nice girl… but she's pretty bright too.