Taylor MacIntyre and Amanda Ruller bolster 2021 football coaching staff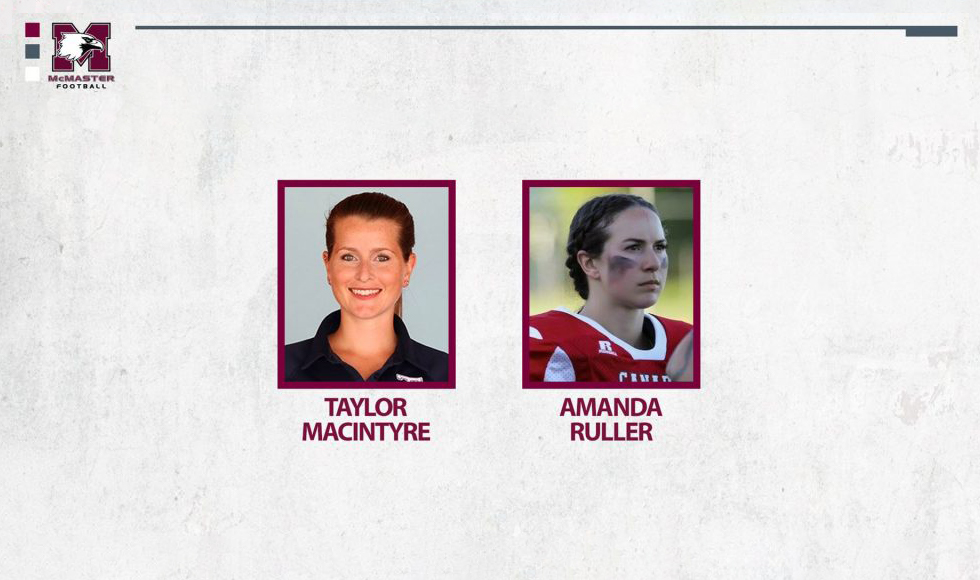 ---
The McMaster Marauder football program has solidified its coaching staff for the 2021 season with the addition of assistant coaches Taylor MacIntyre and Amanda Ruller.

Head coach Stefan Ptaszek is confident that he has added two highly skilled coaches that will help the Marauders in their pursuit of an OUA title defense.

"What stood out about Taylor and Amanda was their passion for football, for coaching and for teaching" said Ptaszek, now entering his 13th season at McMaster.

MacIntyre and Ruller will join the 2019 Yates Cup champion Marauders with a pair of extensive football resumes, and will be looking to make an immediate impact on day-to-day operations of the team while getting involved in offensive game planning and skill development.

MacIntyre is no stranger to breaking down barriers in the game. As a wide receiver and back-up quarterback in high school, she helped pave the way for several other young women at Parkside Collegiate Institute to compete at a high level in what she describes as a 'male-prominent' sport. Since becoming the first female to play on the school's men's football team, at least five additional female student-athletes have followed in her footsteps.

"McMaster Football recognized a gender gap in coaching football in the OUA and saw an opportunity to grow their program in a different way" says MacIntyre. "I'm looking forward to learning from some of the best coaches in Canada and joining an organization that clearly values diversity."

Following her playing career, MacIntyre made the transition to coaching when she became Parkside's wide receivers coach. Since bursting onto the scene in high school, MacIntyre has held positions with the Hamilton Tiger-Cats, the University of Toronto Varsity Blues, and the Special Olympics.
"We're thrilled to welcome Taylor and Amanda to the Marauder Football family" said Shawn Burt, Director of Athletics & Recreation. "The hiring of these two great leaders in the game of football not only garnered international attention and interest, but also reinforces McMaster's commitment to being leaders when it comes to equity and inclusion in sport. We fully expect this to become a model for football programs across Canada as interest and feedback from our peers has been extremely encouraging."
"By opening more doors and enabling greater opportunity for women in sport, we are confident today's news will truly be a game changer in the Canadian sports landscape" he added.

Ruller comes to McMaster by way of Regina, Sask. with a background in strength and conditioning. She has built a career as a Sports Performance Coach training CFL and U SPORTS players, having worked with the University of Regina football program, and also has held several positions in sports media including stops with the Saskatchewan Roughriders, Saskatchewan Rush, and with 3DownNation. A competitive Olympic weightlifter, Ruller holds provincial snatch, and clean & jerk records. 

"My focus on power and speed in the weight room will make sure these athletes find success within their playing season and help keep them healthy. My background in competing in Olympic Lifting is a great bonus for teaching those skills in the weight room as well. I hope to pass on my knowledge and have our athletes work hard towards a winning season."

Recognizing the challenge of preparing for the 2021 season following an unprecedented layoff, Ruller is eager to get to work in training camp.

"I'm so ready to get on campus and get to work," she said. "This will be a life changing experience and I feel very ready for it. I'm happy to be given the opportunity to work with such motivating and decorated coaches."

One of those coaches is Corey Grant, McMaster's offensive coordinator and Equity, Diversity & Inclusion lead who developed the Coaching Apprenticeship for Women program earlier this summer.
 
"Their understanding of the learning process, teaching to the different learning styles and attention to detail will bring tremendous value to the development of our students-athletes on and off the field" added Grant.

"Adding these two coaches to our staff will help us win more football games."

The Marauders will make their long-awaited return to action Sept. 18 against the Western Mustangs in a highly anticipated rematch of the 2019 Yates Cup, before hosting the University of Waterloo Oct. 2 at Ron Joyce Stadium in Hamilton for their home opener.

All six of McMaster's regular-season games will be broadcast live on OUA.tv free of charge. For the latest news and updates on McMaster Football, follow @mcmastersports on Twitter or visit marauders.ca.