Taking action on "big issues" facing Hamilton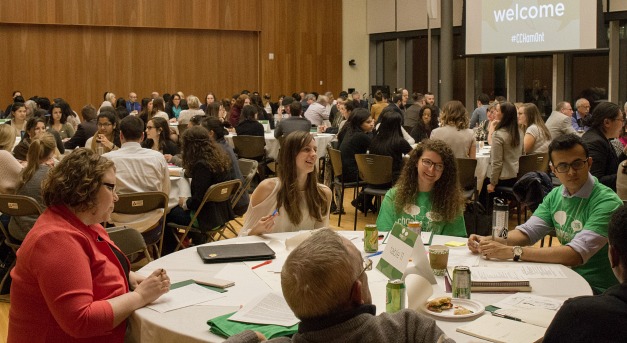 About 200 students, community members, city officials and faculty recently gathered at McMaster's David Braley Healthy Sciences Centre in downtown Hamilton for Change Camp, a public dialogue aimed at finding ways to take action on some of the key challenges facing Hamilton.
---
Supporting newcomers and refugees. Economic prosperity and growth. Healthy, safe communities. Culture and diversity. Regional transit.
These are just some of the many issues discussed at Change Camp Hamilton, a public dialogue held recently that focused on ways to take action on some of the key challenges facing Hamilton.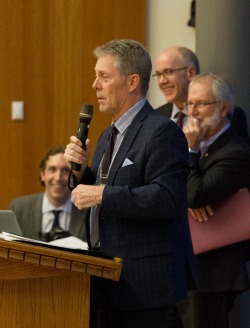 About 200 members of the McMaster and Hamilton communities gathered for the event, which took place at the David Braley Health Sciences Centre in downtown Hamilton and was organized in partnership with McMaster University, Redeemer University College, Mohawk College, the City of Hamilton, the McMaster Students Union (MSU), the Mohawk Students' Association and the Social Planning & Research Council of Hamilton.*
Throughout the evening, participants moved between a number of discussion tables to explore a broad range of issues and to identify actions or projects that could be developed in partnership with students, residents and educational partners.
The results of these conversations will also contribute to Our Future Hamilton, a process currently underway at the City that aims to create a new 25 year community vision for Hamilton.
McMaster President Patrick Deane participated in Change Camp and says events like this provide a meaningful opportunity for Hamilton's post-secondary institutions to collaborate with the City and with the community.*
"It was absolutely electrifying to see a room this full and this ready to take on some of the big issues facing our city," says Deane.  "Our post-secondary institutions have an enormous amount to contribute to the city and, of course, we benefit from this wonderful community in which we're located. Thank you to our sister organizations and to the City for all they do to foster this kind of cooperation. I look forward to hearing what comes out of these discussions."
About 100 students from McMaster, Mohawk and Redeemer also participated in the event. Spencer Nestico-Semianiw, Vice-President (Education) of the MSU, and one of the organizers of Change Camp, says increasingly students are looking for ways to get involved in the community.
"Students have proven time and time again that they'd like more opportunities to engage with the Hamilton community," says Nestico-Semianiw. "They're extremely receptive to community engagement projects in their courses, and are seeking more volunteer and work opportunities in Hamilton. Events like Change Camp can help students get involved in the political and economic life of the City and provide a forum for the diverse perspectives that students can bring to urban life."
Change Camp organizers will follow-up with participants in the coming weeks to invite follow-up discussion, develop projects and to find concrete ways to implement ideas into curricular and co-curricular activities.
*McMaster recently signed a set of Principles of Cooperation with the City of Hamilton, Mohawk College and Redeemer University College in which each partner recognized the importance of post-secondary education to the community and committed to working together for the benefit of the citizens of Hamilton and broader society.