Take five for your mental health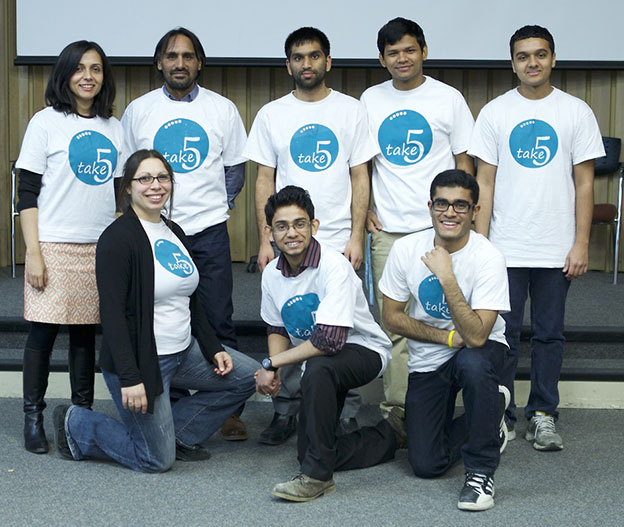 A group of psychology students has launched 'Take 5', a 30-day challenge designed to encourage busy people to set aside five minutes each day for themselves.
---
There are 1,440 minutes in a day.
A group of psychology students is asking you to set aside just five to help improve your mental health.
Vicky Looby, Bhaag Marway, Ashish Shrestha, Brij Karmur, Ahmed Al-Shafayeen and Jalpit Patel are behind the 30-day challenge known as Take 5.
The project, which kicked-off March 20 in Council Chambers, challenges people to set aside five minutes each day for meditation. The goal is to encourage busy individuals to schedule time for themselves.
"Meditation helps increase your ability to focus, to pay attention to things around you, to be aware of your surroundings," says Looby. "People today do a million things at once: they're on Facebook, they're checking their phones, they're checking their email. The purpose of our project is to get people to step back and focus on one thing at a time."
To help, the group developed an app that connects to a smartphone's calendar, allowing users to easily schedule each day's meditation session.
They're also working with assistant clinical professor Parmjit Singh, who is trained in mind-body medicine and provides guided meditation sessions via the project's Facebook page.
The students tried their own 30-day challenge prior to Thursday's kick off. Looby says she felt the benefits after only a few weeks.
"I can already concentrate more and better focus on the task in front of me," she says.
All 180 students in Psychology 2NF3 – Basic and Clinical Neuroscience – are  working on community engagement projects as part of their studies. Their goal is to connect content learned in the classroom to issues with the quality of life in the community.