Take a selfie with AskGirl and you could win!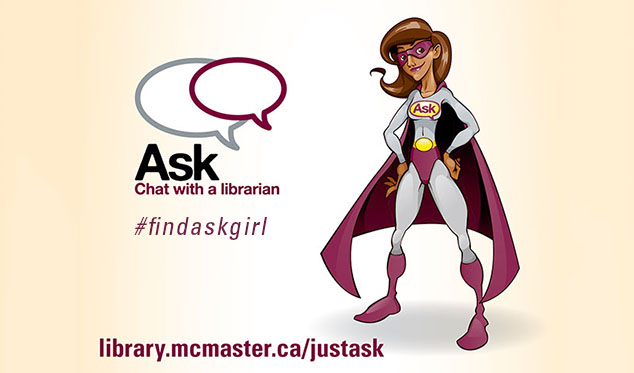 ---
Forget about Waldo, where's AskGirl?
You may have seen her in her usual spot beside the service desk at Mills Library, but this week, AskGirl is going on a campus tour and you're invited to come along.
From Nov. 10-14, AskGirl will appear in different locations across campus from 12:30 p.m. to 1:30 p.m. Monday to Thursday and 11:30 a.m. to 12:30 p.m. on Friday.
All you need to do is take a selfie with AskGirl and tweet your photo using the #findaskgirl hashtag for a chance to win one of five $25 gift cards to the Campus Store.
Winners will be picked daily, with a grand prize draw for a $50 Campus Store gift card taking place on Friday afternoon.
Stay tuned to the McMaster & Library Facebook and Twitter pages to find out AskGirl's secret location.
Follow @maclibraries on Twitter
Who is AskGirl,anyway?
AskGirl is the Library's superhero symbol for Ask a Librarian, an province-wide online service that provides research help to students, anytime, anywhere. Just type in your question, and get help from librarians and library staff from McMaster and other participating Ontario universities.
Ask your research question here