Swimming with the Maya: An underground odyssey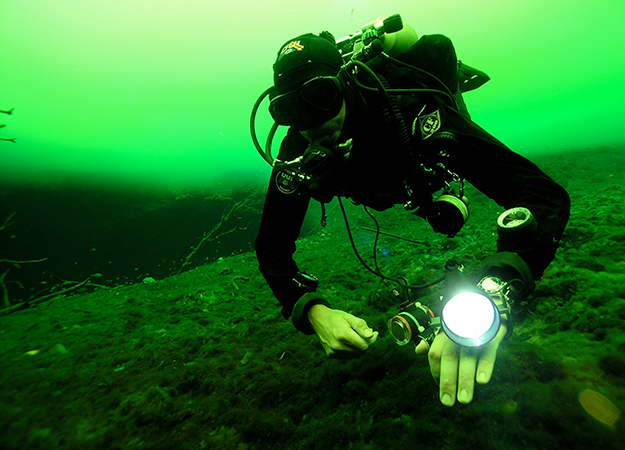 Bathing in history: McMaster professor Ed Reinhardt has been studying groundwater supplies and underwater caves along the Yucatan Peninsula. He's featured in a new documentary, 'Exploring the Underwater World.'
---
Ahhh. The world-famous Mayan Riviera: sun, sand and blissful relaxation. It's the perfect vacation destination for any weary traveler, but Ed Reinhardt wants nothing to do with it. Unless you stick him in an underwater cave, that is.
A professor in McMaster's School of Geography & Earth Sciences and an expert in micropaleontology, Reinhardt is featured in a stunning new documentary filmed near the Riviera shoreline, "Exploring the Underwater World: Researching Caves in the Yucatán Peninsula."
The 23-minute film profiles an international team of divers in Quintana Roo as they measure, survey and gather sediment samples in the world's longest underwater cave, Sistema Ox Bel Ha. Reinhardt first learned of the area eight years ago, when he recognized a new opportunity for advanced study in his field.
"I previously did a lot of research in the Mediterranean, until I watched a presentation on the cave systems in Mexico back in 2005. I saw lots of potential to study microfossils," he explains. "There was virtually nobody doing it."
Filmed by JP Bresser and a team of highly-skilled underwater videographers, the visuals inside the 240 km cave network are breathtaking – but they weren't easy to capture. A complex underwater lighting rig was needed to illuminate the inky-black caves, and the narrow passages and close quarters don't leave any room for error.
"This isn't your typical resort diving, where it's all in open water," explains Reinhardt. "You need a lot of proper training and positional control to do this kind of work."
One of the team's ongoing objectives is to study how the salinity of underground drinking water may have impacted the collapse of the Classic Maya – still one of the great mysteries of the world circa 800-900 AD. While previously linked to factors such as climate change, drought, deforestation and societal infighting, Reinhardt believes poor groundwater supplies may have played a much larger role.
"Our intent here is to try and provide some additional information, and to try and understand the role of groundwater … in that overall story," he explains in the film.
Another overarching goal is to help preserve the underwater caves and surrounding ecosystem for future generations. Fellow team member Sam Meacham elaborates in the film:
"If it's out of sight and out of mind, people are going to continue to build garbage dumps on top that seep down contaminants into the aquifer … more importantly, there's the health of the population that lives here and depends on the groundwater as their source of water."
Earlier dives in the Yucatán have yielded remarkable findings for some of Reinhardt's fellow team members. Two years ago, a human skull and several mastodon bones were discovered in a deep flooded pit – remains of the "earliest Americans" to inhabit the area more than 10,000 years ago, when the caves were still dry.
"Exploring the Underwater World: Researching Caves in the Yucatán Peninsula" can be viewed in its entirety below:
Ox Bel Ha Science project 2012 -2013 from JP Bresser on Vimeo.