Suzanne Labarge among McMaster alumni named to Order of Canada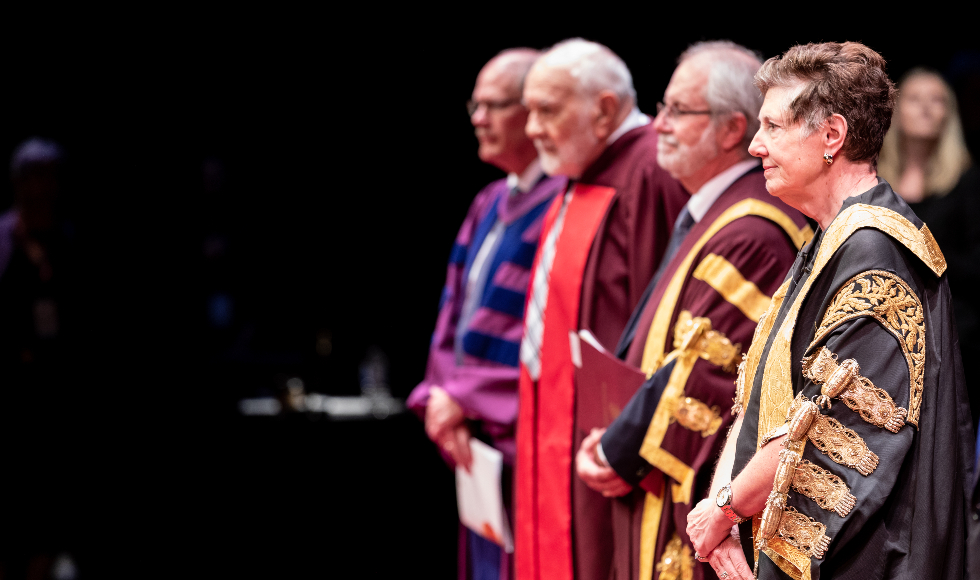 Outgoing chancellor Suzanne Labarge at the spring 2019 Humanities/Arts and Science convocation ceremony. Photo by Sarah Janes.
---
Suzanne Labarge '67, McMaster's outgoing chancellor, has been named a Member of the Order of Canada for her "exceptional business leadership and for her volunteerism and generous philanthropy."
She is one of four people with McMaster connections to be included in Governor General Julie Payette's announcement in advance of Canada Day.
Along with serving as McMaster's chancellor for six years, Labarge was also instrumental in advancing the university's research into aging, endowing the Raymond and Margaret Labarge Chair in Research and Knowledge Application for Optimal Aging, donating $12 million to create the Labarge Optimal Aging Initiative, and giving a further $15 million for the McMaster Institute for Research on Aging.
Labarge's brother, Paul LaBarge '71, has also been named to the Order. A founding partner of the law firm LaBarge Weinstein, he was honoured for his "dedication to supporting heritage, health, business and educational causes, most notably the Trans Canada Trail."
Actor Martin Short was promoted within the Order from Member to Officer for his ongoing success as a television, film and stage actor.
Mathematician and honorary Doctor of Science recipient Robert Phelan Langlands '85 was named a Companion of the Order for his contributions to mathematics. Langlands has been called a "modern-day Einstein" for his development of the Langlands program, a series of conjectures that link number theory (also called arithmetic), harmonic analysis (including calculus) and geometry.
Created in 1967, the Order of Canada is one of the country's highest honours, presented to people who have demonstrated exceptional service, compassion and innovation.
Eighty-three people were included in the bi-annual announcement.