Sustainability students' projects address UN Sustainable Development Goals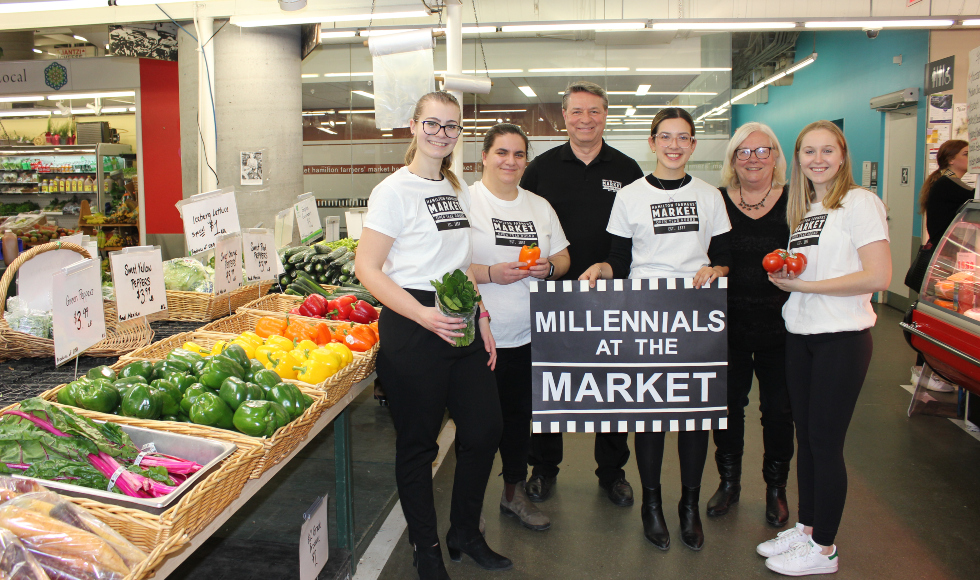 SUSTAIN 4S06 students with community partners at the Hamilton Farmers' Market. From left: Melissa Downey, Natalie Ciancone, Bill Slowka, Josephine Agueci, Elly Bowen, Molly Parker. Photo by Kierin Gorlitz, taken before COVID-19 restrictions were in place.
---
What do supporting local farmers, uplifting youth mental health and championing active travel have in common? They all address one or more of the United Nations Sustainable Development Goals (SDGs) and were the topics of projects led by McMaster sustainability students this year.
That work is highlighted in the Academic Sustainability Programs Office's 2019/2020 Annual Report, which shows how sustainability students meaningfully engaged with more than 850 individuals from the McMaster and the broader Hamilton community.
In total, more than 70 students completed 30 projects that addressed 16 of the 17 UN SDGs.
According to the UN website, the SDGs, which were adopted in 2015, "are a universal call to action to end poverty, protect the planet and improve the lives and prospects of everyone, everywhere."
"We are truly inspired by the breadth of sustainability topics that our students tackled," says Abbie Little, community relations coordinator in the Academic Sustainability Programs Office. "Through their work, the students have demonstrated the complexity of the challenges we face."
Projects addressing the SDGs include Fairuz Karim's experiential learning project, Project Youth Voices, which aims to encourage youth to creatively express themselves and establish positive coping strategies while dealing with COVID-19. Through building a website and Instagram account, and highlighting youth creativity, Karim, a science student, engaged more than 50 youth artists. @projectyouthvoices now has a growing list of more than 1,300 Instagram followers.
For their project, Rana Biabani, a science student, Mateo Orrantia, from Arts & Science, and Molly Parker, who is in social sciences, piloted a bicycle buddy program to pair new and experienced bicyclists to help new riders learn about urban cycling.
The student group presented their findings and recommendations to members of the McMaster Okanagan Committee and the Student Wellness Centre. These stakeholder groups took on the project and received more than $4,500 to create resources and programs that support students in cycling for transport. McMaster's new Multi-Modal Transportation Committee will be leading future implementation.
One group of four students worked with the Hamilton Farmers Market and the Hamilton HIVE young professionals' group to survey and interview millennials about their perceptions of and barriers to shopping at the Market.
Josephine Agueci, a science student, said that by hearing about the experiences of nearly 20 millennials, her group could better identify the barriers to shopping at the market regularly.
Josephine and her group members, Melissa Downey, a business student, Natalie Ciancone from engineering, and Molly Parker developed a series of findings and recommendations, presenting their report, Millennials in the Market, to their community partners and the Market Board virtually in April 2020.
Students are drawn to the sustainability program for its focus on inspiring student learning through interdisciplinary, student-led, community-based and experiential education. Classes in the program include SUSTAIN 3SS3: Fostering Sustainable Communities through 100in1Day, SUSTAIN 3S03: Implementing Sustainable Change, and SUSTAIN 4S06: Leadership in Sustainability, among others.
"I found it to be a really enriching experience in learning alongside peers who came from such diverse academic backgrounds," says Karim. "The project was so rewarding. It truly made me feel like I was in the driver's seat and able to make change first-hand," says Agueci.
"We will continue to enhance and grow our relationships within the community through our focus on collaboration, reciprocity, continuity and active engagement," says Kate Whalen, the senior manager of the Academic Sustainability Programs Office.
Interested students, faculty, staff, and members of the community are encouraged to connect with Whalen or a member of the Academic Sustainability Programs Office team.
You can follow the Academic Sustainability Programs Office on Facebook and Instagram for updates. Check out the Academic Sustainability Programs website for more info.