Sustainability students help McMaster buy better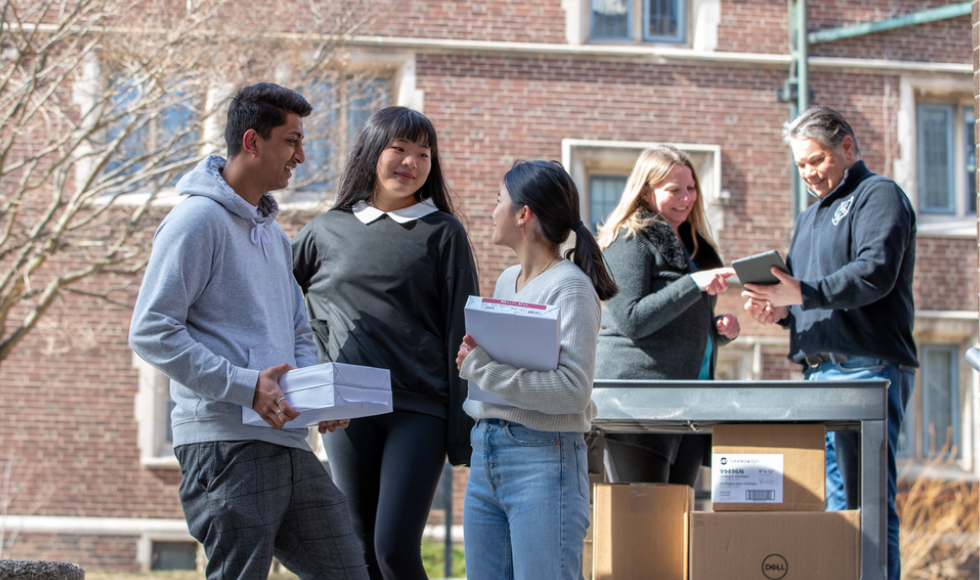 Sustainability students, Aryan Patel, Joy Xu, and Helena Teng who created McMaster's first sustainable procurement program with collaborators from Strategic Procurement, Tracie Felton and Angelo DiLettera.
---
McMaster spends a quarter of a billion dollars on goods and services each year, buying everything from fruits and vegetables to state-of-the-art research equipment. By partnering with students, staff now have the tools to help make purchases that promote social and environmental good.
The idea surfaced last summer when McMaster's Strategic Procurement team set out to develop a sustainable procurement program to help faculty and staff.
"We had been wanting to develop a Sustainable Procurement program for months, but we knew we needed support," said Angelo DiLettera, Director of Strategic Procurement.
"We wanted something innovative and impactful, so we asked our Academic Sustainability students for help."
Together with procurement staff and industry partners, a group of four students enrolled in SUSTAIN 3S03 – Implementing Sustainable Change created McMaster's first Sustainable Procurement webpage complete with resources to support social and environmental purchasing. The undergraduate student team members, Aryan Patel, Helena Teng, Joy Xu and Sara Tamijdi, come from a multidisciplinary background, spanning science and health studies.
"As a society, what we buy and how we buy matters," said Patel.
"It is important to consider the social and environmental impacts of university purchases because at McMaster's level of purchasing power we can make a difference and be a leader."
The group established five goals and posted them online for transparency and accountability. They met with four of McMaster's top suppliers and learned how they can meet the university's sustainability goals. The students learned about McMaster's Request for Proposal (RFP) process, which requires all purchases over $100,000 to be made public so that suppliers can bid on the contracts.
"McMaster's RFP template needed a sustainability refresh," says Teng. "We met with industry professionals, like Frances Edmonds from HP Canada to help us identify questions that are verifiable and measurable, to help us steer clear of greenwashing."
The students identified that having suppliers respond to the sustainability questions is only half of the process because staff and faculty then select which supplier to buy from. The guide was created so that non-sustainability experts can evaluate the suppliers' responses and make an informed choice.
The webpage also showcases campus success stories, like Media Production Services initiatives to print all coursepacks and stock all student-facing printers with paper made from 100 per cent post-consumer waste. Staff and faculty who make a sustainable purchase at McMaster can have their story featured on the webpage by contacting Roxanne Flitcroft (spreqbox@mcmaster.ca).
"By partnering with students, we have made strategic procurement processes more transparently linked to sustainability impacts, and connected buying to our stron focus on environmental, social and governance considerations across the United Nations Sustainable Development Goals," says Dee Henne, Chief Financial Officer.
This is not the only work underway to promote sustainable procurement at McMaster. Hospitality Services will be launching their own sustainable procurement policy this spring.
Learn more about McMaster's Sustainable Procurement program and Academic Sustainability Programs Office online.