Sustainability Month at McMaster begins with a spark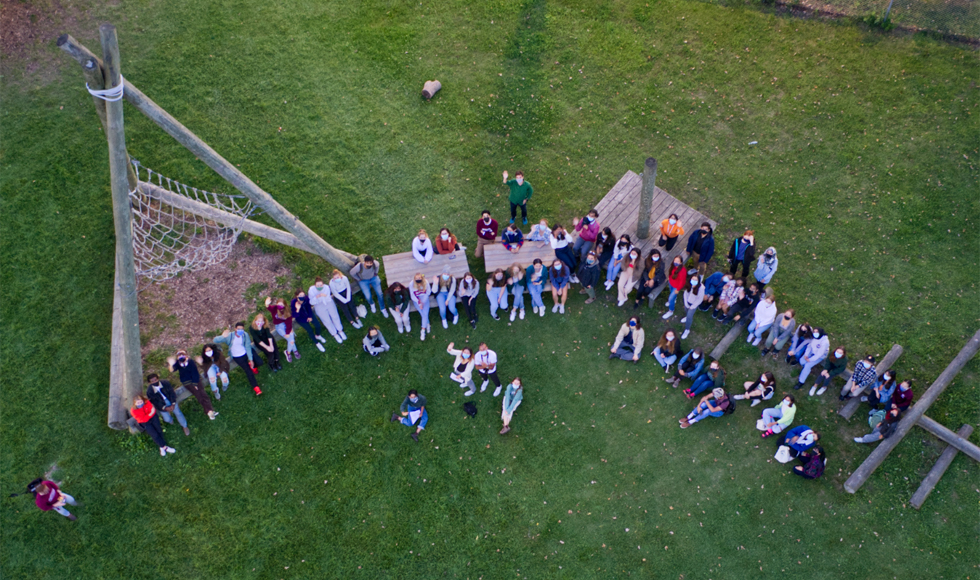 Students join together at first-ever SSAP Bonfire Social. Photo credit: Gabriel Lonuzzo.
---
The Student Sustainability Ambassador Program (SSAP), a hub for sustainability groups and civic leaders at McMaster, held its first in-person event of the year at ALTITUDE on October 1 to kick off Sustainability month at McMaster.
The program currently represents 12 member groups at McMaster that focus on issues ranging from waste management and tree planting to fossil fuel divestment and renewable energy.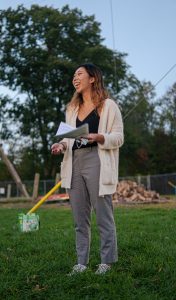 Over 60 McMaster students came together for an evening of fun socialization and sustainability-themed activities at the SSAP Bonfire Social, organized in partnership with the new Sustainable Development Goal (SDG) hub on campus. After months of online events and meetings the bonfire kicked off what event organizers hope will be a year of transformative action, collaboration, and education.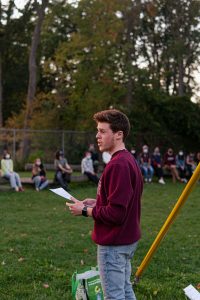 The evening opened with a land acknowledgement and welcome from SSAP coordinators. Representatives of sustainability and diversity-oriented clubs at McMaster were then invited to present about their organizations to the group. After watching presentations and enjoying a pizza dinner, attendees took turns participating in team building activities, or roasting s'mores around the campfire.
"It was wonderful to finally be able to see everybody in person and I feel so grateful for my fellow SSAP coordinators, who were key to the execution of the bonfire," said Grace Kuang, SSAP coordinator and organizer of the event.
"The importance of making space for community building in the sustainability movement can't be underestimated; other people remind us that we aren't alone in our advocacy efforts and that what we do matters."
"There is a lot of overlap between sustainability groups on campus," noted Gabriel Lonuzzo, SSAP coordinator and event organizer. "Our goal for SSAP is to bring groups together to increase collaboration, share ideas and resources, and foster a community built around respect, compassion, and meaningful involvement."
The program, which was founded in January 2020, is managed by six coordinators: Breanna Pinto, Evan Ubene, Fiona Sharpe, Gabriel Lonuzzo, Grace Kuang, and Nicole Rob. Staff advisors and founding members Abbie Little (Academic Sustainability Programs Office) and Liana Bontempo (Hospitality Services) oversee the group.
The team has been working hard over the summer to create a strong framework that will allow the community to flourish for years to come. The bonfire was the first time the group met in person.
Students who are interested in learning about sustainability initiatives are invited to join the SSAP Facebook page which provides updates about community events, news updates, and connection to other like-minded individuals. Students looking for more involvement and commitment can apply to join the SSAP Slack space, a community of sustainability leaders and clubs presidents.
SSAP will continue to hold monthly socials for its members. For more information about the group, students can visit https://asp.mcmaster.ca/ssap/.