Surf's up: McMaster expanding its Wi-Fi network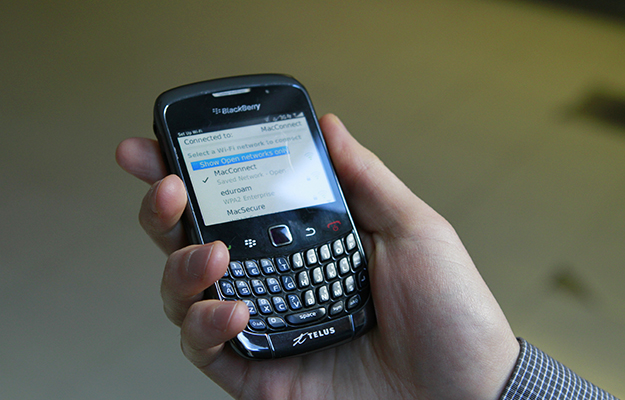 Ladies and gentlemen, start your smartphones. Throughout the next several months, University Technology Services will be expanding wireless coverage at McMaster, as well as upgrading Wi-Fi equipment on campus.
---
There will be a lot more bars on campus this spring. Not the kind that serve drinks, but the ones on your laptop or tablet's Wi-Fi icon.
University Technology Services (UTS) is unveiling its Wi-Fi enhancement plans for the year. The plan will see expanded wireless coverage, as well as upgrades to Wi-Fi equipment in some of the highest-use areas on campus to add additional bandwidth. In addition, Housing and Conference Services is working with UTS as part of a separate initiative to bring Wi-Fi enhancements to all the residences over the coming year.
"With the dramatic increase in Wi-Fi usage and demand over the past few years, we felt a large increase in capacity was warranted," says Ron McKelvie, director of information technology with UTS. These days, many students and staff have multiple Wi-Fi enabled devices (such as smartphones, tablets and laptops) operating at the same time.
The expansion plan was developed in consultation with various campus groups, including the McMaster Students Union, which held an online survey to gather student feedback.
To aid the plan, UTS established criteria for prioritizing where Wi-Fi will be enhanced. Classrooms, meeting and conference rooms and lounges are the top priority. Keeping in mind that McMaster's busiest academic term overlaps with the coldest months of the year, indoor locations are also a priority. However, UTS continues to recommend that offices rely on hardwired connections which are faster and more secure.
Both the upgrades and new equipment will use 802.11n Wi-Fi technology, and operate on both 2.4 GHz and 5 GHz frequencies. This should improve availability in high-use areas such as the Student Centre.
Fast Facts:
Number of new and upgraded Wi-Fi access points: 90
Number of buildings getting upgrades or new service: 12
Cost: $100,000
Estimated completion: May, 2013
Total number of UTS managed Wi-Fi access points after expansion: 621
Buildings receiving expanded and/or upgraded Wi-Fi:
A. N. Bourns Science Building
Alumni Memorial Building (The University Club)
Burke Science Building
Chester New Hall
DeGroote School of Business
Gilmour Hall
John Hodgins Engineering Building
Kenneth Taylor Hall
McMaster Museum of Art (Alvin. A. Lee Building)
McMaster University Student Center
Psychology Building
Togo Salmon Hall