Supporting the Pivot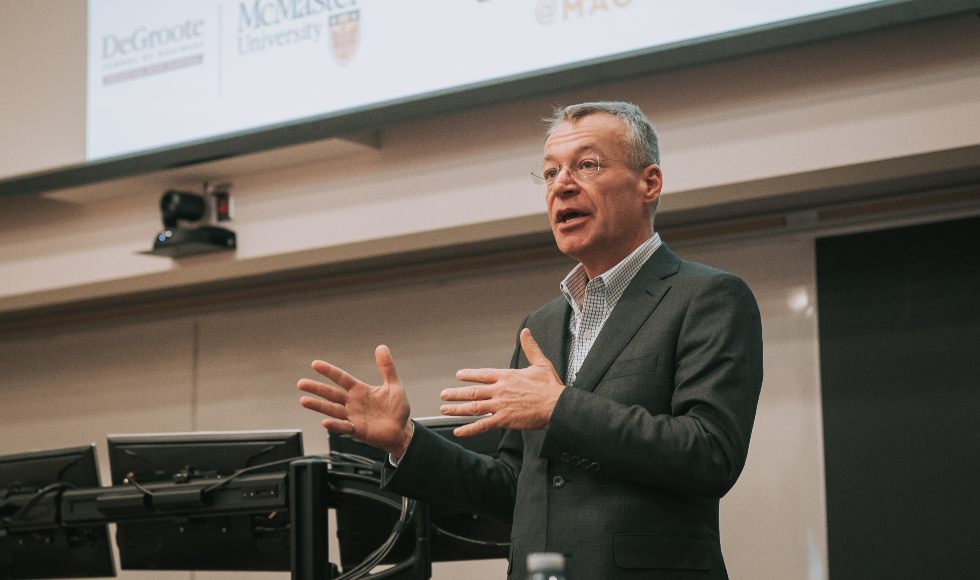 ---
Stephen Elop knows the value of experiential learning, first-hand. Almost 35 years ago as a student in computer engineering and management, Elop quickly discovered a passion and fascination with the tech sector and began searching for opportunities to develop skills outside of the traditional classroom setting.
Working with his mentor, then-Dean of Engineering Art Heidebrecht, Elop found engaging jobs that would shape his future ambitions, including writing the original instructional manual for the new, expansive computer system, as well as creating and installing the first university-wide ethernet program.
"Between project planning, design, budgeting, presentations to the president of the university at the time, pulling cables through the steam tunnels beneath campus, and training people in the network, I had one of the best, most comprehensive, personalized experiential learning experiences of my undergrad," he notes.
It was during these formative experiences that Elop began building the foundations for what would define much of his career.
Years later, he established himself as a high-performing executive in the tech-sector, working with international companies like Adobe, Nokia, and Microsoft. Elop also joined the Faculty of Engineering's advisory board.
It was then, he says, that he recognized a shift in the Faculty's approach to teaching and learning: professors were actively creating opportunities for their students to try experiential learning and to promote engagement in real-world problem-solving.
This shift was formally recognized with the launch last month of the revamped first-year engineering program, a key part of the new Pivot program.
Through the Pivot, Elop found an exciting opportunity to give back to McMaster in a way that he felt connected to, donating the lead gift to the newly developed program that will allow it to thrive and continue to encourage experiential learning.
"The connection between what the Pivot represents, and my own personal experience is undeniable, and therefore feels like a great way to give back to the university in a way that resonated with me," said Elop. "I have been thoroughly impressed with the passion of the team that has been building the Pivot, recognizing that fresh ideas and energy have resulted in a step-change in education within the Faculty."
The Pivot is a transformative approach to engineering education which considers a students' experiences both inside and outside the classroom, including enhanced experiences in labs, clubs and teams and community challenges. This reimagined approach to educating students aims to instill a community-focused mindset, with a special focus on entrepreneurialism.
Watch Stephen Elop's remarks during the Pivot celebration in September.
Moving learning beyond the lecture hall, students are able to design solutions to real-world problems in renewable energy, transportation, healthcare, climate change, and more.
Through community-based projects, collaborative virtual labs, robotics technologies, and other tailored experiences, engineering students are now receiving innovative learning opportunities that encourage them to be agile thinkers and engaged leaders who are prepared to shape the future using interactive, experiential learning.
McMaster President David Farrar thanked Elop for his support and generosity.
"Thank you for your unwavering support of our vision, and for reimagining engineering education. This is a terrific gift, and one that will have immediate impact, most important, but will also be seen with the passage of time."
Engineering Dean Ishwar Puri lauded Elop for his ongoing commitment and for providing students with inspiration and encouragement.
"Stephen has shown that he is a true champion of our vision, and what we are trying to achieve," said Puri. "The Pivot started with students like him, those who are bright, ambitious, looking to make a difference, agile risk-takers, and those seeking to add value to our world and our society. Your gift will help a whole new generation of innovators and entrepreneurs, who like you, want to make a difference."
Students attending the celebration announcing the program said the Pivot initiative is already changing their education. "By breaking the mold, the Pivot has created something new," said Erin Puersten, a computing and software engineering student. "Thank you so much for helping students grow and learn in new, exciting ways. I can't wait to see how these students go on to change the world."
Click to learn more about what motivated Elop to donate, as well as more about the Pivot program.