Supporting the next generation of Indigenous research scholars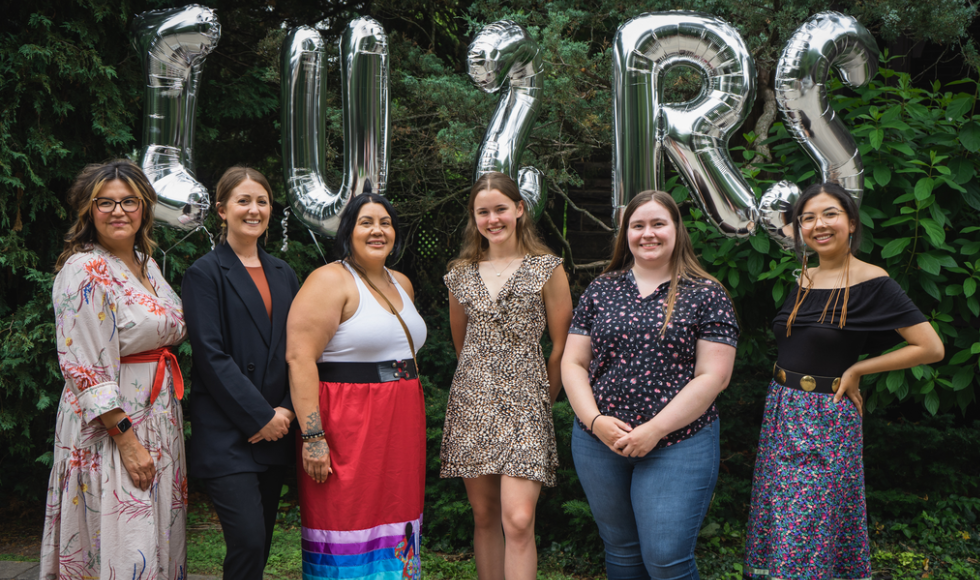 This year's Indigenous Undergraduate Summer Research Scholars program (IUSRS) participants included Nicole Bouchard, Brittany Skov, Bonita Bohnet, Hannah Butterworth, Hannah Thomas and Aleria McKay. (Photo by Christian Braun/McMaster University).
---
Six early scholars from across Canada got the chance to experience graduate student life at McMaster thanks to the eight-week intensive Indigenous Undergraduate Summer Research Scholars program (IUSRS).
The program, which is hosted by the McMaster Indigenous Research Institute (MIRI), facilitates mentorship and guidance for Indigenous undergraduates as they prepare for graduate school.
The program includes workshops and Indigenous knowledge sessions, while providing an opportunity for students to work on a research area of interest with a McMaster faculty supervisor.
Now in its eighth year, the IUSRS is getting a new name.
"MIRI is excited to announce the new name for the IUSRS Program. When we talked to the current students about a name change the word IndigiNerds came up organically," says Savage Bear, the director of MIRI.
"The new name represents a new beginning for the program where we seek out innovative, ambitious Indigenous upper-level undergrads to experience research mentorship. We want to make the IndigiNerds summer program a conduit to graduate studies here at McMaster."
The program wrapped with an event on July 8th that saw participants present their research and share their work.
Learn more about the critical research presented by three of this year's Indigenous scholars below.
---
Brittany Skov
Brittany Skov says her time in the IUSRS reaffirmed her interest in Indigenous health and community-based research.
Skov, a fourth-year psychology (honours) student at the University of Victoria, worked with 2-Spirited People of the 1st Nations, an Indigenous-led not-for-profit. The organization offers prevention education and support for Two-Spirit, including First Nations, Métis and Inuit people in the Greater Toronto Area living with or at risk for HIV and related co-infections.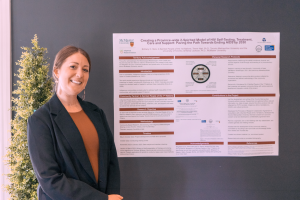 Trevor Hart, a co-investigator with the Feast Centre for Indigenous STBBI (sexually transmitted blood-borne infections) Research, served as Skov's supervisor. Randy Jackson, the Feast Centre's principal investigator, also supported Skov.
"Within this project, Trevor, Randy, and I serve a supportive role to the community organization, which is seeking to better understand the HIV prevention and health promotion needs of Two-Spirited people across Ontario," said Skov.
For Skov, a member of the Mississaugas of the Credit First Nation (though she was not born or raised there), the IUSRS program has allowed her to connect with and learn from others involved in community-based Indigenous research.
"Being raised outside of my culture, the cultural activities have been very nourishing," said Skov. "Research has been a way for me to reconnect."
Skov intends to apply to graduate school in the fall for clinical psychology and says the IUSRS program has been helpful in navigating that journey.
---
Bonita Bohnet
Bonita Bohnet, an undergraduate student in the Faculty of Native Studies at the University of Alberta, spent her time in the IUSRS program researching for and designing an introductory seminar for a potential Indigenous astronomy course.
Working under the supervision of the Faculty of Science's Robert Cockcroft, Bohnet developed a course defining Indigenous astronomy, explaining its relevance, comparing and contrasting it to Western astronomy and exploring the ways it can be incorporated into the sciences and academia.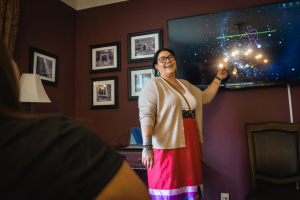 "Inserting Indigenous knowledge into academia is I think really important," says Bohnet, who points out that much of the knowledge around Indigenous astronomy has been handed down orally for generations, but only recently proven by western science.
"A lot of people have this idea that Indigenous peoples historically didn't have science. But they did have science," says Bohnet. "They understood where they were and how the planets were working."
Bohnet points out that accepting different methods of approaching science and acknowledging multiple ways of knowing — including Indigenous ways of knowing — can only be a benefit to academia.
"It's really important, especially in a time when people want to implement the Truth and Reconciliation Committee's recommendations that the importance of keeping Indigenous knowledge alive is really coming to the forefront."
---
Hannah Butterworth 
Hannah Butterworth, a third-year Health Sciences student says the IUSRS program has left her inspired to not only consider graduate school, but also to potentially combine her research with exploration of her Indigenous roots.
Butterworth, whose mother is Anishinaabe, says a IUSRS workshop on research into one's home communities made her realize she has a very personal connection to a potential research opportunity — the prevalence of autoimmune diseases in her family's home community of Whitefish River First Nation.
"I would just love to do research on the genetic inheritance of that," says Butterworth. "I find that so interesting because I have a personal connection and am tied to it. So, I definitely am taking that into consideration after that workshop."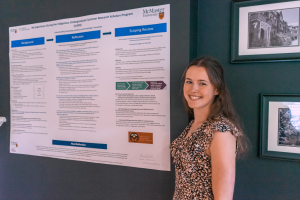 While she was in the program, Butterworth worked on two projects. The first was a podcast-focused project compiling principles for knowledge synthesis when working with Indigenous populations under the supervision of McMaster Indigenous Research Institute (MIRI) researcher Jennifer Walker.
Butterworth also lent research support to a scoping review on a cancer screening communications research project with Sioux Lookout First Nations.
"I'm still pretty young to be doing graduate level research, but I really wanted to get my foot in the door. And it taught me a lot about systematic reviews and scoping reviews," says Butterworth of the program. "I always just felt like I was in a safe space. And everyone was so kind and so generous."
Butterworth says the experience has left her feeling prepared for what's next.
"I feel like I'm ready to just start to do my own thing and to push myself to hopefully find a research question that I can do for my fourth-year thesis."