Supporting artists and diversifying McMaster's art collection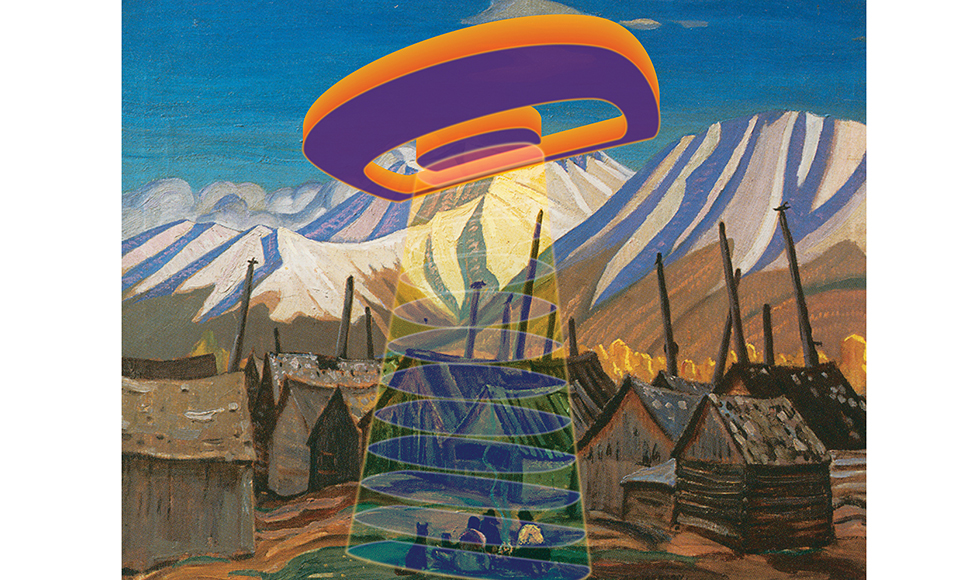 Sonny Assu, "They're Coming! Quick! I have a better hiding place for you. Dorvan V, you'll love it." Digital Intervention on an A.Y. Jackson Painting (Kispayaks Village, 1927), 2015. Edition of 5 + 2AP. Photo courtesy of the artist and Equinox Gallery, Vancouver.
---
The McMaster Museum of Art has purchased 20 works of art – 19 of them by living artists working in Canada – including contemporary artworks by Sonny Assu, Deanna Bowen, Catherine Blackburn, Denyse Thomasos and Shellie Zhang.
"Supporting the Canadian arts community is a vital role for museums, especially during this time of economic hardship due to the pandemic," says Carol Podedworny, director and chief curator. "I am grateful to the curators, Pamela Edmonds and Rhéanne Chartrand, for bringing these amazing works to the table, and to the [acquisitions] committee for their overwhelming support. We can hardly wait for the works to arrive and for the opportunity to share them with everyone."
These purchases continue the museum's goal to advance equity and diversity in collections, programming and scholarship, which has been marked by several initiatives:
Increasing acquisitions, starting with art by Bob Boyer in 2010
Hiring the inaugural Aboriginal Curatorial Resident in 2016
A focus on equity and inclusion in exhibition programming
The forthcoming Curatorial Leadership through Diverse Mentorship Initiative.
This intentional shift was formalized in the museum's 2020/2025 strategic plan, which launched January 1.
The museum's new acquisitions include:
7 archival pigment prints by Sonny Assu (Liǥwilda'x̱w of the Kwakwaka'wakw Nations, b. 1975)
1 black Plexiglas mirror work by Deanna Bowen (Canadian, b. U.S.A., 1969). This piece was first presented in the Museum's winter exhibition Deanna Bowen: A Harlem Nocturne.
1 installation and 6 mixed media works by Catherine Blackburn (Denesuline/European, b. 1984)
1 large acrylic painting by Denyse Thomasos (Canadian, b. Trinidad 1964-2012)
2 C prints and 2 sculptures by Shellie Zhang (Canadian, b. China, 1991)
Purchases were funded by the Museum of Art Collection Trust, Naomi Jackson Groves Trust and Shepherd Trust.