Supersize your financial output with Finance 2 Go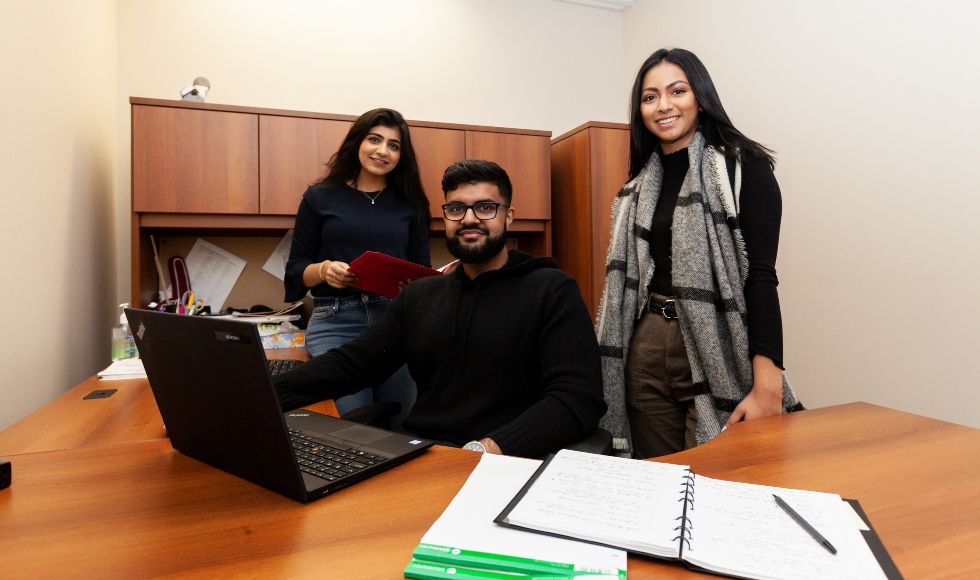 Would you like HST with that? Hafsa Memon, Nauman Chaudhry and Munam Majeed are the Finance 2 Go team, providing service to departments in the Faculty of Health Sciences. Photo by Sarah Janes.
---
After diving into some reporting data during the research finance review, Faculty of Health Sciences financial directors Sue Galloway, Kathy Pfeiffer and Sonya Caissie noticed that financial transactions such as travel and expense claims followed a troubling pattern.
Individuals entering financial information in Mosaic with a high transaction volume had a low error rate and those with a low volume had both a higher error rate and a longer than average entry time. Which made sense to them – if people don't do this kind of work very often, how could they know all the ins-and-outs in Mosaic?
Looking deeper, they discovered that 772 people in the Faculty entered financial transactions in the past year and of the 663 who created travel and expense claims, 94% did fewer than one per week, and 73% prepared fewer than 10 in total for the year.
"The kind of people doing this Mosaic transactional work were non-accounting staff, PhD students, temp-casual roles, and even faculty members," says Galloway.
"The time it takes for them to learn and do the transactions is time taken away from the reason they're at the university. They could be doing research or the kind of administration they're experts at. It just didn't make sense from a university-efficiency standpoint," she says.
So Galloway, Pfeiffer and Caissie came up with a plan to offer a service that doesn't require a form and doesn't require paperwork to be sent somewhere central. It's called Finance 2 Go. It's a team of part-time transactional experts who travel to each participating department. The finance department leads pitched the idea to FHS leadership and the pilot project has now been running for about six months. In some areas, error rates have dropped from 20% to 0.
Specially trained in Mosaic financial transactions for the faculty of health sciences, each of the three Finance 2 Go team members is available to drop by a department's office to enter all their paperwork for non-PO vouchers, travel and expense reports and journal entries, plus sort out the taxes and create invoices for grants or salary recovery.

"The Finance 2 Go staff will come to your office with a laptop and a scanner and they don't even need a desk, just need the corner of a table," says Pfeiffer. "You put the shoebox in front of them and they'll do it. All they need to know is who should approve it and where should it be charged to. They've been trained on every aspect of finance transaction entry – that's all they do when they're here is finance transaction entry – they know the rules, they know the pitfalls, they're fast, they're keen, and they're all on the CPA track for education."
"And when we say mobile, they're all over the city," adds Galloway, pointing out that the Finance 2 Go staff members travel between hospital sites across Hamilton and also work remotely to coordinate financial transactions for sites outside of Hamilton who scan their expenses and save them to a confidential MacDrive folder for the team to process.
George Hamilton is the Manager of Finance and Administration for the department of Psychiatry and Behavioural Neurosciences at the St. Joseph's West 5th Campus. He was one of the first to sign on to the new process.
"I think this is the right thing for the university," says Hamilton. "This is a win-win for both parties."
"They're our fingers, helping us get it all in the system," he says. "Just put the chartfield on the invoice, and a cover page to track the date submitted and when it was input and put it in the folder before Thursday morning. For our administrators, it's a paradigm shift. It's fantastic for them to spend time on other things. At first, there was a feeling of disconnection but we worked together to update things so everyone can see it in the system. Admins still can answer the residents' questions as to where things are in the process."
Hamilton points out that administrators now have more time to plan and support events, for example, which adds value to the events, because they're not spending their time processing expenses paperwork.
"Any hurdles we've hit, we've been able to work out," he says. "We have every intention of continuing with Finance 2 Go."
The pilot will continue at least until the end of this fiscal year, when the data can be re-evaluated. Departments are being added all the time. Teams needing financial service stop-gaps due to a staff leave or for other reasons are also encouraged to participate in the pilot.
The FHS financial team sees the new process as a way to increase efficiency and also offer a positive customer service experience.
Hafsa Memon, one of the Finance 2 Go staffers, agrees. "We can sometimes give suggestions from our work with one department to improve a financial process in another. We provide flexibility and accountability in financial transactions so our contacts can focus on better things."
To request the services for your FHS department, contact Fin2go@mcmaster.ca