Successful growing season for Teaching and Community Garden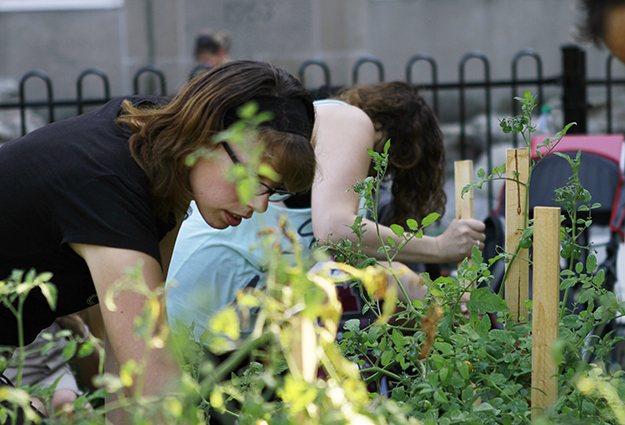 Putting your green thumb to good use. Volunteers gained valuable hands-on experience in the McMaster Teaching & Community Garden this year. The on-campus resource provides teaching, research and learning opportunities related to local and sustainable food production.
---
A bumper crop of basil has taken over a section of the McMaster Teaching & Community Garden. There is so much, in fact, that student volunteers are discussing a pesto-making workshop to make sure none of the fragrant herb goes to waste.
Funded in part by a Forward with Integrity grant, the garden — located in front of the General Sciences Building — is a collaborative initiative meant to promote local food production and provide teaching and learning opportunities for the McMaster community.
Volunteers meet regularly to weed and maintain the garden as well as harvest ripe produce, which is then distributed between the Mac Farmstand, Bridges Cafe and the broader McMaster community.
"It's a good opportunity to get people outside, helping out," said garden coordinator, Christina Monachino. "There are a lot of people who are interested in different aspects of gardening. Volunteers talk about different practices that they use.  We also talk to people that are new to gardening — it's an open dialogue."
Chad Harvey, assistant professor of biology in the Integrated Science Program, was involved in the creation of the McMaster Teaching & Community Garden. He says it can help students gain a better understanding of what it takes to grow the food we eat.
"It's something that's visible to the students. They can see how it's progressing," said Harvey. "They can see the vegetables growing and get that hands-on sense of where their food comes from. They can see the blood, sweat and tears that go into growing a carrot or some peppers or a tomato and then see where the food goes."
Harvey said the project also provides valuable experiential learning opportunities for students. He brings his second year biology course to the garden to illustrate the science behind food production.
"Students have a chance to see the interactions between the soil and the plants and the exchange of nutrients. Here's this thing we call a 'garden,' but when we look closer, there are all these creepy crawlies and organisms in there. Some are helping and some are hindering. How do we control them? You can take that information back into the classroom and get into the ecology of that, the chemistry of that. So it gives a hands-on application of interdisciplinary science."
Administrators from Biology, Geography & Earth Sciences, Arts & Science and Integrated Science have all designed courses that integrate the experiential learning opportunities that the garden provides, but Harvey encourages instructors from all departments and faculties to look at ways to incorporate the garden into their course plans. Instructors can even book the garden for use in their courses.
In fact, anyone can access the garden. According to Anna D'Angela, vice-president (Administration), McMaster Student Union, the garden is never locked and members of the broader community are free to pick a tomato or grab some lettuce or herbs.
There are also a number of public workshops planned that will run throughout the fall (and tentatively scheduled for winter) covering a range of topics such as harvesting, seed collection,  planting and pesto-making.
D'Angela says attending a workshop or getting into the garden as a volunteer is a great way for anyone in the McMaster community to learn about sustainable food production.
"We're very fortunate to have something like this on our campus that not only allows people to connect with the environment, but also allows people to connect with local healthy eating. We don't always think about where our food comes from, but when you see a garden right in your back yard, literally, and you can eat the lettuce that's coming from that garden, I think it gives people a unique appreciation for the world around us."
The planning, implementation and ongoing maintenance of the MTCG is the result of continuous collaboration between the Office of Sustainability, the MSU, Facilities Services and the Integrated Science Program (iSci).