Students write playbook that helps women, trans and gender diverse individuals experiencing homelessness access health care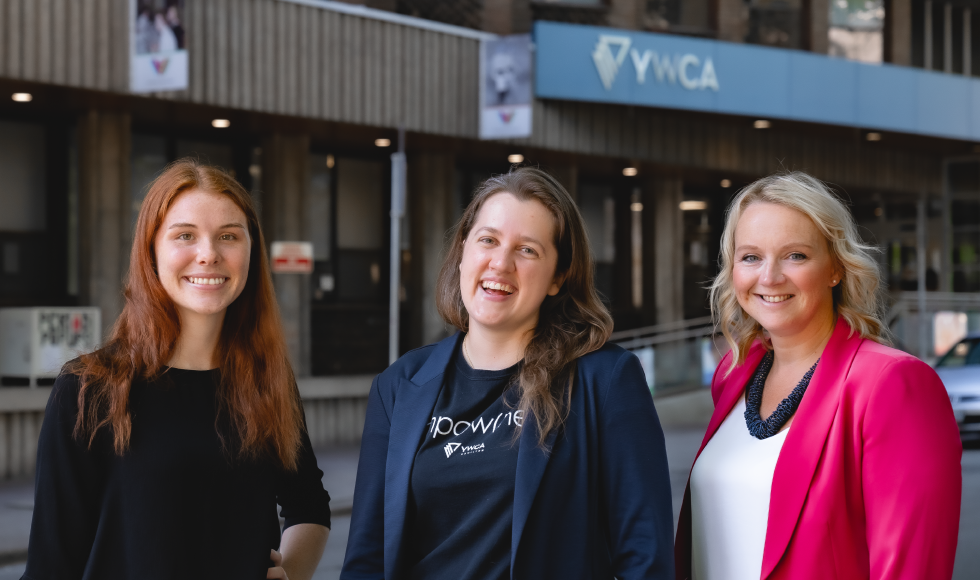 Molly Cameron's (left) group project is helping women, trans and gender diverse individuals experiencing homelessness access health care. The students partnered with Violetta Nikolskaya from the YWCA Hamilton (centre) and were led by Sarah Precious, McMaster Sustain 2SS3 Instructor and Greater Hamilton Health Network Lead (right).
---
"When I'm walking in downtown Hamilton, homelessness is something I cannot ignore. For women, trans and gender diverse populations who are experiencing homelessness, stigma and systemic barriers — including not having a smartphone or reliable transportation — can make accessing health care extremely difficult," said Molly Cameron, a fourth-year student who participated in a SUSTAIN 2SS3—Advocating for Sustainability class at McMaster University.
"As part of this class, my group and I set out to develop a practical guide for communities looking to replicate Women's Health Days around the world."
Women's Health Days is a pop-up-style event developed in Hamilton, where preventative health care, like cancer screening, vaccines or wound care is provided by volunteer clinicians at an accessible location to females, trans and gender diverse persons experiencing homelessness.
This innovative approach was developed by the Greater Hamilton Health Network (an Ontario Health Team) and over 30 partners, including YWCA Hamilton as the project partner and event host for the past two events.
"Our playbook is a guide for other communities looking to run their own event and is based on lessons learned in Hamilton. It provides tips on how to choose the right location, mobilize clinicians to provide care, engage patients in attending the event, and how to anticipate the needs of attendees and be flexible," said Cameron.
"This group of students can be proud of how their playbook is helping others around the world. It was presented by the GHHN at the International Conference on Integrated Care in Denmark and caught the attention of community health practitioners from places as far as Spain, Belgium and Holland," said Sarah Precious, class instructor and Greater Hamilton Health Network's Manager of Engagement and Communications.
Violetta Nikolskaya, senior analyst of programs and advocacy at the YWCA Hamilton, led the students in the development of the playbook and at the last event helped the students see first-hand how it can help patients.
"The students went through the steps of planning the event and came up against the logistical challenges that must be overcome to eliminate barriers to care for those who need it most," said Nikolskaya.
"This group pushed beyond learning about social justice issues and experienced collaborating with different organizations and imagined the best ways to coach other communities by being open-minded and progressive."
The student group members, including Gokberk Yilmaz, Manahil Qamar, Tamara Rahal, Mikayla Robinson and Molly Cameron, come from a variety of educational backgrounds such as science, engineering and social sciences, bringing unique perspectives to the project.
Projects like this also support McMaster's commitment to the United Nations Sustainable Development Goals (UN SGDs), including those that address health and well-being, gender equality and poverty.
"Ten years from now, I might not recall everything I learned from a textbook, but I will always remember how helping people and making an impact in the real world broadened my horizons," added Cameron.
Undergraduate students in any program looking to make a difference in the community by taking an experiential, sustainability-focused class can find more information on the Academic Sustainability Programs website.