Students unearth ways to improve campus composting habits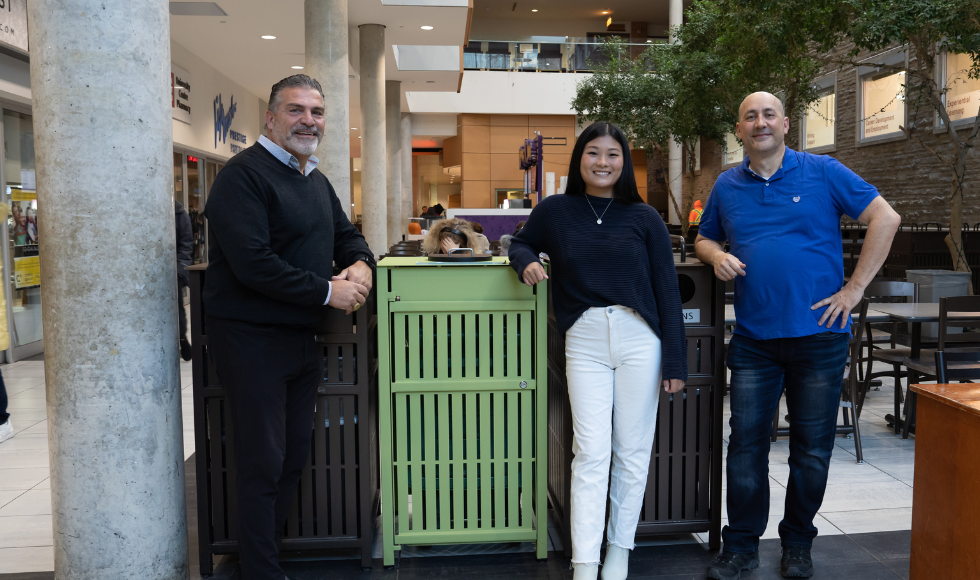 Carlos Figueira, director in Facility Services, Skye Earley, Sustainability Intern, and Luc Bernier, environmental science professor, with waste and compost bins on campus. (Matt Clarke/McMaster University)
---
Fourth-year student Skye Earley is digging into whether students, faculty and staff know how, where or why they should compost on campus.
Earley is collaborating with Luc Bernier, professor from the Faculty of Science, and Carlos Figueira, a director responsible for waste management at McMaster, on a thesis project looking at what ways to encourage tossing organic waste in compost bins on campus.
"We are asking students, faculty and staff to take a quick survey to give us some clues on how to improve composting at an individual level on campus," Earley says.
"Do people on campus think there are enough composting bins or know where they are located? Do people think compost bins are garbage bins or vice versa? Is the signage clear? Does everyone know why composting matters?"
On campus, organic food waste can be placed in compost bins, which a third-party vendor takes offsite for sorting and composting.
The composted material is returned to McMaster as a natural fertilizer  for plants and trees.
"Composting is more sustainable than placing food waste in the garbage bin, where it will end up producing more harmful greenhouse gases as it breaks down beneath inorganic waste in a landfill," says Bernier, a professor in the School of Earth, Environment & Society.
"You might not think individual actions matter, like throwing an apple in the garbage bin. McMaster's campus has over 37,000 students and even more staff eating here daily. These individual actions add up."
McMaster students are active partners in sustainability on campus and Bernier has seen first-hand that students have a growing appetite to get involved. "Our world has finite resources and students know that influencing sustainable change on campus matters," he says.
McMaster just completed its waste audit for 2022, and the pending results will be considered as part of this project. The population on campus was impacted by the pandemic during the last two years, making the 2019 waste audit the most recent comparable results. Expanding and encouraging participation in composting at our sites is a part of McMaster's Sustainability Strategy.
"Our last waste audit indicated that 21.5 per cent of organic waste ends up in garbage bins. This is waste that would ideally be placed in the compost bin," says Fieguera, director of custodial and grounds services at McMaster.
"When non-organic waste ends up in the compost bin, it can become very difficult for our vendor to sort it and it may go to landfill as a last resort. Anything we can do to increase proper composting on campus will make a difference here."
Earley's project is part of her sustainbility internship, a program where undergraduate students complete a sustainability-focused capstone or thesis in their program of study, while going above and beyond through practical application in sustainability.
McMaster students, faculty and staff who take the project survey will help Earley develop recommendations for positive changes on campus.
Other students associated with the Academic Sustainability Program have also begun collaborating with Facility Services on a pilot project that encourages staff across campus to champion composting in their area.
The outcomes from the pilot and the results of Earley's survey will both be incorporated into Facility Services' sustainability planning. The continued collaboration between students, faculty and staff is what will help boost composting rates and create a brighter future on campus in the years ahead.