Students, sports and 30 years of teaching and learning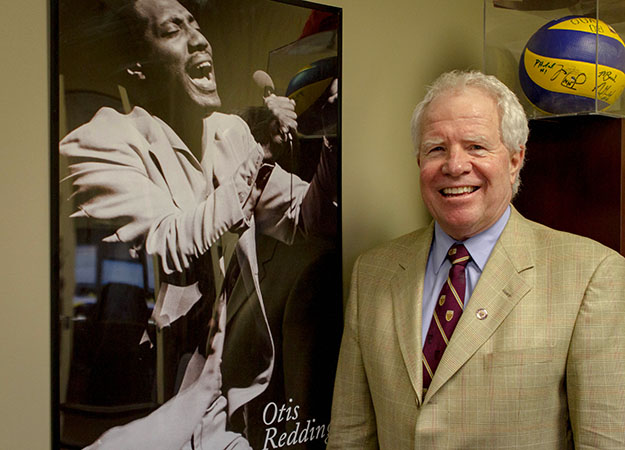 Soul brothers. Phil Wood, AVP student affairs and dean of students, poses next to one of his musical heroes in his Gilmour Hall office.Wood was given honorary MSU membership last month for his tireless dedication to students.
---
Phil Wood clicks refresh on his Twitter feed for a second time; his maroon necktie and University pin reflecting in the monitor.
"I'm really more of a lurker," says Wood, swinging around on a plush armchair and crossing his arms. "I like to keep an eye on what's happening around campus." He's grinning.
Throughout his remarkable 30-year career at McMaster, connecting with students has never been a challenge, or even a job. It's a passion, plain and simple. It's what pushes Wood to work evenings and weekends, ride the team bus for away games, host weekly radio segments at CFMU and write music reviews for The Silhouette. It's also what earned him a 3M National Teaching Fellowship back in 1993.
Last month, the longtime professor, dean of students and AVP student affairs was hailed for his years of dedication with honorary membership in the McMaster Students Union – only the 16th time such an award has been given since the mid-1960s.
What's the secret to his success? Keep it simple, and never speak down to your class.
"When I deal with students, it's not from up here, it's more from here," says Wood, gesturing from his forehead to his chest. "If I had to describe what I do well, it's explaining things – finding examples in the real world that a student might be familiar with, and helping them understand while motivating them."
Born in 1949 in Brantford, Ont., Wood was the oldest child of six raised in a working-class postwar household. His two main passions as a young man were sports and music – especially the new breeds of soul, do-wop and blues music exploding out of the United States and England."I was in Grade 9 when the Beatles hit, so the timing was perfect," he recalls. "In the mid-'60s, soul music really hit big in Brantford, and all through Southern Ontario … the dances of the day were the boogaloo and the shing-a-ling, so we all learned those and had 'soul lines.' I was usually at the head of it."
But when it came to academics, he simply wasn't interested. Not at first, anyway.
It wasn't until years later – after completing an engineering degree at the University of Waterloo and a PhD at the prestigious California Institute of Technology – that his love of teaching and learning finally clicked.
As a young professor at Michigan State University during the late 1970s, Wood learned that engaging with students can be a lot of fun, but it also involves a great deal of discipline – especially for young, social professors.
"You wouldn't flunk your friend, would you? Well, yeah, you would," he explains with a chuckle. "I had to put a little distance between us. Now that I'm older, it's not that hard. But when you're 28 it's much more difficult."
It was during those years abroad that his love of collegiate sports also grew. Wood got up close and personal with the likes of Bill Walton and Magic Johnson during their blossoming college careers, and had season tickets behind the bench when Michigan State won the NCAA basketball championship in 1979 – fueled by the outstanding play of future NBA greats Johnson, Greg Kelser and Jay Vincent.
In 1983, Wood was hired as an engineering professor at McMaster, and continued to support student athletes both on and off the field. One major difference with the Marauders (and a huge selling point for Wood) was the University's focus on developing well-rounded "student athletes," and not simply one or the other.
"It's very separate (in the United States). They have their athletic programs, and they by and large don't let these athletes take chemical engineering, which is what I was teaching," says Wood. "I got here, and a student in my class was also a big star on the basketball team, Peter Ross."
His longtime commitment to recruiting and cultivating student athletes hasn't gone unnoticed. When the Marauders football team won the Vanier Cup in 2011, Wood received a championship ring along with each player and coach. It's an honour he still gets choked up about, even with a lifetime of memories behind him.  
"Here's the advice I give to young professors," says Wood, glancing around an office piled high with awards, photographs and Marauders memorabilia. "If you can, learn everybody's name. They remember it, and they always appreciate it."
Wood's term as AVP, student affairs and dean of students will conclude on June 30, 2013.