Students pitch signs to help make the green choice clear on campus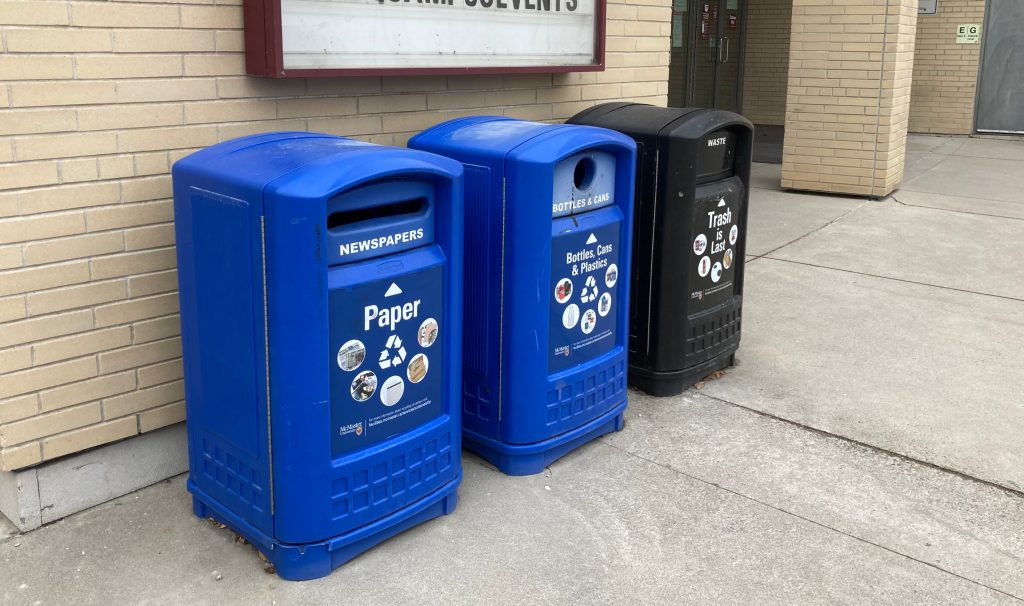 Students in the Advocating for Sustainability course came up with ideas for clearer signage on McMaster's waste bins, to make it easier for people to toss their garbage and recycling in the appropriate spot. (Georgia Kirkos, McMaster University)
---
Students aiming to make environmentally sustainable choices at campus disposal bins sometimes miss the mark, unintentionally placing recyclables in the trash and non-biodegradable products into organic waste bins.
As part of an Advocating for Sustainability course at McMaster, students Hannah Christie, Emma Darrach, Belvina Mao and Mahimah Reancy wondered if the signage at the bins affated disposal behaviour and decided to take a closer look by surveying students on McMaster's waste sorting.
They discovered that nearly 40 per cent of students surveyed identified "unclear signage or instructions" as their main barrier to proper waste disposal and recycling.
The survey also showed that signs with simple messaging and larger pictures are the most effective on campus.
"We were excited to see that our survey responses aligned with our research on best practices for waste disposal signage," says Darrach, an undergraduate student in the DeGroote School of Business.
Supported by Liana Bontempo, wellness and sustainability manager in the university's hospitality services, the students recommended to McMaster's Sustainability Advisory Council that waste and recycling signage be standardized to be more effective.
The council, comprising academic and operational leaders who partner with students to co-design sustainability projects, supported their recommendations.
"The students' insights will help make green choices at disposal bins easier. Facilities services will begin phasing in the standardized signage this summer," says council co-chair Debbie Martin, associate vice-president and chief facilities officer.
"McMaster is unique in how our facilities services teams can partner with students in projects like this, learning the best ways to make changes."
Council co-chair Kate Whalen agrees. "McMaster's continued commitment to creating a living laboratory where students, faculty, and staff from across campus come together to promote sustainability is one of our many strengths, of which we should be very proud," says Whalen, who is senior manager of McMaster's Academic Sustainability Programs Office, which oversees the SUSTAIN courses.
The seven SUSTAIN courses are open to all undergraduates and provide students with opportunities for interdisciplinary and experiential learning about sustainability.
More than half of the 160-plus projects completed by students in SUSTAIN courses are in collaboration with McMaster staff and make the university more sustainable.
"As part of our course, our project aligned with the United Nations Sustainable Development Goals, such as 'Responsible Consumption and Production,' as well as the goal for 'Peace, Justice, and Strong Institutions,' because of our efforts for more inclusive decision-making," says Reancy, an undergraduate student in the Faculty of Science.
Learn more about the SUSTAIN courses, past and future projects, and the related Interdisciplinary Minor in Sustainability on their website here and on Twitter, Facebook and Instagram.