Students learn much from MOOSE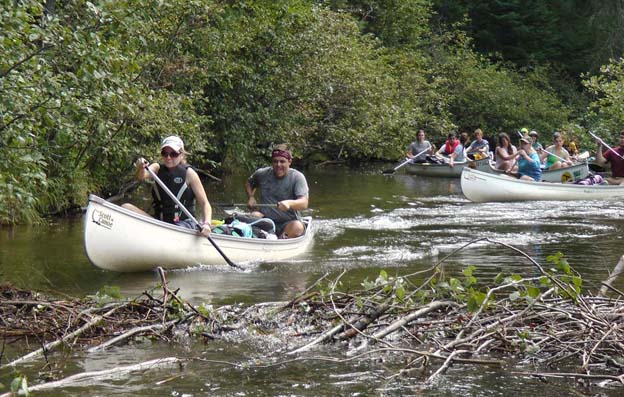 Integrated Science and Arts & Science program students paddle across a beaver dam at Algonquin Provincial Park. The first-year students spent the week before Welcome Week together at the park getting to know one another and transitioning into university life.
---
Approximately 40 Integrated Science and Arts & Science program students spent the last week of August at Algonquin Provincial Park learning about each other and post-secondary life as part of a new university "outdoor orientation program".
The McMaster Outdoor Orientation Student Experience (MOOSE), led by senior students and University staff, is among the first of its kind at a Canadian institution.
The students spent a week canoeing and camping at the park, where they also participated in team-building activities. They spent time quizzing senior students about university life around the campfire.
After their return to campus and move into residence, the students met with President Patrick Deane and their academic program coordinators.
"We're trying to create learning communities," said organizer Wayne Terryberry, outdoor recreation coordinator in Athletics & Recreation. "The students really became brothers and sisters during the trip, and now they have peers and mentors to help them through their studies and life at McMaster."
The students will be evaluated throughout the year to help program organizers better understand the academic and social benefits of outdoor orientation.
Photos from the trip are below.