Students inspired by new intersession course on Black Caribbean and its diasporas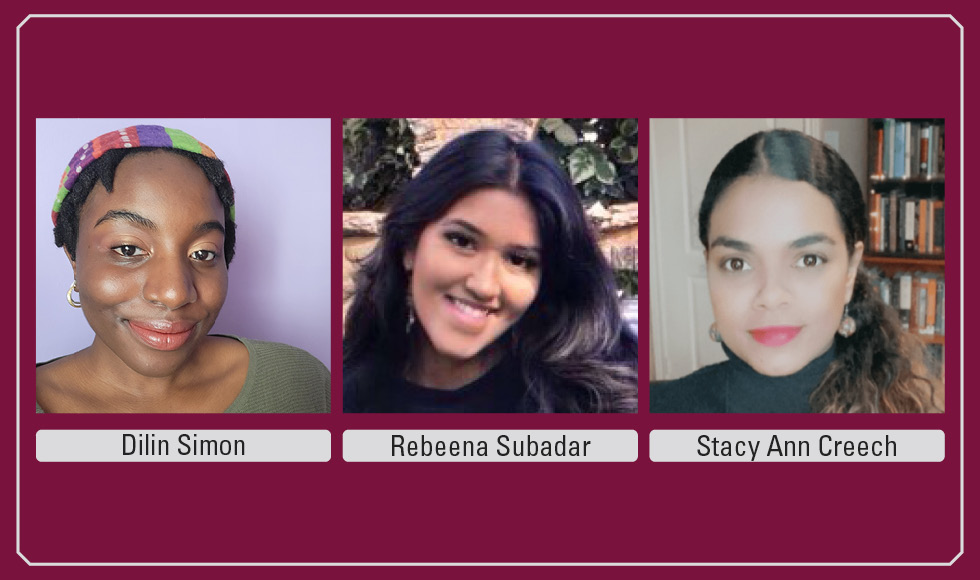 ---
Dilin Simon was raised in a Caribbean household with strong ties to her relatives from the island of Antigua, but she has always yearned to learn more about the historical foundations of her family.
Simon, who is studying human behaviour with an early childhood education specialization at McMaster University, said her interest was piqued when she saw a new intersession course, the Black Caribbean and its Diasporas, being offered this spring.
The four-week course would prove a pivotal moment in her learning at McMaster.
"This course has made me feel recognized and acknowledged as an Afro-Caribbean woman," Simon said. "Through my experience of learning about Blackness and heritage, it normally would align with African or African-American culture/history. Although these topics are very important and ought to be talked about more often, I find that the Afro-Caribbean diaspora gets left out in these kinds of conversations across various movements. It was nice to not only be acknowledged but also to feel included in the conversation."
The interdisciplinary course focused on topics that celebrated the Black histories and cultures of the Caribbean region. Through written and spoken-word poetry, short stories, music and news publications created by Afro-Caribbean artists, students were introduced to the rich geographies, multi-linguistic traditions and socio-political landscapes of the Black Caribbean and its diasporas in Canada, the United States and England.
Instructor Stacy Ann Creech, a PhD candidate and teaching fellow in McMaster's Department of English and Cultural Studies in the Faculty of Humanities, said the impact of connecting with her students on these topics was profound.
"This was my favourite experience teaching, so I get emotional talking about it," said Creech. "I am a Black woman from the Caribbean, so for me, to be in the virtual classroom with students who were all Black women from the Caribbean, it was so affecting. I heard stories from my students about how they connected with their families, some of whom are still living in the Caribbean, about the material we were learning. We built this community, together."
One unique feature of the course was its integration of archival material, specifically the archives created by Jamaican writer Louise Bennett-Coverley (Miss Lou) and Barbadian writer Austin Clarke. Both archives are housed in the William Ready Division of Archives and Research Collections at McMaster University Library.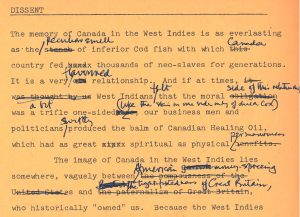 Rebeena Subadar, who is pursuing combined honours in philosophy and political science, said she felt a deep connection with Bennett-Coverley's archives in particular.
"It's at this point in the course where I felt supported by the content, my peers and educators to unpack and unlearn the Eurocentric language and ideologies I use by meeting it with Louise Bennett-Coverley's (Miss Lou) work," said Subadar. "I could recognize and share the importance of how the reclamation and resurgence of Jamaican and African culture are to overcome survival mechanisms and remember origin stories and identities. It was rewarding to connect to Miss Lou by engaging with the first-hand text and experience her time, dedication, love and raw emotion within an academic setting."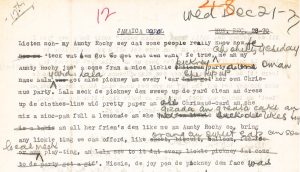 Myron Groover, archives and rare books librarian at the William Ready Division of Archives and Research Collections, curated the archival materials for the course and designed an assignment in collaboration with Creech which invited students to work directly with digitized material from the archives.
"This is the only campus in the world where students would have an opportunity to work directly with these documents in their physical form," said Groover. "During the pandemic, we've had to think creatively about how we can translate that sort of unique in-person engagement to an online environment, and working with Stacy and the students to make those connections happen as part of this course has been a very meaningful experience.
To help frame the assignment, Groover facilitated a special session of the class which focused on exploring new ways of conceptualizing and working with archival source material.
"I was really impressed with the level of engagement they had with the subject matter and with the documents," he said. "We were looking at sophisticated and complicated theoretical approaches to working with archives, and it was great to see the students relating those ideas back to their own lives and experiences."
Creech said the intersession course is unique as it brings together the Black Caribbean and its diasporas through an inclusive lens.
"When I was dreaming up this course, I researched the types of courses being offered like it in North America," she said. "There aren't very many courses that are mapping out Black Caribbean identities. I wanted students to see that the Caribbean is a multi-faceted region, and that African heritage and African ancestry is the thread holding together the cultural fabric across not only the Anglophone Caribbean, but also the Spanish-speaking Caribbean and the French-speaking Caribbean."