Students head to Ecuador for hands-on learning experience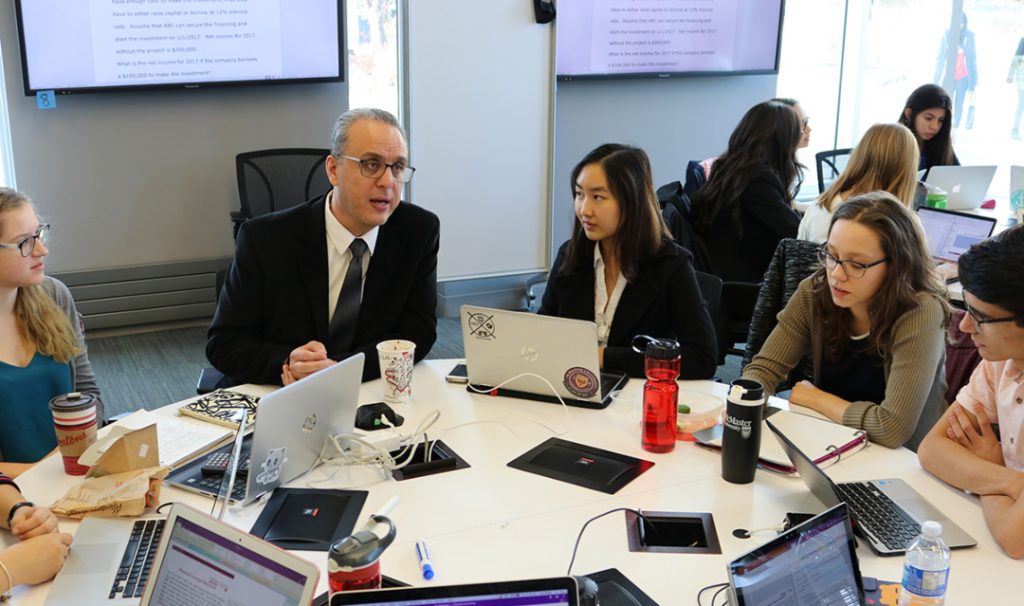 "We'll be talking about western and indigenous ways of thinking, as well as profits, work distribution, and individual versus community rewards," says IBH program director Emad Mohammad.
---
Have you ever gone to class in canoe, deep in the Amazon rainforest?
This month, second-year students in McMaster's Integrated Business and Humanities program will do just that, on an eight-day trip through Ecuador.
IBH students will divide their time between Quito, Ecuador's lush cloud forests, the Amazon basin and Minga Lodge, on the banks of the Napo river.
They will learn first-hand about Ecuador's unique business and cultural practices and will join in community-building work, case studies, workshops, tours and outdoor activities.
They will tour a rural cacao farm, meet with a local shaman and assist at build sites for three days, before returning to Canada Oct. 14.
It's not a volunteer excursion, IBH director Emad Mohammad notes. "Students are going to learn something very important on this trip: We're not saviours," says Mohammad, an associate professor of accounting and financial management services.
"In this part of the world, people do things differently. We'll be talking about western and indigenous ways of thinking, as well as profits, work distribution, and individual versus community rewards," he says.
Hamilton native and second-year IBH student Dylan Pacheco has never been outside Canada. He calls the upcoming trip a "special opportunity" that will surely impact his global outlook.
"I cannot express how eager I am to experience the ways of another community so far away from home," says Pacheco, who described himself as shy and timid prior to entering the IBH program.
"I look forward to sharing knowledge and experiences with local community members, and embracing the similarities and differences between our daily lives."
Emma Hamilton, originally from Innisfil, Ont., says the IBH program has inspired her to learn while pushing her own boundaries.
"Not a day goes by that I don't use something I have learned in IBH," Hamilton says. "I believe I have become a more informed student, and I have worked hard to push myself beyond my comfort zone."
Hamilton says the upcoming trip will be one big adventure.
"This trip will be our first hands-on experience, and a check point to see how far we have come in just under 14 months," says Hamilton, who has never been south of the United States.
Abiha Hassan is looking forward to meeting Ecuadorian residents.
"I am hoping to learn how communities in Hamilton and Ecuador are both similar and different, in terms of business and culture," explains Hassan, who is also from Hamilton.
"I want to learn about our shared weaknesses and strengths, and how we can partner up and support each other in order to address certain issues," she continues. "One expectation I have of the trip is that we as students will have the chance to hold direct conversations with local Ecuador residents."
Is this a social enterprise? Is this a corporation? "These are the kinds of questions the students will be asking as part of the learning process," says Mohammad.
"They're out of the classroom, but not out of school. They're driving their own education in a very unique way."
Philosophy professor Nancy Doubleday, McMaster's Hope Chair in Peace and Health, says there is "no doubt" the students will be changed by this experience.
"In the Faculty of Humanities, we understand the importance of diversity, as well as actively respecting one another, in order to build futures that are more sustainable, peaceful, and just," Doubleday says.
"To do this, opening ourselves to other cultures and ways of knowing, without motivations of appropriation, matters."
Jointly developed by McMaster's Faculties of Business and Humanities, the IBH program was conceived to produce the country's next generation of business leaders. It launched in September 2017 with approximately 50 students.
The inaugural cohort was selected based on academic standing, leadership qualities, extracurricular activities, volunteerism, and community engagement. In addition, each student took part in a wide-ranging online interview prior to admission.
The majority of coursework involves real-time case studies, with students and faculty examining current issues around the globe. Nearly half the students in the inaugural cohort can speak more than one language.