Students collaborate with City of Hamilton to tackle healthy neighbourhoods, climate change and municipal excellence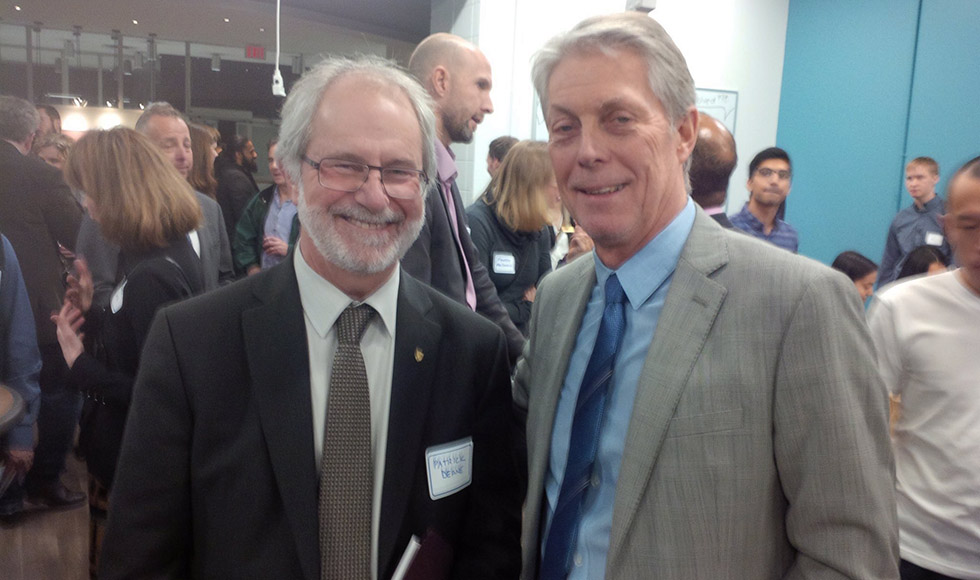 McMaster President Patrick Deane with City of Hamilton Mayor Fred Eisenberger at launch of CityLAB.
---
The lights are on at CityLAB, a new collaborative program in which students team up with the City of Hamilton to tackle real-world challenges.
Since the start of the school year, students have been working on resolving actual issues that municipal staff deal with day-to-day. Often these are things staff want to give more time or attention but can't.
"The hope is that the city can harness the spirit and energy of the students, as they work together," says CityLAB director Patrick Byrne. "There's a real desire to help people in a more innovative way."
The students get hands-on experiential learning as they brainstorm and research the exact cause of the problem, then formulate a solution, then see how their ideas play out in the real world.
CityLAB is a collaboration between the city of Hamilton and students from McMaster, Mohawk College and Redeemer College. McMaster students are working on projects focused on the city's strategic priorities: healthy neighbourhoods, climate change and municipal excellence.
One of CityLAB's current projects aims to identify and tackle obstacles that keep local seniors from participating in wellness programs through CityHousing Hamilton. Lower engagement is directly linked to a higher incidence of chronic pain. Usually, it will snowball into a more serious health-care problem.
The four students in the study of wellness programs found that language barriers, poor eyesight and low mobility are limiting seniors ability to access the programs CityHousing offers. Now the students have to formulate ways to get around those barriers and present them to city staff.
The next step for the students varies with the project. Sometimes, the solution will have to wind its way through city council as staff assess its feasibility and work through the budgeting. Sometimes, the students themselves will be able to implement some of the steps they suggest to the city.
The work McMaster students who joined CityLAB this fall are doing is a part of their existing coursework, but the university is also working to create a Semester in CityLAB, which would be an immersive program running the duration of the academic year. Students from a variety of disciplines who join the Semester In CityLAB program would work exclusively on the course for the entire year.
"The idea is that it focuses on two distinct elements: Design thinking and dialogue," Byrne says.
Design thinking emphasizes looking at problems creatively, while focusing on residents and their neighbourhoods. "We're trying to use an empathy-based perspective to understand what the issues are, engage with city staff and the community and put something out in the real world," he says.
Dialogue involves outlining the students' solutions and ideas to the city and other stakeholders. "How do we communicate what we want to do, share our vision and get people on board in an ethical manner," Byrne says. "Those conversations can be challenging, and it's a challenge the students need to learn to meet in the real world."